Google Drive is one of the most popular cloud storage service by Google which offers 15GB free storage space. Google Drive's file storage and synchronization services enables user cloud storage, file sharing and collaborative editing. But in terms of security and encryption, Google Drive doesn't impresses. You can access Google drive using your Google account. GDrive has it's own advantages, specially if you use Google apps. Files can be synced between devices like Android phone, Tab, Chromebook etc. Also, Google Drive incorporates the Google Docs suite, a collaborative office suite of productivity applications that offers Google Drive – Docs, Sheets, Slides, Drawings, Forms. Today we will be listing out top 10 Best and Free Google Drives Alternatives for PC and Smartphones which are most secure and encrypted.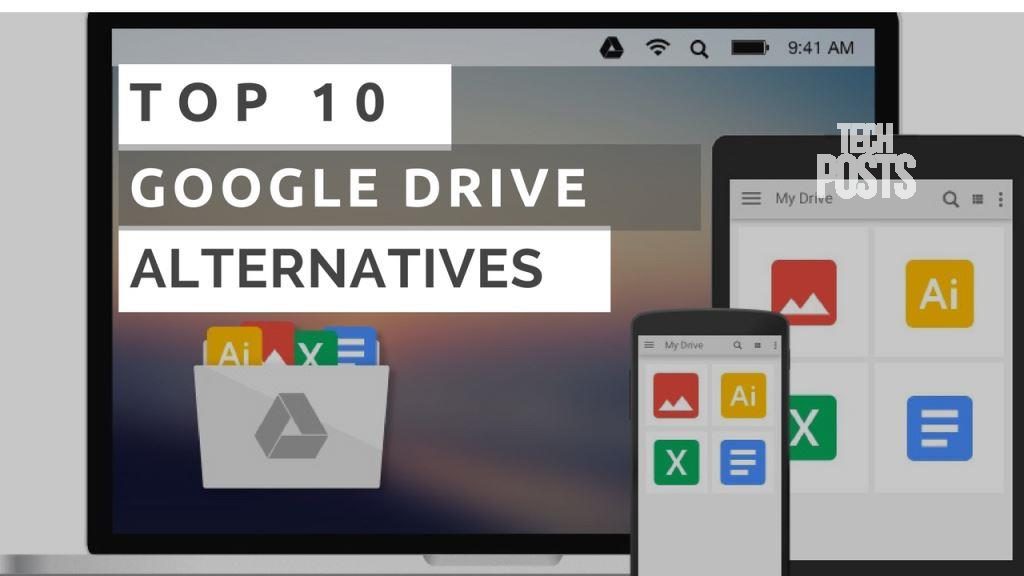 Top 10 Google Drive Free Alternatives for Smartphone and PC
DropBox is Worlds leading online storage and file sync service. You can put your files into your Dropbox on one computer, and they'll be instantly available on any of your other computers that also have Dropbox installed. Because copies of your files are stored on Dropbox's secure servers, you can also access them from any computer or mobile device using the Dropbox website. You receive 2 GB of storage space for free, upon registration. You may earn up to 16GB of free storage space by referring new users to Dropbox, at 500 MB per referral.
PlateForms:
Freemium

Mac OS X
Windows
Linux
Online
Android
iPhone
Blackberry
Chrome OS
Windows RT
Windows Phone
iPad
Kindle Fire
MEGA, successor of MegaUpload , is a cloud storage and file hosting service produced by Mega Limited. MEGA provides 50 GB of free storage per account, and 10 GB per month of free bandwidth for sharing files with other accounts. Free bandwidth for the Dropbox or Google Drive style of desktop-sync application is effectively unlimited. This cloud-storage solution claims to protect your privacy with end-to-end encryption and "Secure Collaboration" feature.
ownCloud is a self-hosted file sync and share server. It provides access to your data through a web interface, sync clients or WebDAV while providing a platform to view, sync and share across devices easily — all under your control. ownCloud's open architecture is extensible via a simple but powerful API for applications and plugins and it works with any storage. Store your private pictures, documents, calendar and contacts on your ownCloud server at home, a rented VPS or use one of the public ownCloud providers. Access your existing data on an FTP drive at work, images shared with you on Dropbox, or your NAS at home, all through your ownCloud server. You can run your ownCloud server in a place you trust and access all the data you care about in one place!
Syncthing replaces proprietary sync and cloud services with something open, trustworthy and decentralized. Your data is your data alone and you deserve to choose where it is stored, if it is shared with some third party and how it's transmitted over the Internet. None of your data is ever stored anywhere else other than on your computers. There is no central server that might be compromised, legally or illegally.
Encrypted. All communication is secured using TLS. The encryption used includes perfect forward secrecy to prevent any eavesdropper from ever gaining access to your data.
Authenticated. Every node is identified by a strongcryptographic certificate. Only nodes you have explicitly allowed can connect to your cluster.
OneDrive (formerly known as SkyDrive) delivers a satisfactory online file storage and sharing solution in a free and easy to use service. It has a design that is both attractive and functional.
OneDrive lets you edit your Microsoft Office documents online, it offers a lite version of three of the major softwares of the suite Word, Excel, and PowerPoint, so if you don't have the suite installed on your PC or Mac you can simply edit them online. So you have full access to your documents onall your computers, wherever you are.
Get started with 5 GB for free. If you need more space, get 50 GB for just $1.99 a month.
Work together and share files and photos. Collaborate with Word, Excel, PowerPoint, and OneNote from your desktop, mobile device, and the web. OneDrive for Business. Give your employees all the benefits of OneDrive for their work files backed by tools to allow IT to protect important company data.
Box enables you to securely share files, collaborate and get real work done with anyone, from any device. You get access anywhere, Anytime, With unlimited cloud storage and mobile access to all your files. You can view, share and edit any kind of file, whether you're online or offline. Security controls protect your files wherever they go with centralised security controls, multi-layered encryption, mobile security and more. A shared online workspace with Microsoft Office 365 and Google Docs integrations, you can turn folders into collaboration spaces and edit files simultaneously with anyone, directly from Box. Secure file sharing make it Easy to share any file — even large ones — with anyone you want with a simple link.
Started by the well known open source file sync and share developer Frank Karlitschek. NextCloud offer a more reliable and sustainable solution for users and customers.With Nextcloud you can pick a server of your choice, at home, in a data center or at a provider. And that is where your files will be. Nextcloud runs on that server, protecting your data and giving you access from your desktop or mobile devices. Through Nextcloud you also access, sync and share your existing data on that FTP drive at the office, a Dropbox or a NAS you have at home.
There are hell lot more features and services that NextCloud offers for complete piece of mind with industry standard Encryption.
SpiderOak provides an easy, secure and consolidated online backup, storage, access, sharing & sync tool for Windows, Mac OS X, and Linux (Ubuntu, Debian & Fedora). SpiderOak offers a different approach to online backup, synchronization, and sharing. This difference is not just measured in our zero-knowledge privacy policy – the first one ever employed in this setting – but also in our flexible design in handling data from all platforms (Mac, Windows, Linux) and locations (external drives, network volumes, USB keys) in one centralized account.
Seafile is a file hosting software system. Files are stored on a central server and can by synchronized with personal computers and mobile devices via the Seafile client. Files can also be accessed via the server's web interface. Seafile's functionality is similar to other popular services such as Dropbox and Google Drive, with the primary difference being that Seafile is free and open-source, enabling users to host their own Seafile servers without artificially imposed limits onstorage space or client connections.
Yandex.Disk
Files on Yandex.Disk won't get lost if your phone or computer breaks. You'll have enough storage space for your most precious photos and important documents. Integrate Yandex.Disk into your own software using our fully WebDAV compatible API. If you want a lot of space right away, you can increase space on Disk through various methods, including buying additional space.
You can open, edit, and even create documents on Yandex.Disk right in your browser. There's no need to download or install additional programs. Yandex.Disk supports your text documents, spreadsheets, and presentations.
Note: Yandex.Disk currently offers 10GB free storage with the possibility of free offers for bonus space over time.
Conclusion
Do vote for your favorite Cloud storage service. You can use ownCloud to create your own cloud storage or use any other already created cloud storage with industry standard encryption and security. Be sure to check our other How To Guides and reviews. Also, visit our YouTube channelto watch video guides and reviews. You cal also follow us on Facebook, Twitter and Google+ for quick updates.