Online privacy is a big issue and big online giants are always tracking your activities and know more than what you know about yourself. Ther use this information to serve targeted advertisements. So unless you don't want to keep your personal information safe and secure, you don't need to do anything. But if you want to protect your privacy, it's recommended to use tools and services like VPN, proxy tools, and Anonymous web browsers. So in this post, I will list top 5 Best Anonymous web browsers available for Android and iOS devices. So let's begin.
Top 5 Anonymous Web Browsers for Smartphones
The Ghostery Privacy Browser not only safeguards your browsing privacy but also increases browsing speed and saves data consumption. This is a lightweight, clean browser that gives you the control to make informed decisions about the personal data you share with the trackers on the sites you visit. Ghostery helps protect you while you browse by minimizing 3rd-party access to your data through trackers. And at only 2.1 MB, Ghostery runs a lot lighter than other browser solutions, saving your device battery life.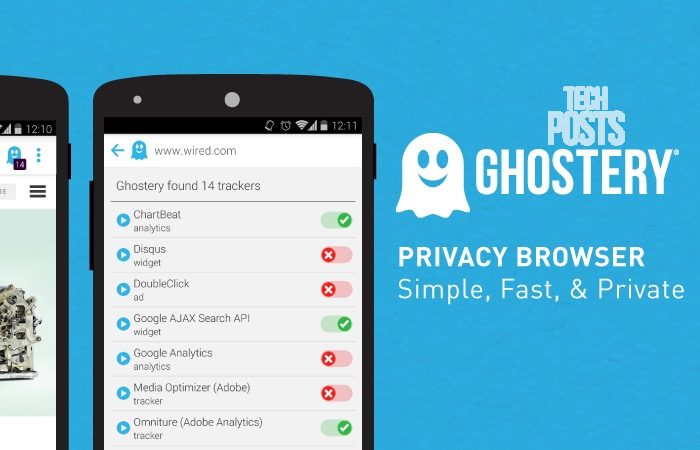 The Orfox web browser is based on Mozilla Firefox that enhances anonymous web browsing. The Orfox browser uses the same source code used by Tor Browser but with a few minor modifications to the privacy enhancing features to make them compatible with Firefox for Android and the Android operating system.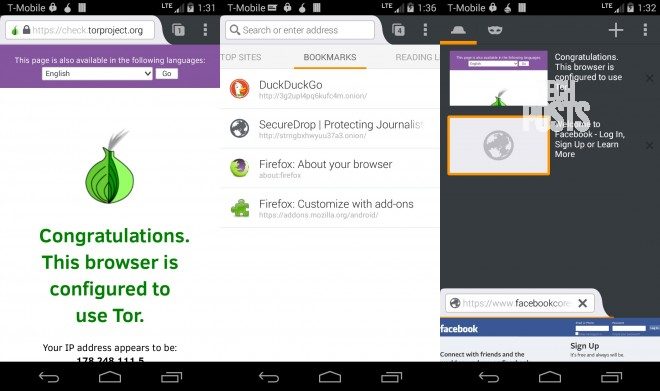 The Tor software protects you by bouncing your communications around a distributed network of relays run by volunteers all around the world. It prevents somebody watching your Internet connection from learning what sites you visit, it prevents the sites you visit from learning your physical location, and it lets you access sites which are blocked.
Krypton is focused on security, privacy, and anonymity. The Krypton browser never saves or transmits your browsing habits. Tightly integrated with Tor and HTTPS Everywhere. Krypton Loads each tab is an isolated OS process, with its own cookie store and local storage. The Krypton web browser is the Open source, based on the Chromium project.
Brave Web Browser is a fast, free, secure web browser with a built-in ad blocker*, tracking and security protection, and optimized data and battery experience. It's one of the most secure web browsers which helps keep your privacy safe. It's available for Windows, Mac, Linux, iOS and Android devices.
Brave's goal is to speed up the web, stop bad ads and pay publishers with ad replacements and by inviting users to fund their wallets and to use those funds to pay the publishers of their favorite websites. Brave keeps you and your information safer, effectively shielding you from 3rd party tracking and malvertisement. All this means faster page loads, faster web browser while saving lot of bandwidth and data. Here's the video of Brave Web Browser for iOS, please watch.
GNUzilla is the GNU version of the Mozilla suite, and GNU IceCat is the GNU version of the Firefox browser. Its main advantage is an ethical one: it is entirely free software. While the Firefox source code from the Mozilla project is free software, they distribute and recommend non-free software as plug-ins and addons.
Privacy protection features
LibreJS: GNU LibreJS aims to address the JavaScript problem described in Richard Stallman's article The JavaScript Trap.
Https-Everywhere: Extension that encrypts your communications with many major websites, making your browsing more secure.
SpyBlock: Blocks privacy trackers while in normal browsing mode, and all third party requests when in private browsing mode. Based on Adblock Plus.
AboutIceCat: Adds a custom "about:icecat" homepage with links to information about the free software and privacy features in IceCat, and checkboxes to enable and disable the ones more prone to break websites.
Fingerprinting countermeasures: Fingerprinting is a series of techniques allowing to uniquely identify a browser based on specific characteristics of that particular instance (like what fonts are available in that machine). Unlike cookies the user cannot opt-out of being tracked this way, so the browser has to avoid giving away that kind of hints.