There are plenty of VPN server apps available in the market but most of them do not work as desired. The free VPN s does not provide you the privacy you want and they usually track your activities. So getting a paid VPN server is always recommended over a free. But today we have built a list of few best Secure yet free VPN servers available for all your devices that will protect your privacy and can be used to access region-restricted websites, shield your browsing activity from prying eyes on public Wi-Fi, and secure your device from attacks and risk of losing online identity. It's highly recommended that you should use VPN especially when you access the internet via public Wi-Fi like in hotels, Restaurants, airports, etc.
And You can even create your own VPN server, read the complete article to know more.
Also, have a look at the top 5 Android Web Browsers with Built-in Unlimited and Free VPN.
#1 CyberGhost VPN
CyberGhost VPN is a personal VPN service that is easy to use, hides your online activity from a spy, and allows you to spoof your IP address to view content that is restricted to a certain geographic location. While there are plenty of other VPN services on the market that offer both a paid and free version of its software, CyberGhost VPN is the first one I've seen where the free version has everything I needed. So No need to upgrade to a paid version. It's one of the best and most recommended VPN and I personally use it.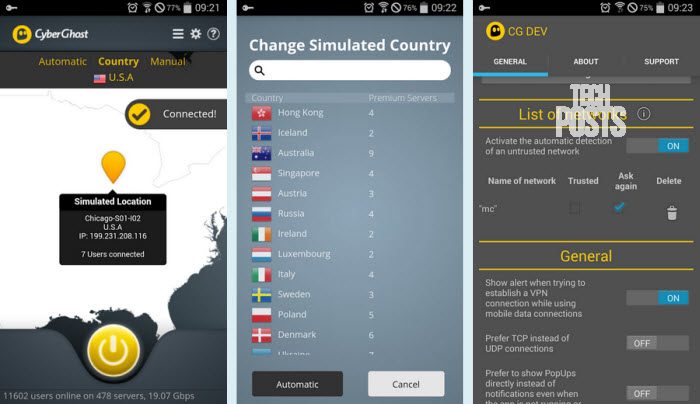 Things which I like:
Reliable performance.
Reliable performance.Easy to use interface.
Easy to use interface.Strong account security.
Strong account security.An extensive list of free servers in Europe.
An extensive list of free servers in Europe.
Things which I don't like:
It's Restricted to three hours per session.
It's Restricted to three hours per session.No available servers in Asia, Latin America.
No available servers in Asia, Latin America.
#2 Shadowsocks:
Shadowsocks is an open source socks5 proxy which, according to their official site, is designed to protect your internet traffic. in simple words, it will encrypt the traffic between you and the servers, so the ISP can not spy on you. once the ISP does not know what you are doing, they will not block the traffic, so you can bypass the restrictions by the ISP.
The main difference compare to VPN is Shadowsocks is not global, which means not all your traffic will go through the servers while VPN is global, once you connect to VPN servers, all your traffic will go through the servers,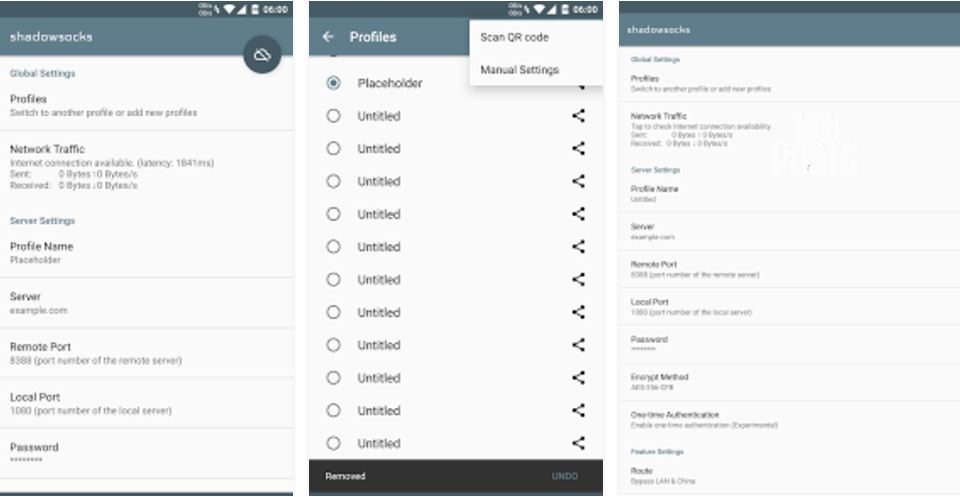 But the main benefits of Shadowsocks is you can choose which traffic will go through the server and which will not.
For example , suppose I am in China, I want to watch China-only movies on Youku.com and meanwhile I want to use twitter, if I use VPN, I have to connect to a VPN server that is not in China, and once I connected, I can not watch videos on Youku.com or the speed is horrible. Now if I use Shadowsocks, the problem resolved, because the Youku.com traffic will use the local network which does not go through the servers and the twitter traffic will go through the server.
#3 HotSPot Shield.
Hotspot Shield is an entry-level VPN service that markets itself towards casual and beginner VPN users. This is an unlimited, free version of the VPN which is available for everyone. Hotspot Shield VPN does not keep logs of your online activity or personal information. So you can Surf the Web anonymously and privately. As It's free to use and you can Use the basic features only but these basic features are enough. But if you want more, you can always upgrade to their elite version.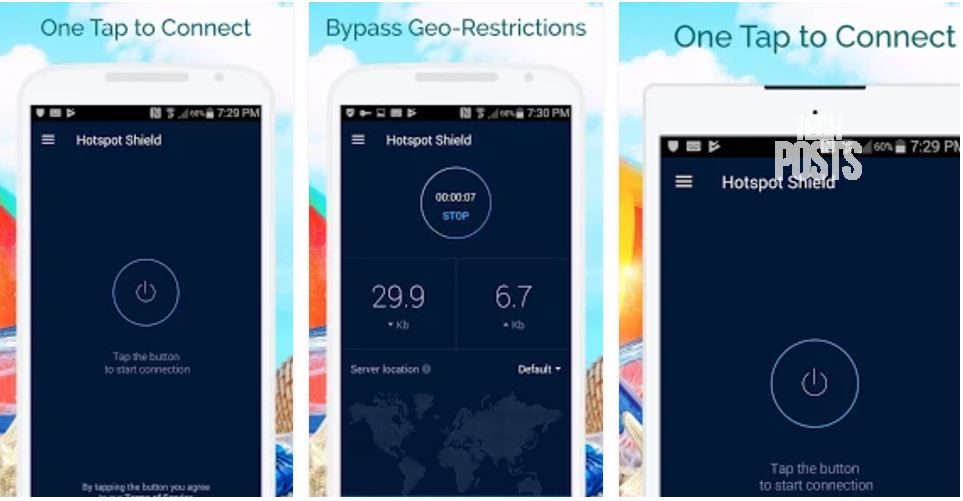 #4 Psiphon.
Psiphon is a powerful VPN tool which is designed to evade internet censorship. However, Psiphon Android app is a bit basic for general use but is serviceable for accessing censored websites. It uses a combination of VPN, SSH and HTTP Proxy secure communication technologies to bypass the kinds of internet filtering systems, also called censorship commonly used governments.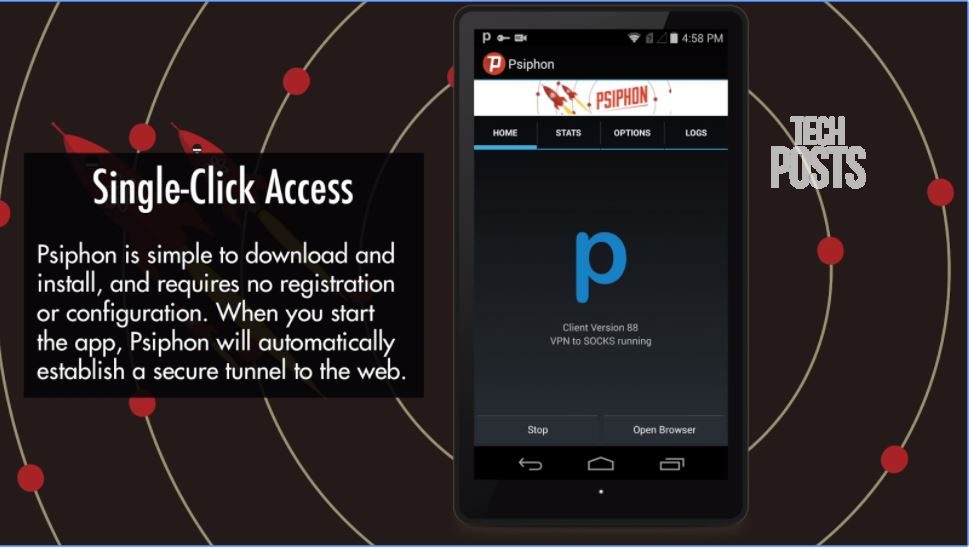 Psiphon Inc. runs a number of servers, which the client connects to via VPN or secure SSH connection.
What's bad is that it's full of ads and VPN speed results are not great. The reason for bandwidth restriction as Psiphon Inc. says, VPN is about censorship evasion, and not about downloading movies.
#5 SuperVPN.
SuperVPN Free VPN Client is a tool that allows you to connect to a virtual private network (VPN). So that you can browse the internet without any restrictions and access pages that would usually be restricted in your area. The most notable thing about SuperVPN Free VPN Client is how extremely easy everything is. You don't need to register or configure anything, just tap on the 'connect' button and in a matter of seconds, you can freely and securely browse. SuperVPN Free VPN Client is a very good app for anyone who wants to access content that is usually blocked in his or her region or who simply wants to encrypt their traffic as they browse.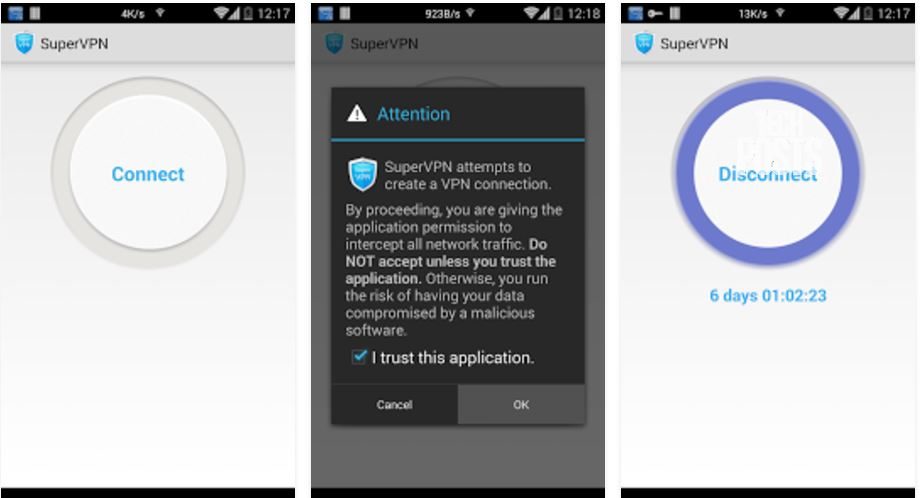 There is no Bandwidth or speed restriction like Psiphon. It keeps you safe from 3rd party tracking. No need for registration and requires one tap to connect to VPN.
Conclusion
I have already uploaded a detailed HowTo guide on How you can build your own Fast private VPN server for free. All you have to do is follow the link to the video or blog post mentioned below and watch it. It's a very simple tutorial and anyone who knows how to browse the internet can build his/her own VPN server. So do check out that video. Subscribe to our channel for more videos like this and Give this video a Thumbs up.
Share this video, Leave your comments, thoughts, and suggestions in the comment section below. I will be more than happy to answer your doubts. For now, you can visit our channel or Home page of this blog and watch some more useful tutorial Guides and interesting App reviews. I will be back with another interesting How To Guide soon.