The IDM (Internet Download Manager) is no doubt, best download manager in terms of efficiency and functionality. IDM is one of the oldest and most refined download manager one can install on their PC. The IDM is updated regularly and is one of the best video grabber tool which works like a charm. There are several other features that makes the IDM one of the best download manager. The problem is it's a paid application. So today i will show you some of the best alternatives to IDM which are completely free to use. Below you will find more details related about best IDM alternatives for Windows PC, Linux and Mac OS.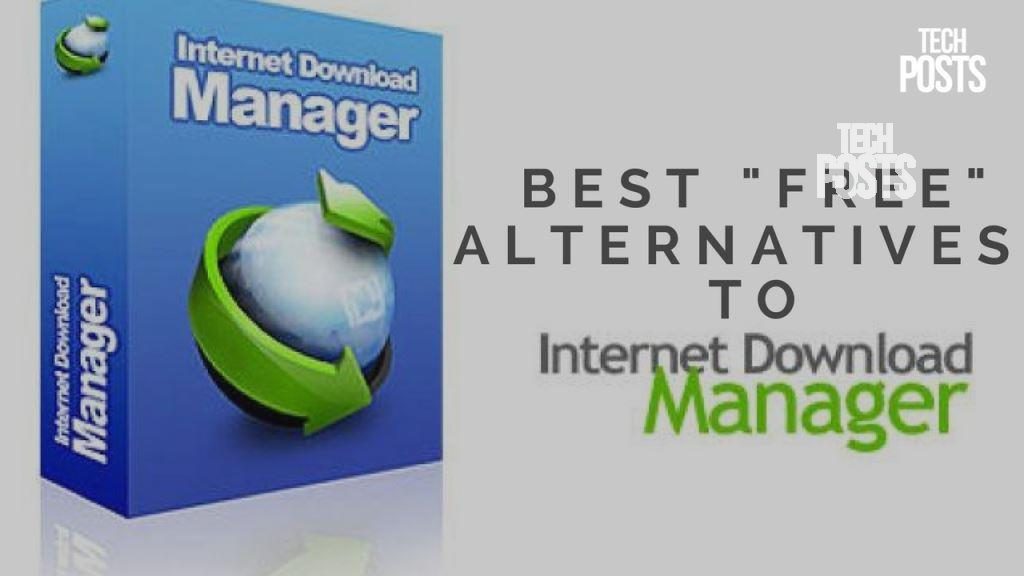 Free IDM alternatives for Windows and Mac
1. EagleGet – EG Download Accelerator
EagleGet is a free all-in-one download manager; it can be integrated to Chrome, IE, Firefox, Opera, offering support for HTTP, HTTPS, FTP, MMS and RTSP protocol. It supports multiple download queues with smart scheduler. You ca run different downloading jobs at corresponding fixed time or on any day(s) of the week. Just like IDM, EagleGet automatically detects media contents on any website.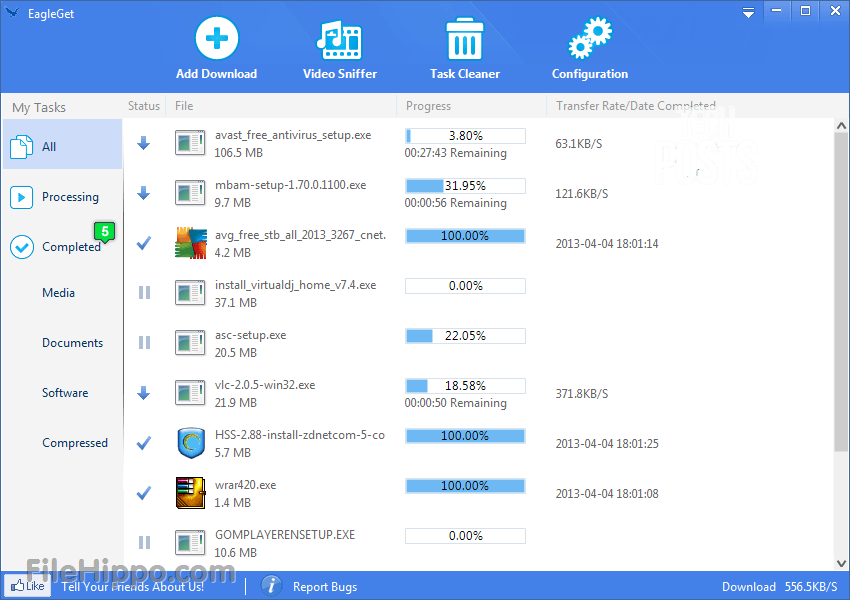 Features:
EagleGet provides flexible notification configurations. The featured Silent Mode can temporarily turn off all notifications while a full-screen application or PC game is running.
EagleGet contains automatic malware checker and file integrity verifier, the features that protecting users from virus attack as well as ensuring the downloaded file is genuine from the original.
EagleGet is the first freeware download manager that supports the automatic refresh expired download links feature, which can auto update download URLs without re-starting from the beginning.
EagleGet has visually appealing interface, and it's completely free without any virus, malware or spyware.
Download and Install EagleGet Download Accelerator
2. Uget Download Manager
Uget is a free Download Manager which is available for Windows, Linux, Mac OS and Android devices. It's a powerful download manager application with a large inventory of features but is still very light-weight and low on resources.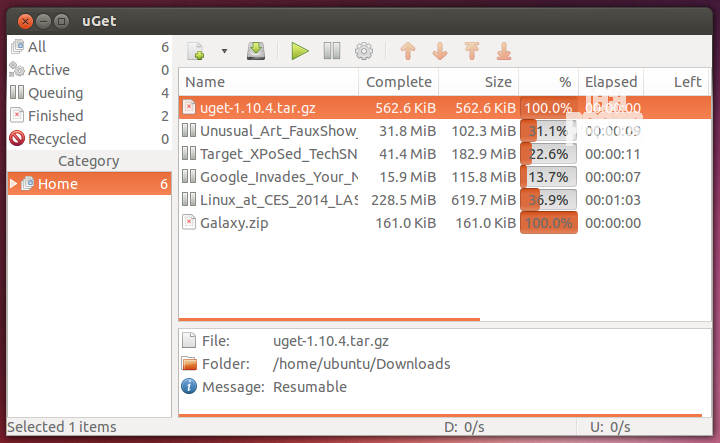 Features:
Downloads Queue: place your downloads into a Queue to download as many, or as few, downloads as you want simultaneously. As a download finishes the queue will automatically start downloading the remaining files.
Resume Downloads: if your connection drops out you don't have to worry, you can start right back where you were with download resuming. (not guaranteed, server controlled and can not be bypassed by a download manager)
Advanced Download Categories: unlimited categories to manage your downloads…scroll down for Category specific features.
Clipboard Monitor: specify the types of files (via extension) that you want to monitor and any time you add them to your clipboard it will prompt to download the copied files. (universal browser integration) – also works with batch downloads.
Batch Downloads: allows the user to add an unlimited amount of files at one time to the queue for downloading…scroll down for Batch specific features
Multi-Protocol: support for downloading files through HTTP, HTTPS, FTP, BitTorrent* & Metalink*
FTP Login & Anonymous FTP
Scheduler: scheduling of when uGet is allowed or not allowed to download files.
FireFox Integration via FlashGot: Clipboard Monitor is all you need for browser integration really but FlashGot is a separately supported FireFox addon so we have made it compatible with uGet.
Quiet Mode: allows downloads to be added to a specific category automatically and begin downloading automatically, skipping the dialog properties popup.
CLI / Terminal Usage Support: ability to use a command line or terminal to download files.
Download Uget Download Manager
3. Free Download Manager
Free Download Manager is FREE and is available for Mac and Windows. It allows you to adjust traffic usage, organize downloads, control file priorities for torrents, efficiently download large files and resume broken downloads.
FDM can boost all your downloads up to 10 times, process media files of various popular formats, drag&drop URLs right from a web browser as well as simultaneously download multiple files. FDM is compatible with the most popular browsers like Google Chrome, Mozilla Firefox, Microsoft Edge, Internet Explorer and Safari.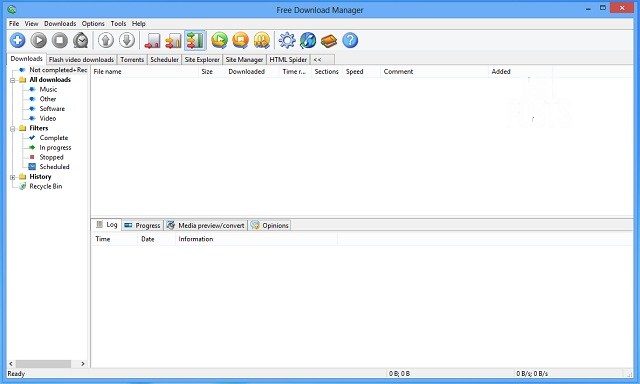 FDM (Free Download Manager) is safe, free, open-source software distributed under GPL license.
Download FDM now
.
4. DownloadThemAll
DownThemAll or dTa is a powerful yet easy-to-use Mozilla Firefox extension that adds new advanced download capabilities to your browser. So you can use it on Windows, Mac or Linux. DownThemAll lets you download all the links or images contained in a webpage and much more. You can refine your downloads by fully customizable criteria to get only what you really want.
DownThemAll is all you can desire from a download manager, it features an advanced accelerator that increases speed up to 400%. It allows you to pause and resume downloads at any time and, last but not least, it's fully integrated into your favorite browser i.e. Mozilla Firefox!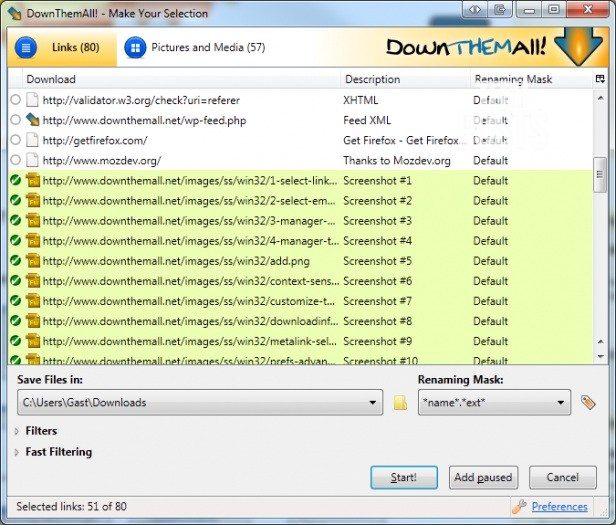 Install DownloadThemAll Download Manager Extension.
5. Xtreme Download Manager
Xtreme Download Manager is a powerful tool to increase download speed up-to 500%, save streaming videos from YouTube, Metacafe, DailyMotion, Google Video or any other website, resume broken/dead downloads and schedule downloads. XDM seamlessly integrates with Microsoft Edge, Firefox, Chrome, IE, Opera, Safari and all popular browsers, to take over downloads and saving streaming videos from web.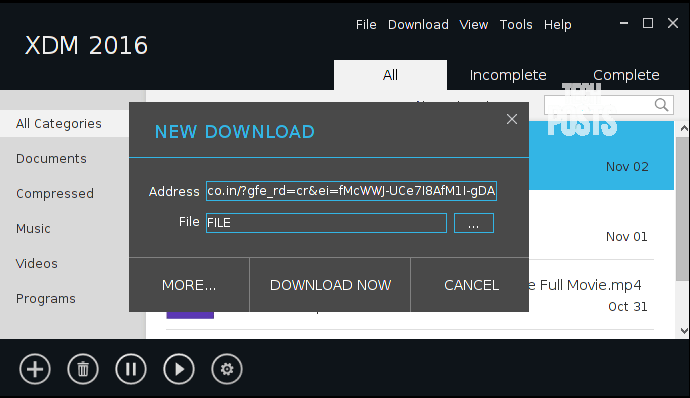 It's completely free, open source and available for Windows, Mac and Linux OS.
Download XDM now. – For Windows | Mac OS | Linux OS
6. JDownloader
JDownloader is a free, open-source download management tool with a huge community of developers that makes downloading as easy and fast as it should be. Users can start, stop or pause downloads, set bandwith limitations, auto-extract archives and much more. It's an easy-to-extend framework that can save hours of your valuable time every day.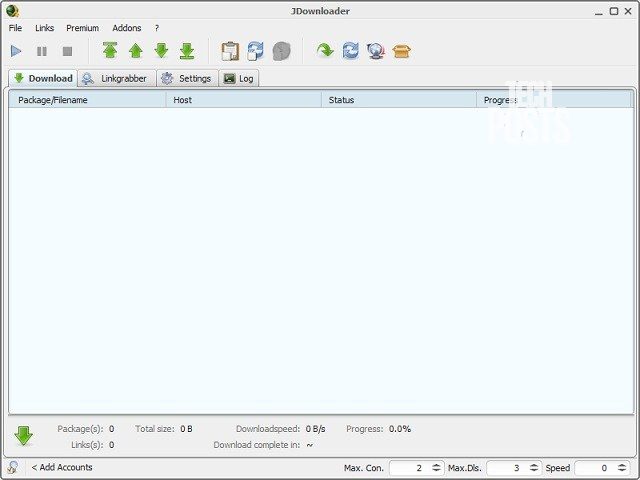 J Downloader is available for Mac, Windows, Linux OS for free.
Download JDownloader.
7. Download Accelerator Plus (DAP)
Download Accelerator Plus (DAP10) is a free download manager (Paid version is also available) and the most popular download manager,. It provides powerful acceleration that lets you download files in the fastest speed possible. With DAP you can enjoy the full bandwidth you are paying for to the max. DAP kicks in seamlessly when you attempt to download a file. It then uses its dynamic acceleration engine to download the very same file using multi channels from the original source as well as other publicly available sources to make the best possible use of the bandwidth available to you for the fastest possible download time.
Download DAP Now.
8. FreeRapid Downloader
FreeRapid is an easy to use Java downloader that supports downloading from Rapidshare, Youtube, Facebook, Picasa and other file-sharing services, include the new ones like mega.co.nz. Simply copy and paste your links from a browser to this application. FreeRapid Downloader will handle the rest itself. No more clicking or uncomfortable waiting.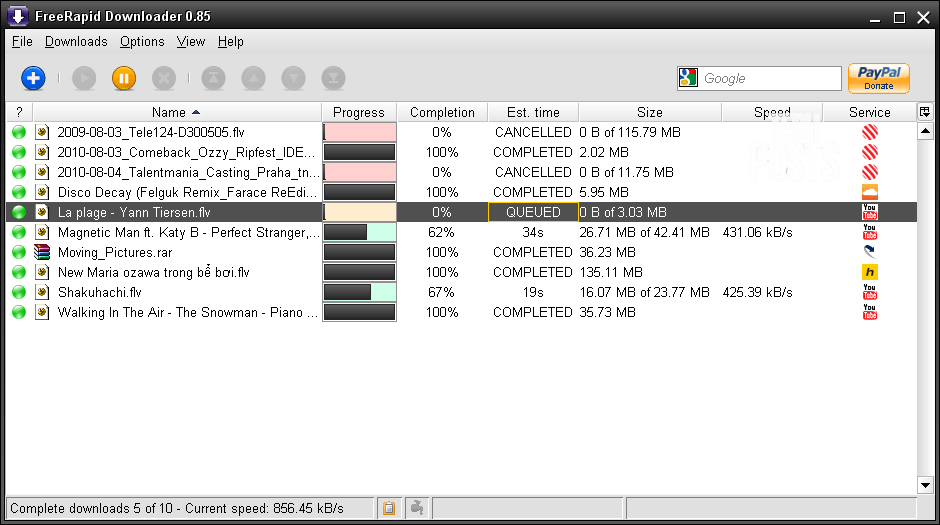 Features
support for concurrent downloading from multiple services
downloading using proxy list
support for streamed videos or pictures
download history
smart clipboard monitoring
automatic checking for file's existence on server
auto shutdown options
automatic plugins updates
simple CAPTCHA recognition
Available for free for Mac, Windows and Linux distributions. Download and install FreeRapid Downloader.
9. Orbit Downloader
Orbit Downloader is built for new generation web (web2.0) downloading, such as video/music/streaming media from Myspace, YouTube, Imeem, Pandora, Rapidshare, support RTMP. And to make general downloading easier and faster. Orbit Downloader supports HTTP/FTP/HTTPS/RTSP/MMS/RTMP protocols and provides a total solution to download rich media. So Orbit Downloader can be used as YouTube downloader to download YouTube more simply and easily. Additionally, you can download music and video from social music/video websites like YouTube.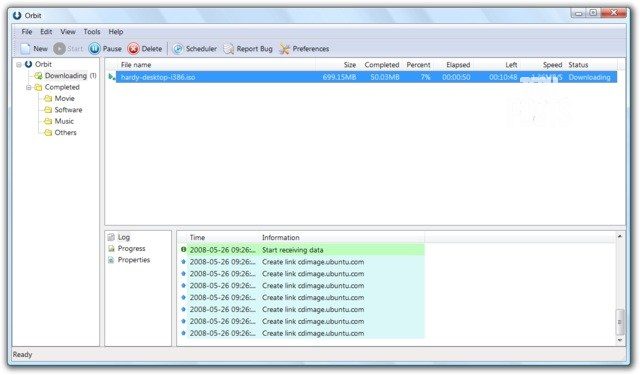 Orbit Downloader is based on p2p and multi-source downloading technology. More Efficient mirrors selection algorithm and faster download sources allows you to download files up to 500% faster than before. Maximum possible download speed, up to the fastest download manager.
Download Orbit Downloader.
10. Mipony Downloader
With this download manager you will enjoy comfortable features when it comes to downloading files by avoiding host sites inconveniences. Mipony is in charge of everything, it accesses the web where the file is hosted, it waits the required time and starts downloading them one by one.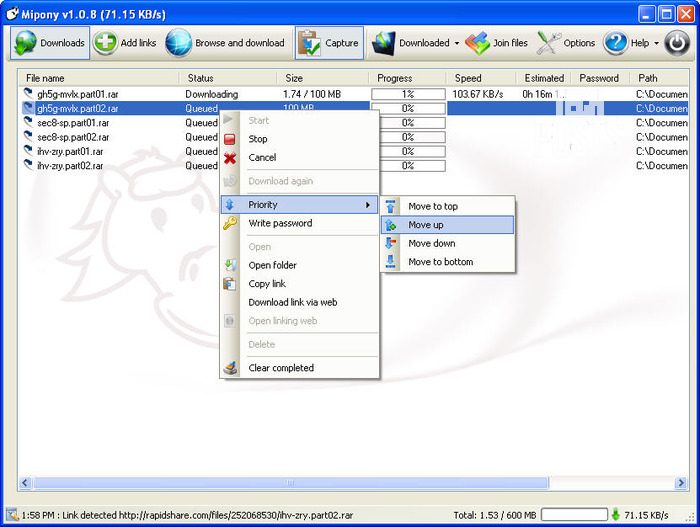 Features:
Android remote client to control Mipony remotely.
Control how many files can be downloaded simultaneously from each server.
Mipony has a web interface to control it remotely. With the web interface you can view the downloads and manipulate them, and also you can enter the captcha codes remotely. The web interface design is adapted for both desktops and mobile clients.
Many of the files hosted in free servers are divided into parts, Mipony has the option to join the downloaded files (HJSplit).
Mipony can capture from the clipboard individual links or any text that contains any number of links.
If by any chance the file shows an error during the download, Mipony will be in charge of performing the necessary attempts automatically until the file is downloaded.
Mipony Downloader is available for Mac, Windows and Android. Download Now.
Please Vote:
Conclusion
So no more waiting, no captcha filling, no popups and annoying popunders. Use these download managers to overcome all the pain of downloading files from above listed file hosting websites. All listed 10 download managers are completely free to use and almost all of them are available for Windows, Mac and Linux. So choose the one that suits your needs, i will be using few of them, Mipony will be one of them. Comment which one you think is the best and vote for it.
Please don't forget to follow TechPosts on Facebook, Google+, Twitter and YouTube to keep up with future Howto Guides.