When starting to install or configure a Hackintosh, you must begin with Bios configuration, without proper Bios configuration system may reboot, kernel panic or cause some other issues, this guide shows how to configure bios for a hackintosh. When thinking about configuring BIOS, the configuration depends on the bootloader that is being used, two known boot-loader for Hackintosh are Chameleon and Clover, Chameleon is a BIOS type boot-loader, Clover can be installed as UEFI boot-loader as well as BIOS type boot-loader.
Without correct Bios configuration system will not boot but boot issues are not only caused by Bios so read the guideDebugging your Hackintosh to know more about Hackintosh boot problems
Setting up BIOS Boot (Chameleon or Clover)
The setting name or menu of settings will not be same as the pictures below so find the settings yourself in your BIOS
HPET Must be set to ON or Enabled in BIOS
HPET Mode must be 64-Bit
In case of kernel panic related to HPET use kernel flag ForceHPET=Yes
SATA must be changed as AHCI most latest Chipsets supports SATA mode which is very fast and doesn't need additional kexts in most cases
Read also…
Hackintosh Supported Bluetooth Adapters
---
You must change Execute Disable Bit (also known as XD Function to Enabled this is very important in it is disabled system will reboot immediately after loading kernel cache or kexts
set Max CPUID Value Limit as Disabled
without proper usb configurations USB Bootable Volumes, Keyboard mouse and other usb peripherals may not work
make your Bios reflect the same configuration listed in above image
BIOS EHCI Handoff should be Enabled
set Legacy USB Support as Enabled
in case of USB device detection failure, your OS X installation flash drive will not work and you'll be left with a continuous message of Still waiting for root device, USBBusFix=Yes may fix it in chameleon
Probably nothing more needed
It is better to plug clover UEFI installation stick before configuring UEFI bios settings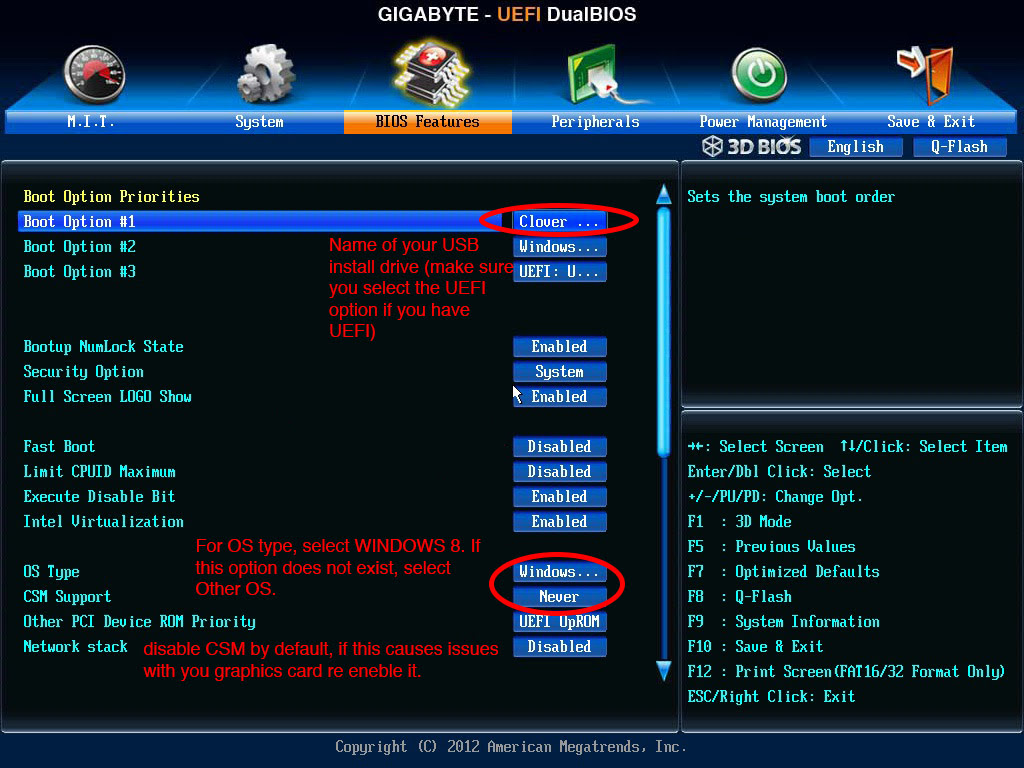 BIOS screenshots taken from the Gigabyte z77x-ud5h
Select your install drive as the first boot option. If you are installing Clover on a UEFI board, there will be two boot options for your usb. Select the one prefixed with UEFI. (I.E UEFI usb flash drive)
---
CSM must be disabled. [this setting will not exist on non-UEFI installs] Note: this is required for most systems to boot. However, on system (z77x-ud5h and Evga GTX 660) disabling CSM prevented the graphics card from functioning. First try to boot with CSM disabled and if this causes issues with your card ( I.E. Your BIOS won't even be displayed.), then clear the CMOS and proceed with CSM enabled.
Read also…
How to Install Niresh Mavericks Hackintosh on Your PC
SATA mode Selection must be set to AHCI
xHCI must be set to AUTO [this setting may not exist for all boards]
XHCI hands-off and EHCI hands-off much both be enabled. [this setting may not exist for all boards]
Also See: Install Android 5.1 Lollipop OS on PC and Laptops with Windows and Linux [Update]
Wake on LAN must be disabled.
Soft-Off by PWR-BTTN set to delay 4 seconds (this is not essential, but it may fix shutoff/reboot issues)
Now save your BIOS configuration and reboot to begin the installation