Imagine coming across a topic that you don't know much about but it sounds too exciting to you.
You wish to dig deep into it and start looking for it on Google. You come across various articles to choose from and select one.
It lands you on the website and you start reading only to realize that the website contains so many advertisements and pop-ups that the moment of curiosity has now gone to the dogs.
What a shame! You now wonder if there was a way to block ads on your Android device. Well, there is, and in this article, you are about to learn exactly that.
Out of the several ways that are available and are commonly used, we are only going to discuss the methods that will block ads on Android without having to root your device.
Methods to Block Ads On Android Without Root
There are a few ways through which you can block ads on your Android device without having to root it. The steps either involve changing a few settings on your browser or installing an application on your device.
For easy understanding, they have been given below. 
Method 1: Use Adguard DNS
The easiest way to block ads and trackers from Android phones or tablets is to add the Adguard DNS IP addresses in the IP Settings of your Android device. The steps are as follow,
Go to WiFi settings and then tap the 'Settings' icon
Tap 'Advanced' and then tap IP settings
Select Static. Keep everything default except DNS 1 and DNS 2.

In DNS 1, add 94.140.14.14
In DNS 2, add 94.140.15.15

Tap 'Save'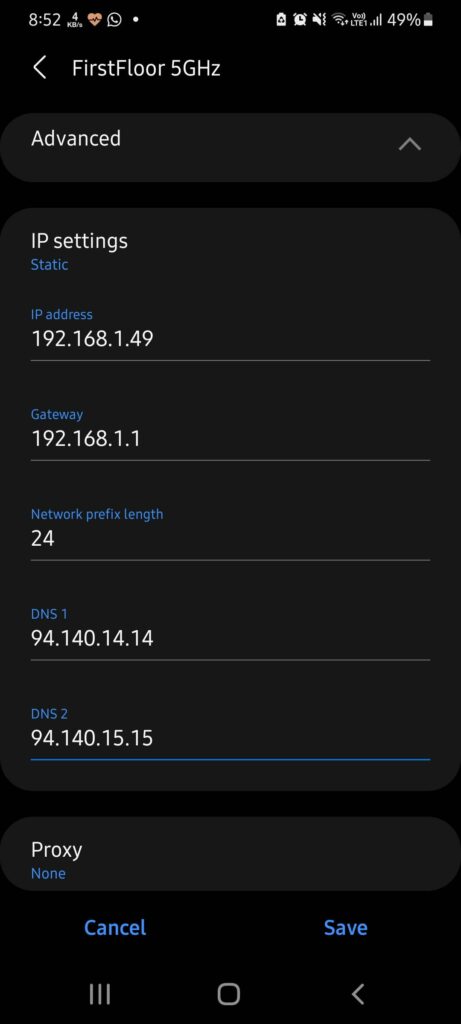 NOTE: Make sure to reserve the IP address for your Android in your router settings. Otherwise, you may experience internet or connection issues. You may revert to DHCP to fix this issue if arises.
Method 2: Use Private DNS
Android phones and tablets also provide a Private DNS option under Connection settings. You can find the Private DNS option and then add the dns.adguard.com address in the field. Save it.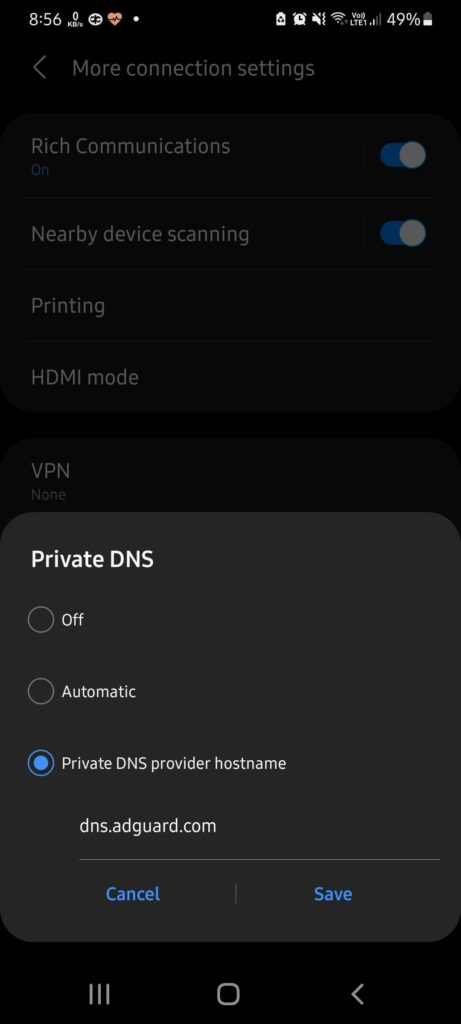 You will notice that ads have stopped displaying immediately. You can switch on or off Private DNS anytime and it works better than the previous method as you don't need to reserve an IP address. Just add the Adguard DNS URL, save it.
Method 3: Change Google Chrome Settings
There are a lot of advertisements that get displayed when one surfs the internet, be it while watching videos or reading articles.
Though these ads and pop-ups are not displayed by Google Chrome, you can still change a few settings in your Google Chrome browser to block some of the misleading and irrelevant ads from being displayed on your Android device. Simply follow the steps given below.
Open Google Chrome.
Navigate to Settings > Site Settings.
Look for an option called Pop-ups and redirects. You will have to turn this off.
Look for another option under Site Settings called Ads. Turn this off.
Though this will not block all the ads, this would give you relief from most misleading ads and pop-ups. To completely block the ads on your Android device, install an Ad Blocker.
Method 4: Install Ad Blocker Apps and Web Browsers
What is an Ad blocker? We're glad you asked. An ad blocker is an app that is installed on mobile devices which helps in blocking the ads from being displayed.
Not only do ad blocker applications block ads from the browsers but also from the apps and games that are installed on the device.
Apart from performing the installation process, there isn't anything that is expected from you. Simply install an ad blocker app on your Android device and see the magic happen.
We have shortlisted a few Ad Blocker apps that are very effective in the task. Have a look at them below.
Free Adblocker Browser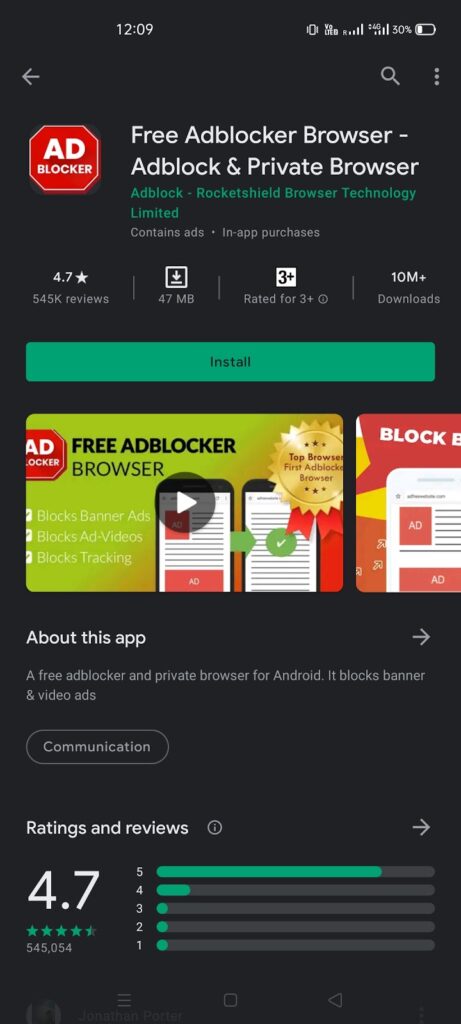 This is a free ad blocker app that comes with its very own private browser. It prevents the advertisers from tracking your behavior and also this helps save battery.
Also, since this app comes with a safe and secure browser as well, it prevents malware, phishing scams, or viruses to attack your device. It is available to download on Play Store. This app has garnered more than 10 million users from all over the world. Have a look at the amazing features this app provides.
Blocks all annoying ads including banner ads and video ads.
Blocks trackers
Provides a safe browsing experience
Saves mobile data
Saves the battery of the device
Provides a Reader Mode that will remove all the images from a page for better readability.
This app is completely free to install and use. You can download this app from here.
Adblock Browser By eyeo GmbH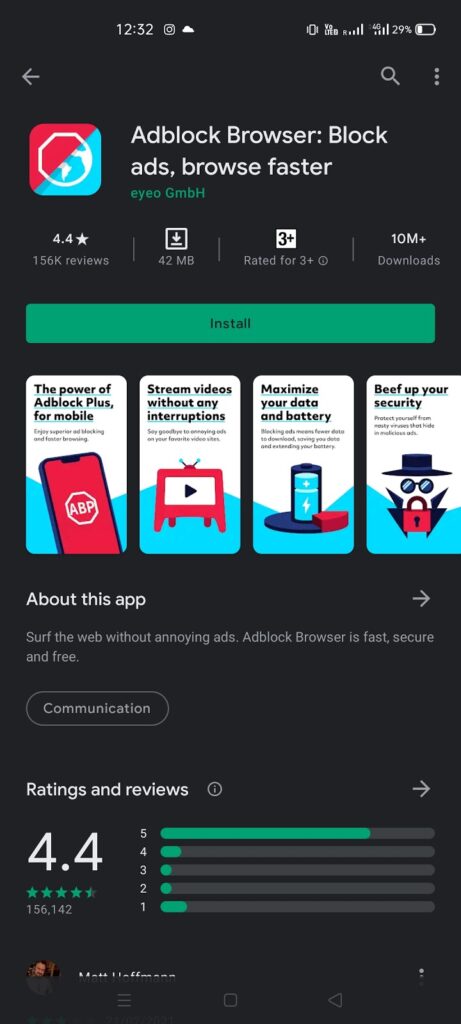 This Chromium-based Android application guarantees that your internet surfing experience would be incredible as this blocks ads of all kinds on your Android device.
It helps block annoyances like pop-ups, video ads, and banner ads as well. Browse the internet stress-free by installing Adblock Browser as its superior built-in ad-blocking technology makes this app stand out from the others. We are excited already and can't wait for you to try it out yourself.
This app is 100% free to use. To download it, click here.
Brave Private Browser by Brave Software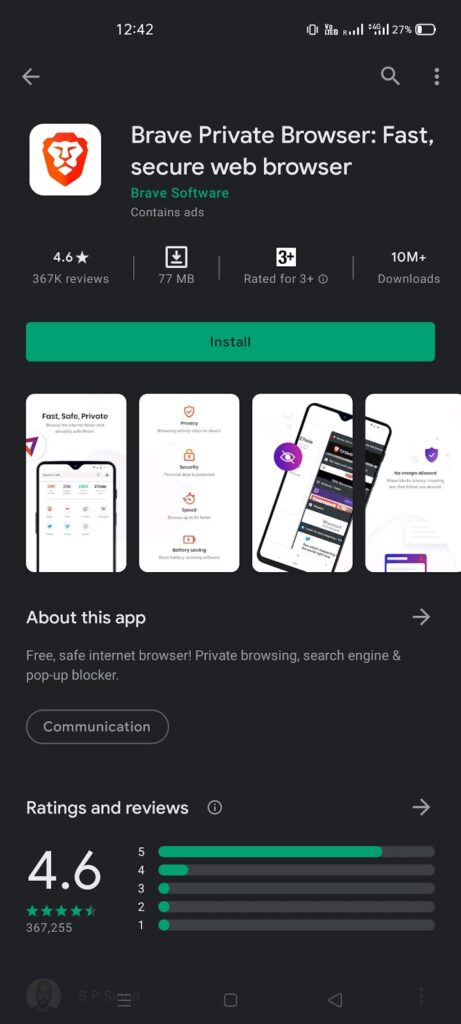 With more than 10 million downloads on Play Store itself, Brave Private Browser is considered one of the safest and most secure advertisement blocker applications available on the Internet. To block ads from your Android device, this could be your go-to application. It provides the following features:
Fast and secure browsing environment
Blocks privacy-invading ads that follow around
Adblocking web browser
Adblock Browser Protection
Fast browsing (up to 8x faster)
Script blocker
Shows how many ads and trackers have been blocked
You can download Brave Private Browser from here.
Method 5: Use DNS66 Android App
There are some open-source Android apps, such as DNS66 to block ads on Android at the network level.
Unlike methods explained above, a DNS-based ad-blocking system also blocks ads from Android apps, games, and web browsers by using the DNS66 app.
Here's a video that you may follow to set up DNS66 on your Android and enable a system-wide adblocking.
Method 6: Use Raspberry Pi
But if you also wish to block ads from all your devices, including Android phones, iPhone, laptops, desktops, etc., you can set up a local Ad-blocking DNS server for your home WiFi network.
Besides Ad blocking, this will also help you protect all your devices connected to your home network from trackers and spam websites.
Here's a complete guide on How to Block Ads, Trackers, and Spam Sites on Android, iPhone, Windows, and Mac. You may also watch and follow this video guide to set up an Ad blocking DNS server at home. It's open-source and completely free.
So these were some of the apps and methods that are widely used around the world to block ads on Android devices. We hope this article would have helped you learn about ways to block ads not only from android devices but also from your network.