Although there are lots of messaging apps available for smartphones these days but still WhatsApp is the number one messaging app among all of them. WhatsApp got millions of active users and its simplicity is the main reason behind its popularity.  In case you wish to Block someone on WhatsApp contacts then I'm here with a perfect guide.
The new messaging apps which are made available after WhatsApp provides lots of new and some provides unique features too but still users are sticking with the WhatsApp due to its large user base and simplicity.
I'll provide step by step guide using which you'll be able to block contacts on WhatsApp in Android, iPhone & Nokia phones. I've tried to write these tutorials in simple way so that you can do this thing easily.
Also check – Download Samsung PC Studio
Block Someone on WhatsApp Contacts in Android
You need to follow the below mentioned steps to block contacts in Android.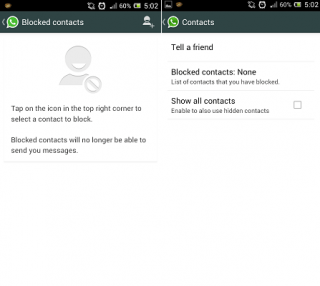 You need to start WhatsApp and then move into options and then into settings.
Choose contacts from the Settings and then move into the Blocked Contacts.
Choose Add blocked contacts button to add new contact which you need to block.
This is how you can block someone on WhatsApp contacts in Android. In case if you receive a message from an unsaved number then you can block that directly from the conversation menu. You'll find the button to block that new number on the top in the conversation.
WhatsApp Block Contacts in iPhone
In iPhone, setting is still the same. Follow the steps mentioned down here,
Move into the settings in WhatsApp.
Open up Chat Settings and then choose Blocked option.
Here you can add any contact to block that.
This is how you can block phone number in WhatsApp in iPhone.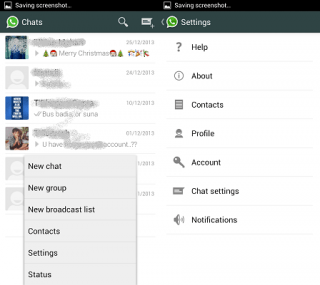 Also check – Photo Grid app for PC
In Nokia
In Nokia, the setting is slightly different. You need to follow the steps mentioned down here,
Start WhatsApp and move into the Options.
Now go into the Settings and select General settings from there.
Here you'll find an option named Blocked, choose it.
Now add any contact into the blocked list and to save the settings click on Back button and select Yes button from there.
That's all. The same settings are there in all Nokia phones.
So friends, this is how you can block someone on WhatsApp contacts in Android, iPhone & Nokia. Do share this guide with your friends over social networks so that they can also know this method.
Thanks for Visiting Techposts.org
An Avid learner, a Tech Enthusiast and the founder of TechPosts Guides, Ravi is a Raspberry Pi fan and an open-source lover. He spends most of his weekends working with IoT devices and playing games on the Xbox. He is also a solo-traveler who loves hiking and exploring new trails.
Follow him on .Twitter, Facebook, and YouTube.