PokeSniper 2 is a tool to allow you to catch any Pokemon in any location from any location without getting softbanned. From any location i mean your current location. It's a really nice bot which requires the name and location coordinates of the Pokemon you want to catch and once you enter these details, the PokeSniper tool which look for it and catch that Pokemon for you without any efforts. It also has an automated mode which allows you to catch spot and snipe the Pokemon with Pokemon ball and caatch it for you automatically. You just need to enter the automated mode and Pokesniper will take care of the rest.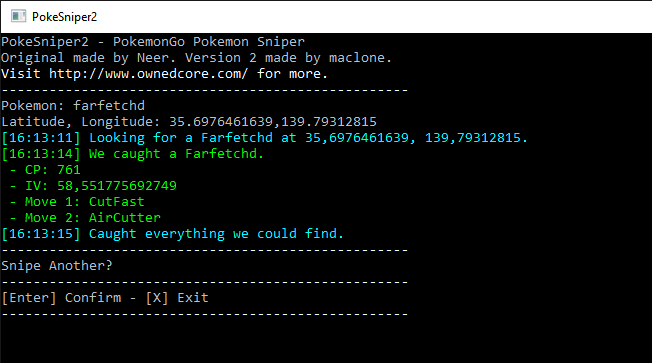 Catch Any Pokémon in Pokémon Go via PokeSniper 2
I have personally used it and i know few using the automated catching mode in Pokesniper 2 tool to catch different Pokemons in Pokemon Go. Till now, nobody has been soft banned and everything is fine. Please note that i do not recommend this, still if you want you can use it own your own. It works for all devices, whether you have iPhone, iPad or Android device.
How Pokesniper 2 Bot Tool Works:
First, download the Pokesniper 2 bot. PokeSniper 2 Bot: MEGA
Extract and Open the Pokesniper 2 tool (no installation is required).
Find your location coordinates, visit https://MONDECA.COM
Now, enter your Pokemon Go account credentials (Username and Password)
Now finally, find the Location of the Pokemon you want to catch using http://pokesnipers.com site and enter them in Pokesniper Tool.
I have also created a video guide showing how you can catch any Rare or legendary Pokemons in Pokemon Go Via PokeSniper 2. If you like this video, please visit our Youtube Channel and subscribe us for more How to Tech video tutorials. We upload 2-3 guides every week.
If you find any issues with this tool, please comment belwo and i'll get a solution ASAP. Good luck! Gotta Catch'em All.
Hope you liked this post about how you can Catch Rare Legendary Pokémon in Pokémon Go using PokeSniper 2 Bot. Please share Techposts and subscribe us for more such how to guides. Also Like or follow us on Facebook and Twitter for instant Tech Updates.