Android N users can easily customize or change the resolution from the settings. But most of Android phones in the market are still running on either Android Marshmallow or below. Some people prefer the display to be really tiny, while others want a bit bigger fonts and icon sizes. So how do you achieve this? Well, here's the easy to follow, detailed guide on how to change Android resolution without root.
Change Any Android Phone's Resolution Without Root
Step 1. Install ADB Drivers on PC or Mac
We will be using some ADB commands in this whole process to change device's resolution. So if you don't have ADB drivers installed on your computer, use one of the guides linked below to grab a copy. But if ADB is working on your system already, enable USB debugging from your Android's Developer options.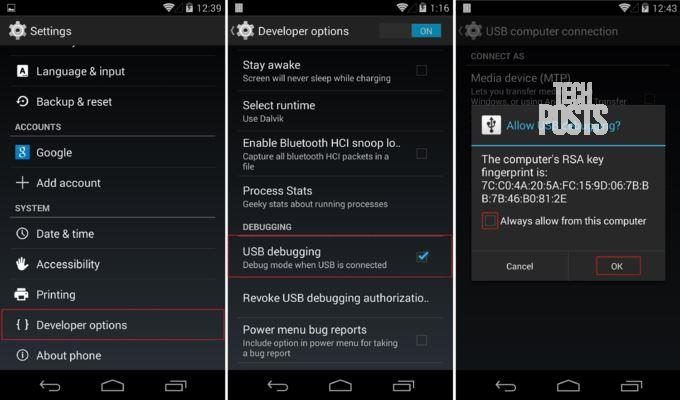 ADB Installation Guide – Mac
Download this Android.zip file to your Mac.
Extract the .zip and place the Android folder on your Desktop.
Open Terminal and type: cd Desktop/Android
Now install ADB and Fastboot: ./ADB-Install-Mac.sh
Allow the script to run and you'll be all set. Now the ADB and Fastboot files will be placed in /usr/bin/ on your Mac.
Step 2. 

Find Your Android's Original DPI (Resolution)
To check the current or default DPI value of your Android's display, just Plug in your Android to your computer via USB cable. Next, open up Terminal in Mac/Linux or a Command Prompt in Windows OS. Then enter the following command, you can copy and paste:
adb shell
and then,
dumpsys display | grep mBaseDisplayInfo
From the output, find a part that says "density,". Next to it, is your Android's original DPI value. Write that number down somewhere safe.
Step 3. 

Changing Android Phone's DPI or Resolution
The DPI you choose depends only on your personal preference as i stated earlier in this post. Android devices ship with DPIs ranging from 120 up to 640. If you put lower value, the icons and font size will be decreased and vice-versa. So to do that, in your Terminal or Command Prompt window, enter the following command.
wm density [DPI] && adb reboot
Make sure to swap out DPI with whatever resolution you choose
Troubleshoot
If your device doesn't restarts and the command terminal says, adb:not found, just ignore this."Type exit and the adb reboot command to restart your system.
Your device will reboot automatically, and once back up, your new DPI will be in effect. Let us know which DPI resolution works best for your Android device. Share your screenshots/device below in the comments section. Don't forget to follow TechPosts on Facebook, Google+, Twitter and YouTube to keep up with future Howto Guides.