Hello Guys, welcome to new How to Guide from Techposts and today in this post we will show you How to Clone Facebook, Instagram, Games, & any Other Apps to Log into More Than One Account (multiple accounts). One can have multiple accounts on any app for different reasons. For eg. one for public interactions while the other one for something more personal. But the problem is that apps these days barely let you add multiple accounts. So the only option remains is to clear the app data and then log in with different account.
But now we have a better app that can help us running multiple accounts on same device. the app is called "Parallel Space-Multi Accounts". This makes you sign and switch into different accounts seemlessly.
How it Works:
It basically clones the app and installs them with different signatures, so you can have multiple instances of same app installed. This app works best for Instagram and facebook, so it's a great app to maintain multiple accounts for different online personas. this app is available for free on Google Play Store.
Setting up multiple accounts using Parallel Space:
You'll get a quick feature tour when you launch Parallel Space for the first time. It shows you the possibilities you can do with the help of this app than just Facebook and Instagram. You can clone any app or game virtually.  Once you are done with the walkthrough, tap the "Start Exploring" button to proceed.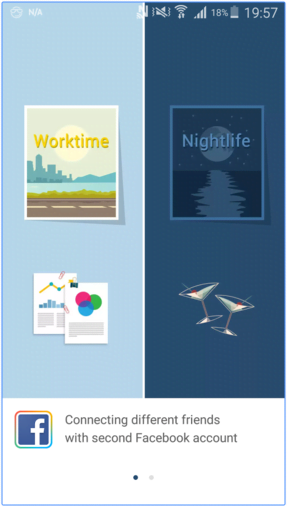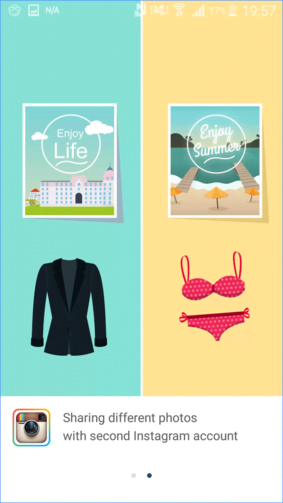 At this point, if you already have Facebook or Instagram installed on your device, you'll beasked and offered to log in to a second account. Since Instagram had recently implemented multiple accounts in their official app, I'd suggest that you tap anywhere to dismiss this message.
From here, it would be a good idea to see how the app-cloning process works to get the hang of things. So to begin, tap the + button at the bottom of the screen.
On next screen, you'll see a list of all installed apps on your device. Simply tap any app in this list to clone it, then Parallel Space will get to work. A second instance of the app will be created momentarily, and this will work with almost any app. Apps to consider cloning include Facebook, Dropbox, Slack, Skype, etc.
A few apps that won't run at all if they've been cloned. These include WhatsApp, Snapchat, and most Google apps, and there may be a few more incompatible apps.
Finally Log in to Your Secondary Accounts
Once you've cloned some apps, you'll see the secondary versions in Parallel Space's main menu. You'll see the cloned Facebook and Instagram apps in your app drawer with a + indicator. For example, Facebook+. Other cloned apps may not show up in your app drawer, but you can create home screen shortcuts for them from Parallel Space's main menu.
To log into your secondary account, either select the app from within Parallel Space, or choose the + clone from your app drawer or home screen.
From now on, you can simply launch your regular app to view your primary account at any time. Then, just launch the clone through Parallel Space, your app drawer, or from the home screen and you'll be able to use your secondary account.