The use of AI technology has brought about a significant impact in the content creation world. Especially with the introduction of ChatGPT in late December 2022, has made it mandatory for companies and organizations to verify the authenticity of content—whether the write-up is AI-generated or not.
Content marketers and SEO experts need to ensure that the search engine indexes the website content correctly. But sometimes the ChatGPT content increases the risk of plagiarism, which makes it essential to use a reliable AI plagiarism checker tool to ensure the quality of the content.
Whether you are in the organization or a content marketer, these plagiarism detector tools will help you check your content's authenticity and ensure that it is free from plagiarism. So, let's dive in and explore the 7 best AI plagiarism detection tools for ChatGPT-generated content.
Copyleaks AI Plagiarism Checker
Copyleaks is among the best detection tools which provide 99.1% accuracy in identifying human-generated and AI-generated content. This tool is also available in several languages like French, German, Russian, etc.
Copyleaks usually use the fight fire with fire method for detecting AI content. Moreover, it also promises to support ChatGPT 4 content checker tool. You can even check other content such as reviews, posts, whitepapers, and academic papers too.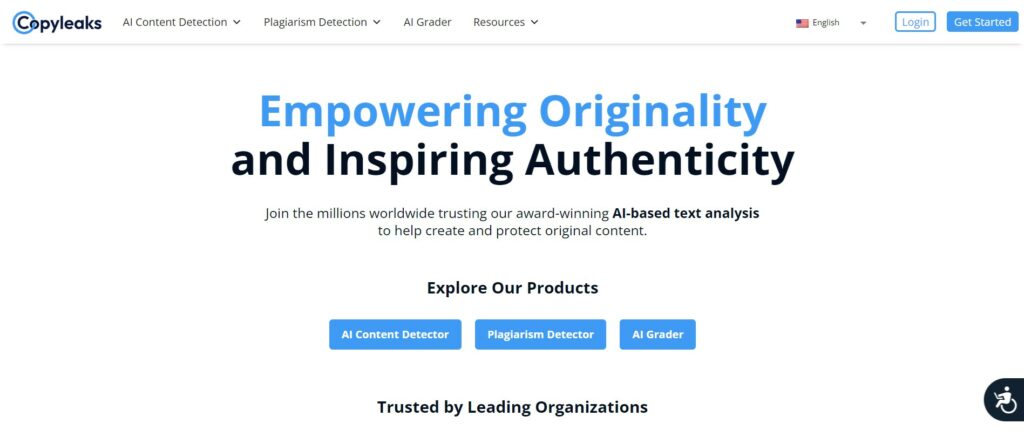 To use this tool, simply copy your content and paste it into the box. This AI tool can take around 10 seconds to identify plagiarism. A green signal below the box shows that your content is original. You can also add the Copyleaks extension to your system for checking your content.
Key Features:
Identify GPT3, ChatGPT, and any AI or Human written content
Provides Chrome extension
Have Learning Management System integration
Has an API for content checker
Fast and efficient scan time.
Costs
Starts at 9.16$ per month.
OpenAI Text Classifier
OpenAI along with their ChatGPT has also released a plagiarism checker tool OpenAI Text Classifier in recent days. This application form is modified as per the GPT model by the same company. It helps you to predict the content is whether written by a human or an AI.
This Text Classifier has been created based on different pairs of data along with human and Artificial intelligence, which makes it easier to identify the content. It works on almost every type of text and is currently based on the company website.
However, OpenAI has stated in their blogs that this tool is not fully reliable, and one cannot solely depend on checking plagiarism. Being a leading OpenAI tool, this text classifier can only check about 1,000 characters in one go.
Key Features:
Distinguish between human-generated text and AI-generated text.
Checks up to 1000 characters
Costs
OpenAi Text Classifier is free to use
Content At Scale
Content At Scale is another reliable AI content detector that uses artificial intelligence and machine learning to identify duplicate content. It also checks duplicate words, sentences, phrases, etc to help you in creating plagiarism-free content.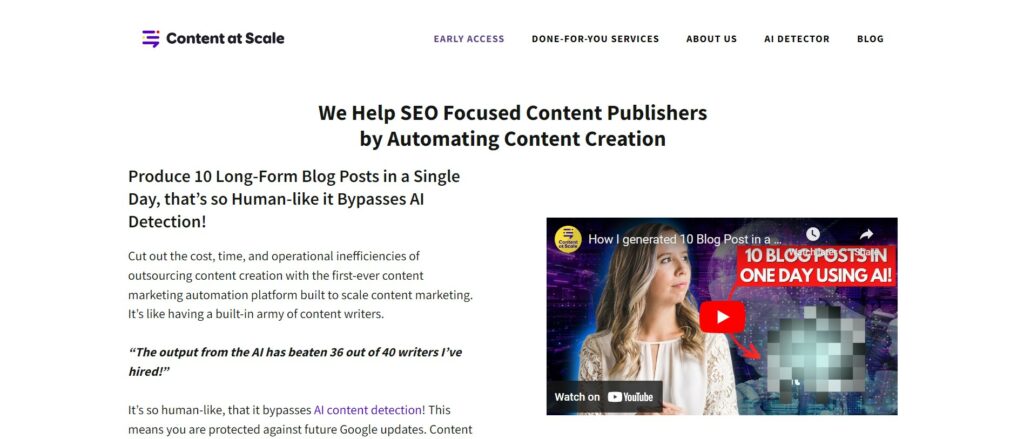 This tool usually uses semantic analysis algorithms for identifying ChatGPT content and moving them apart from the human-generated write-up. It has a Human Content Score Index which shows how much percentage of content is human-generated.
Key Features:
Detects AI-generated content in both ChatGPT and GPT3
Free for use
Operates semantically analysis to distinguish human written and AI written content.
Check for duplicate words to phrases
Shown on Human Score Index
Cost
Plans start at 150$ per month.
CrossPlag
Built to combat plagiarism, Crossplag is mostly used by academic institutions for AI content checkers. It helps to detect the GPT3 and the ChatGPT text along with human-written plagiarised content too.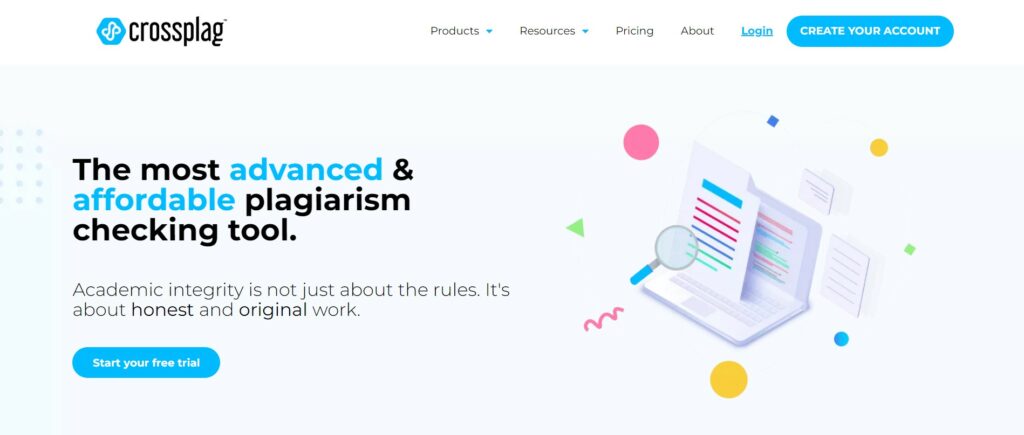 Crossplag mostly uses a Natural Language Processing (NLP) function and machine learning algorithms for identifying the AI written content. It also has the best user interface which makes it more simple to use for users.
Key Features:
Identify GPT3, ChatGPT generated content, and human plagiarism texts.
Simple user interface
Free to use
Cost
Crossplag Ai checker plans start at 9.99$ per month.
Writer AI Checker
Writer AI Checker is also a great AI plagiarism checker using an advanced artificial algorithm for detecting AI-written content. Being a good user base, it checks duplicate words, sentences, and phrases along with ChatGPT or GPT-4 written content.
This tool scans texts very fast and is also a free plagiarism checker tool. The only limitation of being a free tool is that it only scans up to 1,500 characters at a time.
Key Features:
Use an advanced algorithm to identify Ai content
Quick scanning and detection
Scan up to 1500 words
Free online available
Costs
Writer is a free plagiarism detector tool.
GPTRadar
GPTRadar is a GPT3-based AI plagiarism checker. It checks and detects every type of text online and classifies it as human or AI-generated. Available in website form, the GPTRadar user interface is so basic that it can easily identify copy-pasted content also.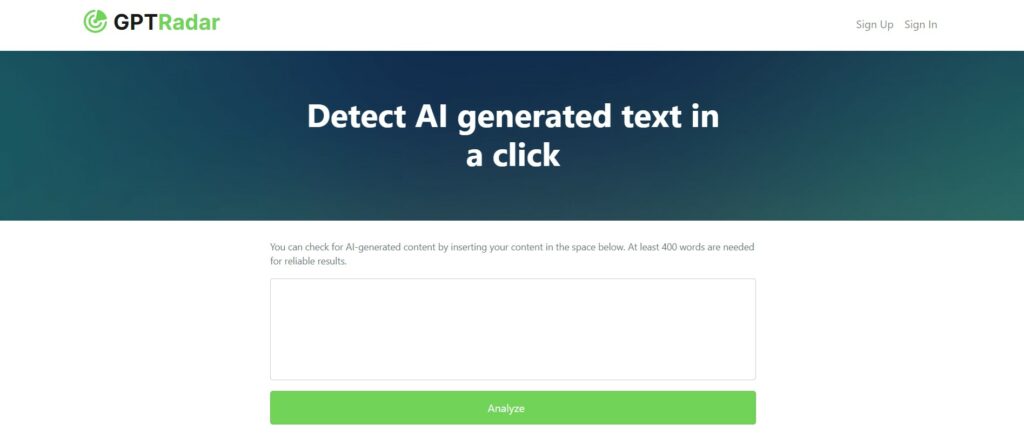 Being based on text perplexity, it has a model able to predict the words. This tool usually divides contents into chunks of text and detects accordingly.
Key Features:
Use the OpenAI GPT3 system to analyze a piece of text
Large Language model
Run on texts with some complicated calculation
Costs
Available for free to use.
Copyscape
CopyScape is another best AI plagiarism checker tools for all types of content. However, this works a little bit differently from other tools mentioned above. Instead of scanning content texts, the CopyScape algorithm analyzes the entire web pages to identify plagiarism.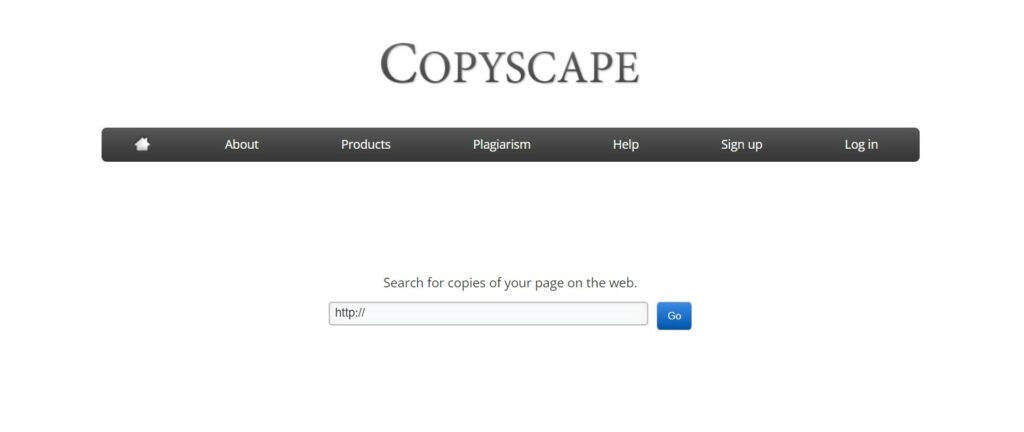 This tool crawls the website content and provides the plagiarized content on your screen. It shows as a tool for business purposes to check whether the content is stolen from any website or not.
Key Features:
Offers the most advanced plagiarism search
Analyze whole websites for plagiarism
Avoids duplicate contents
Track down the site's content
Detect unauthorized copies and protect intellectual property
Costs
CopyScape plans start at 19.95$ per month.
Last Words
Overall, using a plagiarism detector not only ensures your originality but also enhances the quality of work by distinguishing between human and AI-generated content. We have mentioned some great AI plagiarism checker tools for you. By using this, you can protect your authenticity and ensures that your work meets the standards of originality and quality.
Did you enjoy this article? You may also like Change DNS on All Popular Wi-Fi Routers.