You must be having a Samsung mobile phone for which you're searching for the Samsung PC Suite for Windows and I'm going to provide it for free to you. The PC suite I'm going to provide you is the official software issued and maintained by the Samsung developers and you can get it and use it for free.
Samsung is right now the top most brands in the mobile phone category and Samsung mobile phones are selling in great numbers. Earlier it was Nokia but now people have started reacting to Samsung better than any other brand.
Samsung has kept the name of this software as Samsung PC Studio. I'm first going to share the features of this software so that you can come to know what Samsung PC Suite can do for you.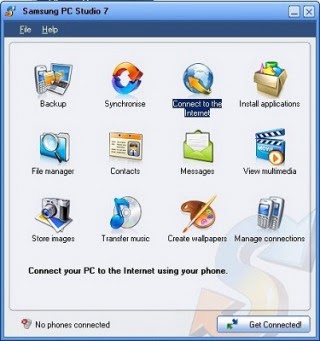 Also check – 
Download Grindr for Windows
Features of Samsung PC Suite for Windows
The installation of this Samsung PC Suite is very simple. You can install it like you install any other software but make sure while installing this software you haven't connected any Samsung device either via USB or with Bluetooth.
Once the software is installed then it will start up automatically or you can start it from the desktop icon. Once it's started then you can connect your device either via USB or Bluetooth. Within few seconds the Samsung PC Suite will detect your mobile phone and its version.
Using Samsung PC Suite you can take backup of all the content stored on your phone. You can take backup of contacts, messages or any other files stored on your device. You can keep the backup safe on your PC and use it in case you lose the data from your phone.
If the mobile phone of Samsung you're having supports internet connectivity via GPRS or EDGE or 3G then you can easily connect to internet and use your mobile phone as a modem. You can easily connect to internet and use internet in your PC with your mobile phone data pack.
The UI of the Samsung PC Suite is very simple and looks awesome. The tools available for use are present on the home screen only and you're not going to find any trouble in using any of its features or tools.
The Samsung PC Suite also got a file manager in built. You can use it to access files and folders on your mobile phone. You can add new files and folders and can delete or move them from one location to another.
Using any feature or tool of Samsung PC Suite is very simple and you're going to find everything simple and working great. You're not going to find any trouble at all. Using Samsung PC Studio you can control your phone via your computer.
Also read – Photo Grid Install on PC
Download Samsung PC Suite for Windows 7/8/XP
You need to click the below mentioned link to download Samsung PC Suite for Windows PC.
So friends, at the end of the day @Techposts.org, you're with your PC suite of which you're searching over the internet earlier. Do share this guide with your friends who are also having Samsung phone.
An Avid learner, a Tech Enthusiast and the founder of TechPosts Guides, Ravi is a Raspberry Pi fan and an open-source lover. He spends most of his weekends working with IoT devices and playing games on the Xbox. He is also a solo-traveler who loves hiking and exploring new trails.
Follow him on .Twitter, Facebook, and YouTube.