Download Torrent Like Direct Link : Downloading torrents is not always an easy task. Depending on the number of seeders available for a torrent, the time taken for downloading a torrent file can span over hours and in extreme cases you wait might even have to wait for days for a torrent to complete downloading.
Disclaimer: Make sure that the content you wish to download is not copyright protected or illegal in any sense. Or you should have the permissions in place before you begin.
The problem with torrents that take too long to download is, you will have to keep your computer turned on for a longer period of time and doing so will lead to wastage of electricity and simultaneously increase your electricity bill. For those who don't want to wait for days for a slow torrent to complete downloading, you can use a free service known was ByteBX to download torrents to their online storage and download it later to your computer.
Whenever you are downloading old torrents which usually have very less seeders, you can make use of the ByteBX to download these torrents to their cloud storage. Once the downloads get completed, you can then easily download the files to your computer with a constant download speed.
While ByteBX is a great service for downloading slow torrents files without using your computer turned or even wasting electricity. The only limitation of ByteBX is the free account allows you to download files up to 2.5 GB in size. Once downloaded, the file will be stored online for 5 days until it gets deleted. If you want to download files larger than that, you will need to opt for an Pro account, which will again have a limitation of 7.5GB.
Here's how you can use ByteBX to download torrents as direct links.
Note: We are not promoting piracy by any means. Use your own judgement to download any torrent file.
How to Download Torrents as Direct Links with ByteBX
Step 1: Head over to http://bytebx.com/register and register a free account on ByteBX and activate it by clicking on the link that is send to your email.
Step 2: Once you activate your free account, you will be taken to the storage page on ByteBX.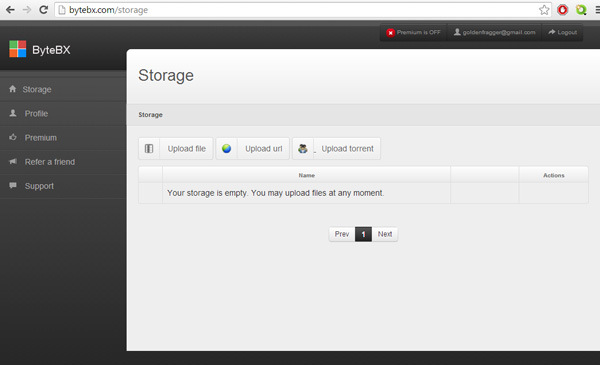 Step 3: On the storage page, click on Upload torrent and enter the magnet link or select the torrent file that you want to download and click on Go.

Step 4: Within seconds the torrent download will be started and you will be able to see the download progress.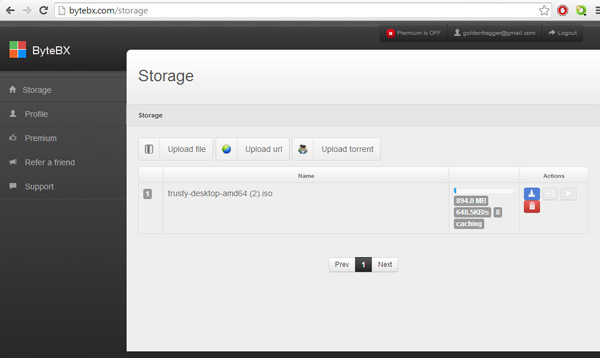 Step 5: Once the torrent download completes,  you can click on the Download file button to download the files. Although the download speeds will be limited to 150 kbps, but at least you will be able to download the file. Also remember that you will have only 5 days to download the file until it gets deleted from ByteBX's servers.
Few years back, popular image sharing site,  Imageshack used to provided a same service for downloading torrents on their server, which once completed, could be download to a computer. But very soon the service was stopped due to massive abuse of storage space. ByteBX on the other hand seems to have a promising future ahead. I would definitely like to see Google drive as a storage option with the service, since Google drive provides 15GB of free cloud storage which is the best among all free cloud storage service providers.