For a long time, I was using this messenger bag which is made of artificial leather as they claim to carry my laptop to my office. What I and everyone else in the office like was the color combination that gave this messenger bag a stunning appearance. However, there was very little padding and was not comfortable to carry with the shoulder strap. But, it looked good.
However, it was a leatherette product and so it started scrapping off and I decided to buy a new messenger bag preferably with real leather. So while hunting for the best, I had to keep in mind my budget which was INR 3000-4000, which is quite reasonable. At this price, you may not get the best leather but you can surely get a real leather product that can last longer and look much better than a fake leather product.
And it was easy. All I did was search on Amazon and found this beautiful-looking messenger bag from Hammond Flycatcher.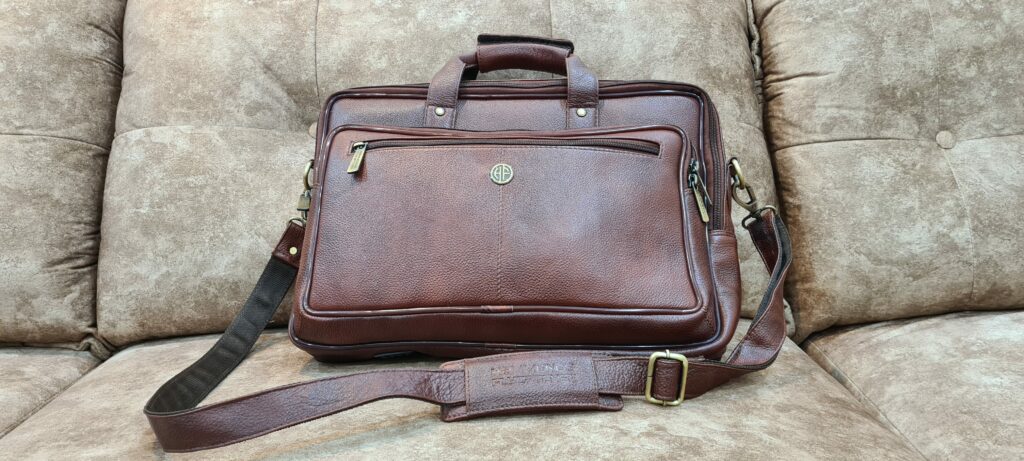 However, I was skeptical about the product quality at this price. But the product looks stunning and had great reviews overall. So finally, I bought it and it's here. The purpose of this review is to share my experience and what this product actually looks like in real life. We will talk about its design, looks, usability, and flaws.
IMPORTANT NOTE: I never heard of this brand before browsing it on Amazon. This review isn't sponsored by the brand or anyone. I needed a messenger laptop bag and I bought it with my money. It's just that the bag came out really well and I liked it a lot which made me write this detailed review. So I am here just to share my experience, thoughts, and what I liked and disliked about the product.
Design and Looks
There are a variety of options when you visit the Hammon Flycatcher store on Amazon. However, I chose this over others because it looked good to me.
It comes with the main compartment where you can place your laptop up to 15.6 inches in size very easily. There's enough space to keep other items within this compartment.
Then there is a secondary compartment with a mobile phone pocket, a pocket for your tablet or diary, and other stuff. You also have these pen holders.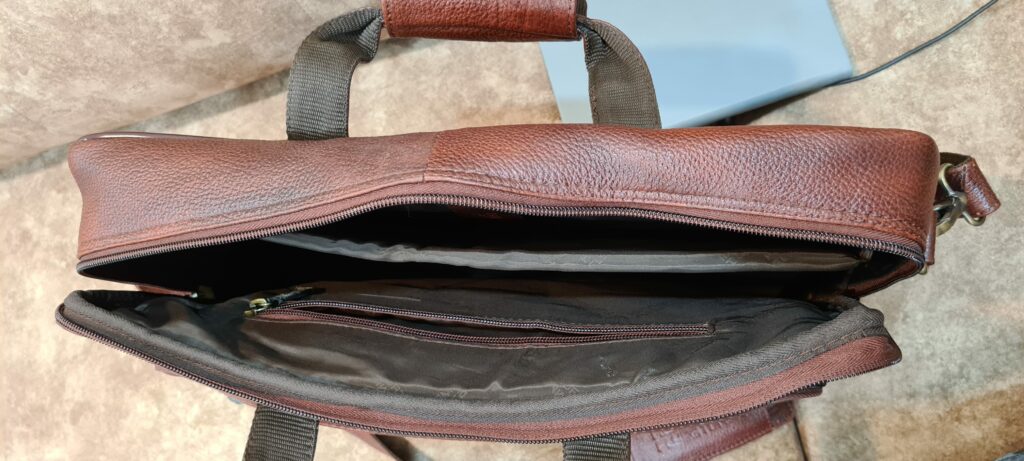 Then there is a third zipper compartment where you can keep small items or papers.
At the back also you get another compartment to keep other items.
When you look at the bag, it looks stunning and does not look like a sub 3000 rupees or $40 product at all. The finishing is nice, threads are perfectly stitched and zippers are so smooth that they slide.
And I need to emphasize the quality of the zipper and hooks, they are really nice.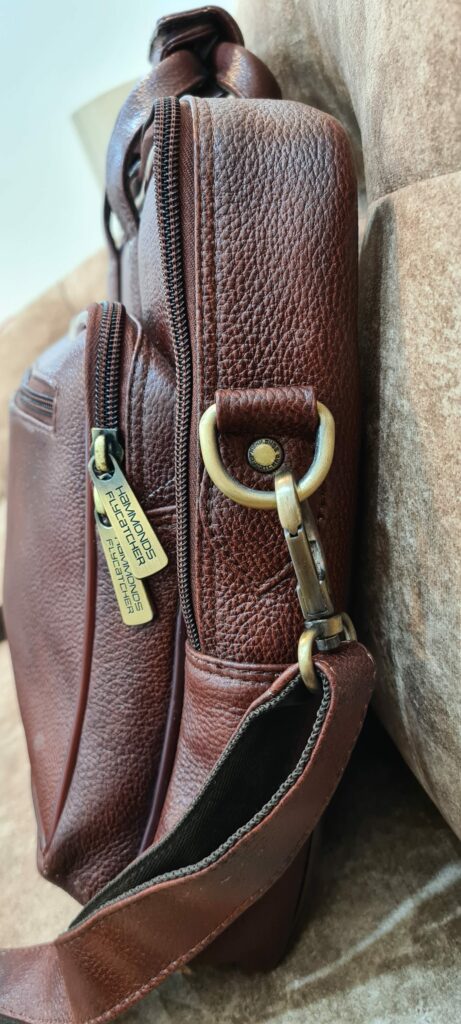 The piping done adds to the beauty and gives this bag stiffness. There are also pads below the bag which is one more reason for me to buy this as it helps keep the in standing positing instead of lying down on its back.
Flaws But Not Dealbreakers
Everything looks perfect until you look closely. You may find some issue with the bag for example in my case there was a li'l glue sticking out which looked liked thread and I thought the stitches came out but no. It was gum which is cleaned.
Then there is this stitching issue on one of its hooks where it looks torn. However, It's something I can ignore for the price I paid for the product. And also I do not carry the bag on the shoulders strap. I use these to carry it. Other than this, I saw a clear variation in the color or should strap made by stitching two different colored leather. It's obviously a quality issue and needs to be looked at by the manufacturer. But again, I do not use the strap but keep it as the bag doesn't look good without the strap even though I carry using these handles.
Apart from this, I found small scrap offs, like minor scraps which I think were due to shipping. Although it comes in a cloth bag, it isn't wrapped with any bubble wrap. But these scraps are minor and don't appear to naked eyes until you see and inspect them closely.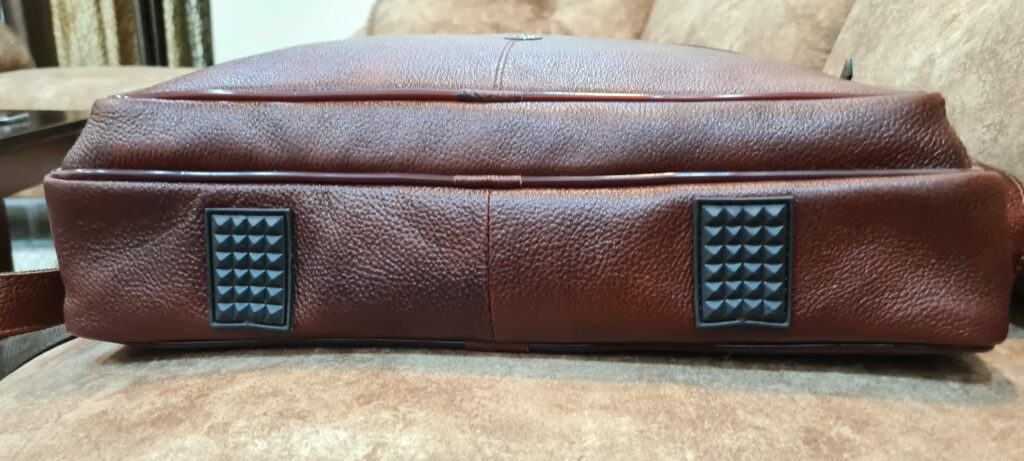 Overall, I love the bag, it adds to the style and looks great when you go to the office. Everyone who saw the bag was seen impressed by the quality.
Is It really genuine Leather?
However, there are other ways to find out if the bag is made of genuine leather.
First, the bag is heavy, which speaks to the quality of the product. A substandard product will not use such high-quality zippers. I also did some tests to find if it is genuine leather or not. Such as the wrinkle test as you can see there are wrinkles when I press the leather.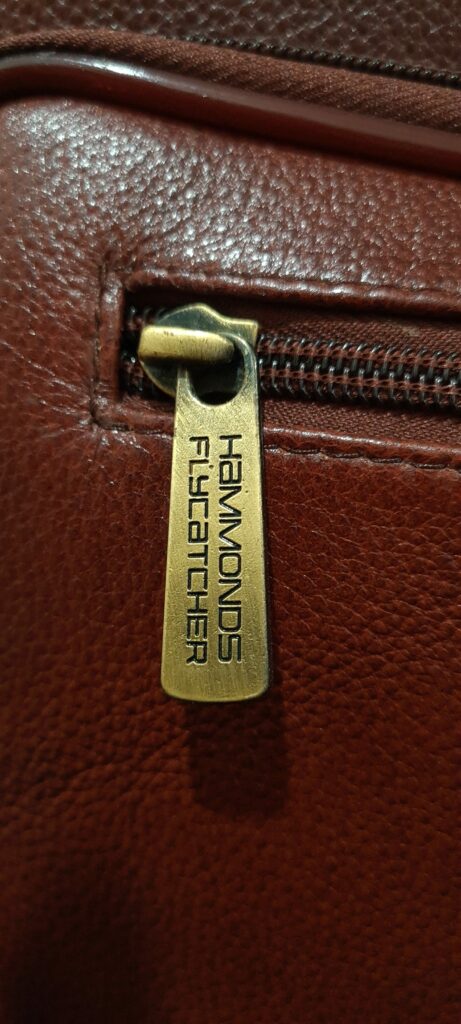 If you look closely, the holes where the thread is stitched have black hole color. You will not see this in fake leather. I also did a water drop test and it passed with flying colors. It absorbed the drop instantaneously unlike this faux leather bag.
So there you have it, one of the best and affordable messenger laptop office bags for all you professionals. The link is in the description, use it as it'll help this channel and help me create more genuine reviews of various other products that I purchased and use in my daily life.
Also, if you liked my video please hit the thumbs up and also subscribe for more videos like this. I will be back with another video soon, thanks for watching, have a good day.
Most importantly, Is It Worth buying?
Well, the answer is yes, if you are looking for a leather laptop messenger bag in a budget segment. I can't comment if the lather is 100% genuine but it does smell and feels like genuine leather. I am not an expert but I own many leather products, including shoes, belts, jackets, etc. and so I can tell if the product is made of leather or not.
Pros
Highly affordable price
Genuine leather
Excellent looks
Good quality zippers and hardware used
Overall, it's a bang for your bucks!
Cons
Quality check issue
Average finish