Video to GIF Converter
In times and places when you can't place an entire video on your site, a GIF comes to rescue. GIF, A Graphic interchange format, is the second most common format used globally and is an animated graphic file. It uses the LZW compression and is owned by Unisys.  Video to GIF converter is a great application which is designed for users who wish to convert videos into GIF's. It is famous for its simple user interface which makes it quite pleasant to use.
The entire process of GIF conversion revolves around four simple steps.
Load the video

Set the video clip

Set Frame rate

Get GIF animation
It is an easy to use video to animated GIF converter which has a very simple and user-friendly interface. It converts the videos in all the prominent and famous format. Some of them being- AVI, MPEG, WMV, MKV, MOV, RMVB. It coverts not only to animated GIF but also to all the other commonly used image files. It apparently has ultra-fast conversion speed and very low quality loss, hence enabling us to view animations as well the as the video files easily.
Making it possible to play video files in GIF format, it gives the pleasure of setting 24 frames per second which gives the output similar to your original video. You can also make a smaller size animated GIF which gives the rate of 1 frame per second. 
MAIN FEATURES OF THE CONVERTER
Covert videos to animated GIF
It helps to convert video files like AVI, MKV, MP4, WMV, MOV, and RM to animated GIF file which keeps the speed rate and resolution of the original file.
Covert videos to Seriate Pictures
It helps in the extraction of frames of all video formats into separated image file with great ease. Images can be converted into all the popular formats such as JPG, GIF, BMP, PNG and others.
Make special effects on output Image
Interestingly special effects like Blue, sharpen, noise, brighten and invert can be added to the output GIF or images.
Supports most image formats
It helps to convert images into various image formats, including JPEG, JPG,        BMP, PNG, TGA, TIFF, ICO and PCX.
Other Features to Enhance Output Images.
It can convert your video into a single image including multiple images in a simple arrangement.

You can keep the resolution size of your output file as original or set a new size if you wish.

User is also given the feature of changing the frame rate to control the speed, which is a unique advantage in comparison to other similar programs.

This application also has a built in Video player with some basic functions like pause, stop, snapshot etc. It supports all key video formats.
Download Video to Gif Convertor
How to add many photos for Watermark at Once?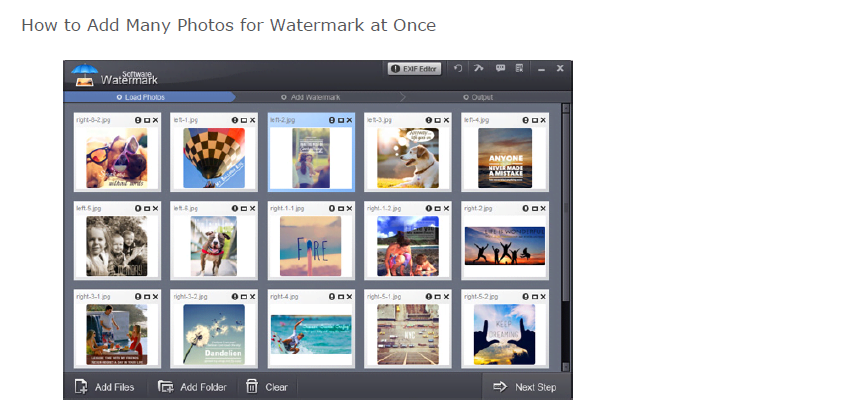 Step1. Click "Add Files" button to open a dialog window and then choose photos you need, you can also drag your photos to Watermark Software directly.
Step2. Or click "Add Folder" button to load all photos in this folder.
Step3. If you want to remove one or more specific images from list click on "Remove" button.
Step4. If you want to remove all images from list click on "Clear" button.
Hence, we see all the great features that this application is providing. It is indeed an application worth use. Tell us what you feel and did you liked it via comments below. Please, don't forget to subscribe to our Newsletter, you can also like us atFacebook, Follow us on Google+ and Twitter.