Hello Guys..!! In our Previous Tutorials we shown you with the help of Video tutorial that How you can install Android Kitkat on any PC (Dual Boot with Linux, Mac or Windows). Well, today in this How to Guide we will Show you How you can install Android 4.4.2 Kitkat on any Windows PC with Android x86 Installer in just a Single click and Dual boot Windows and Android.
The best thing about the Android x86 installer is that you don't need to create any bootable USB Drive or install Grub bootloader which many do not like.
The problem with the previous installation using USB, many faced problems like Bootmanager is Missing, error 16, hangs at Android boot LOGO etc. Also we have limited space of 2GB when we install using Android-x86 4.4 Bootable USB while if we install using Android x86 Installer, we can create internal storage from 2GB(Min.) to 32GB(Max.).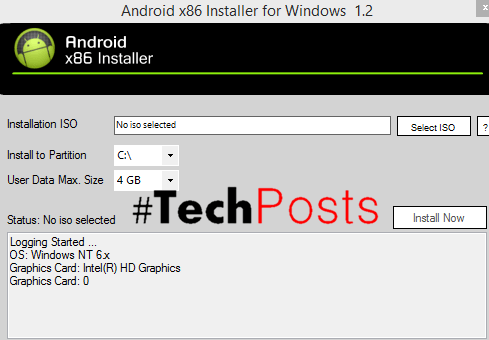 This Installer will let you install Android x86 on your PC like any other application, for example, installing VLC media Player. Android x86 Installer ensures no risk to Damage HDD Partitions, Boot Data or User Data. It's like WUBI (ubuntu installer) but it is NOT a WUBI Based Installer. You can uninstall it anytime like you uninstall a Program in Windows.
After installation you will got an option at boot to select Windows or Android. (See the Screenshot below)
Android x86 ISO (Download Now)
Windows Boot Manager/NTLDR is the default Boot Manager (no need if you have windows installed)

Windows 2000/XP/Vista/7/8 32-bit or 64-bit
.NET Framework 4
Androidx86 Installer (Download from Here)
Installing Android-x86 4.4 KitKat on Windows PC:
Download any version of Android (i recommended eeepc version 4.4-R1)
Launch the Installer.
Select the downloaded ISO file
Select the partition which Android will be installed to.
Select "User Data Max. Size" which will store download Apps and User Settings
Click Install and wait about 5 min.
Note: Installation time depends on "User Data Max. Size" may be more than 10min with 32GB
How to Uninstall Android 4.4.2 KitKat from Windows PC:
Start->Control Panel -> Programs and Features
Select Android and click on "Uninstall"
Just press any key and wait until screen disappear
Know Issues:
Not Work if GRUB is the default bootloader
EFI Not Supported
Change Log:
Version 1.2:
– Support Windows 2000/XP [waiting for Users Reports]
– Logging Installation Process
Version 1.1: automatically detect if VGA Card require xforcevesa nomodeset, no more android black screen
Version 1.0: initial version

Some Notes:
you can install Android on "USB Disk" or "SD Card"
you can install Android on Windows partition (Drive C: ), no problems at all

Windows 8 Devices Note:

Most of Windows 8 Devices which use UEFI and GPT Disk is not supported till Now.
Before You Go….
Just wanted to let you know that We've launched YouTube Channel where we upload awesome video content. Make sure you hit the subscribe button to stay up to date with the new videos we upload every week. Also Subscribe us for more How To Guides and Reviews…!!! @http://youtube.com/checknma for more How to Guides. Enjoy..!!!