Facebook is the #1 Social Networking Site which is growing at an alarming rate. Also Facebook allows you to do many more things apart from Socializing with your friends, such as playing games and using other web apps.
Many Games on Facebook like Candy Crush Saga are quite addictive and they lure in many Fb users to spend hours on playing them and unlocking virtual rewards. Facebook users know that most Facebook apps and games would request the user to invite all their friends in order to get rewards.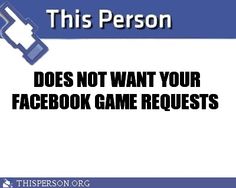 Now if your friends love playing games on Facebook, then they are going to send  you loads of game and app requests, which is really irritating for me. This is why  i hate Facebook apps and games. I have seen many friends of mine who even  posted status for others to stop sending them Game requests because these apps  and game invites causes a lot of annoyance to Facebook users who just want to  socialize with their friends.
But Fortunately, there's a quick way to stop receiving any game or app invites  from the Facebook notification. For those who want to stop receiving invites for  any game or app, here's how you can turn them off.
How to Turn Facebook Game Invites and Requests
It's really very simple to stop receiving facebook game requests, follow these steps…
Step 1: First, Click on the notification icon on Facebook and hover the mouse above a app or game invite in the notification. You should see a cross symbol appear to the right of the app or game invite, Click on it.
Step 2: Next a turn off button will appear. Click on the Turn off button to permanently turn off all the future invite or requests for the app or game.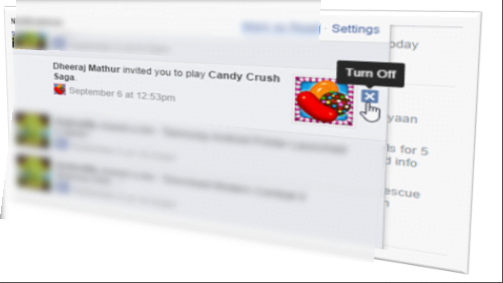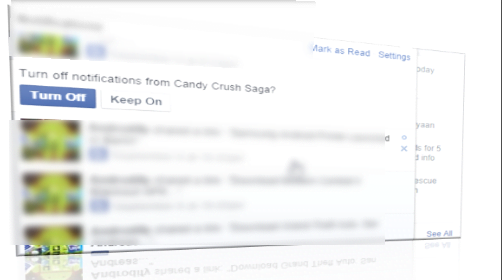 That's it now you won't receive any more requests for the app or game. This method will allow you to individually select games or apps from which you don't want to receive invites and requests.

Before you go….
Just wanted to let you know that we've launched YouTube Channel where we upload awesome video content. Make sure you hit the subscribe button to stay up to date with the new videos we upload every week. Enjoy..!!!