When you have had a smartphone for a while, it can start to feel slow and RAM or Random Access Memory can be the issue. Now RAM is the crucial memory where your device stores temporary files and resources.
Whenever the running program needs something, rather than pulling it all from the secondary storage (internal memory), it quickly pulls out those files from the RAM giving you a smoother and seamless user experience. As a result devices with more RAM can store more data and hence are smoother even while running demanding apps or games and heavy multitasking.
Whereas devices with low RAM even struggle while doing rudimentary things like browsing the internet or while watching a video.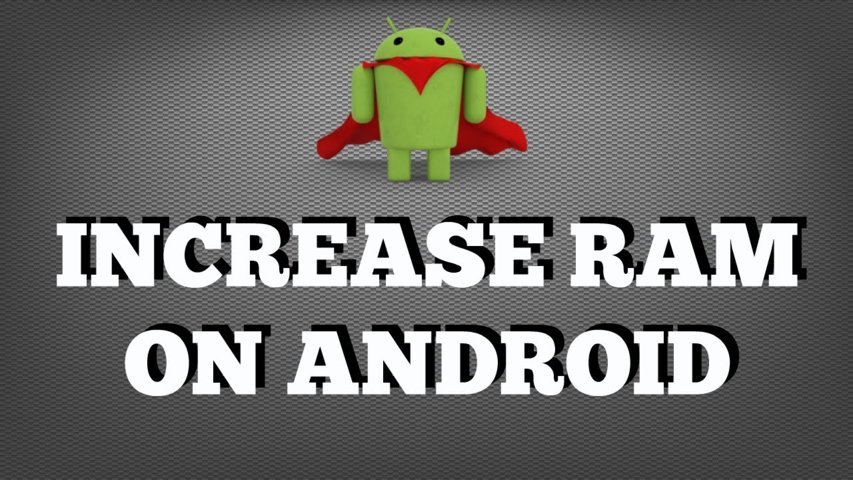 But unlike computers where you can physically add as much RAM as you need, in a smartphone, the RAM is proprietary and cannot be physically added or removed without blowing the whole thing out.
But since your device memory which is used to store the data is quite similar to your RAM. You can turn a small portion of your SDcard or internal memory into RAM. We call it Virtually creating RAM for your device or VRAM. So let's go ahead and add some RAM to your device.
Steps to Increase RAM on Android Phone
In order to expand or increase your Android phone RAM, you'll need the following things,
Update: You may also use Link2SD or RAM Manager Pro to boost and increase your RAM and improve your Android phone performance.
But before you proceed ahead, please install this free MemoryInfo & Swapfile check from Play Store. This will let you check whether your device is compatible with RAM Expansion or not. This is how you check,
Install the MemoryInfor SwapCheck app and open it
Tap on Rheosoft RAM expander Test tab at the bottom.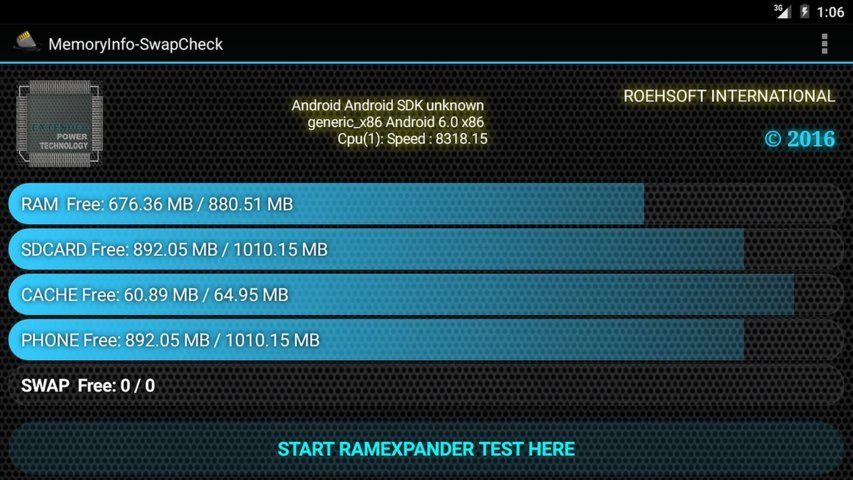 Now select the Sd card location. After the testing is completed, result will be displayed. If your device is compatible, a window saying "Congratulations" will be displayed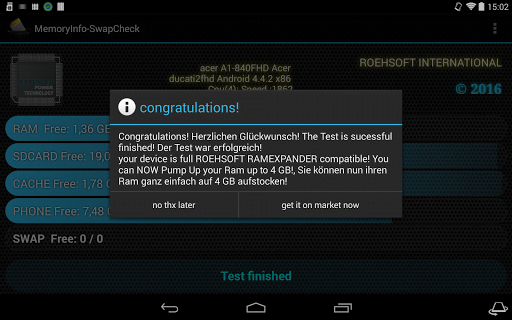 If you don't get the Congratulation message popup then your device kernel probably doesn't support RAM expansion and hence your money is saved :). You may still give it a shot, if it fails then you can always ask for an app refund within 2 hours of purchasing this app and get your money back from the Play Store.
Now open the Rheosoft RAM expander App and make sure that your device is connected to the internet.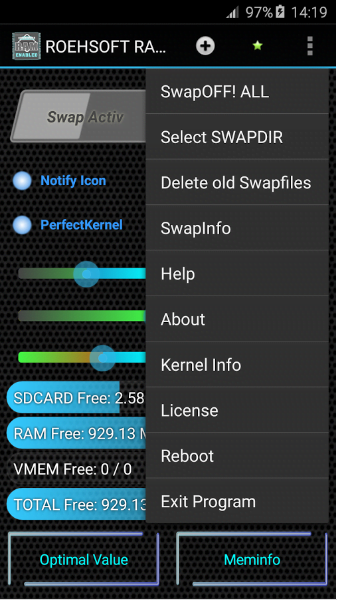 When prompted, please grant the root permission to this app and then you'll see a bunch of options and numbers. You can either manually configure each one of these settings individually or you can simply tap on the "Optimum Value" button. This will automatically configure all the values based on your device.
Now the only next thing to do is to configure the Swap file slider. Using this slider you can select the amount of RAM that you want to create. The app will automatically set it to a maximum RAM value that your device can stably support. Here you can set it to a minimum of 400MB or a maximum of as high as 4GB. But it's recommended that you must not go above the optimum value.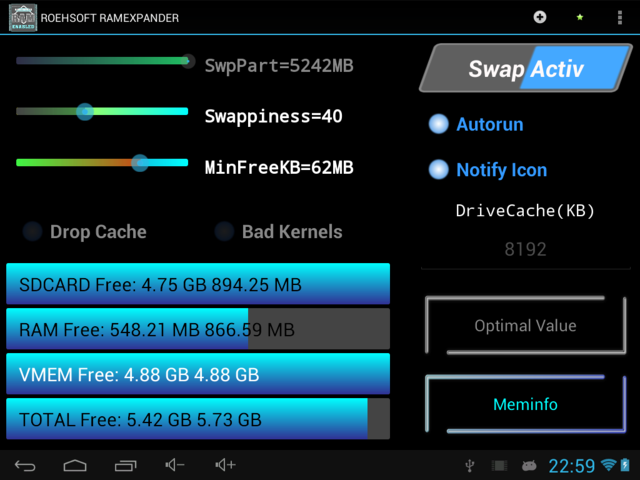 According to me, 1 GB of virtual RAM over the existing RAM is more than enough for any activity on your device.
Now finally tap on Swap Active slide button at the top. It will ask you to select the external SD card location and then again tap on the Swap Active button after locating the Sd card. The swapping process will start as soon as you tap the button which will take around 2-15 minutes depending upon the amount of RAM you are creating. Here you can also try selecting the internal memory and if it works then please let me know via comments below.

Now upon sliding down the notification bar you'll see a new info bar showing the amount of expanded RAM that you just had created. So if your device has 1GB of RAM and if you have created 1GB virtual RAM then now your device is running on 2GB of RAM.


Please Note: The amount of RAM that you have just created will not be shown in your device's application manager as it's virtual RAM and not hardware-based. But it will function similarly to your internal RAM.

Conclusion

So if earlier your device or a certain app needed more RAM and there was simply not enough RAM due to which your phone or game slowed down or lagged a lot then this VRAM will come to rescue your device and will help your device run much faster and perform better than it was earlier. Now one really basic thing that you should understand is that there are several other factors like CPU frequency, no. of cores, Cache memory, app optimization in your device, background activities, and RAM that affect the speed and the performance of your device. this means the RAM alone cannot speed up your device but it will help apps that require more RAM to run faster in your device.

However you won't see huge boost in performance in day to day activities and apps that you justran. A syour hardware RAM will pretty much do the job. So while playing low end games o high end devices with sufficient RAM, you won't see any boost in performance.However you'll definetely notice a significant improvement in speeds and performance especially while playing high end games on low-end devices or devices woth low amount of RAM.

That's it in this post, please subscribe to our Newsletter by entering your Email ID below or Like and follow us on Facebook, Twitter and Google+ for more such HowTo guides and updates.