DISCLAIMER: This guide is created for the educational purpose and shows that one can install macOS Mojave 10.14 or OSX on PC without Mac. This works for non-Apple hardware but Intel-based Windows laptops and PC. The guide explains how it's done. The process explained is a part of ethical hacking macOS for Non-Apple Windows and Linux desktops and Laptops. If you wish to remove the content (DMCA), please reach us via contact us page.
Let's learn how to Install macOS Mojave 10.14 on any Windows or Linux laptop or PC without Mac. This guide will help you install macOS X on PC running on the 7th and 8th Gen processors. The best thing about this macOS Mojave Installation guide is that we don't need a MacBook for this.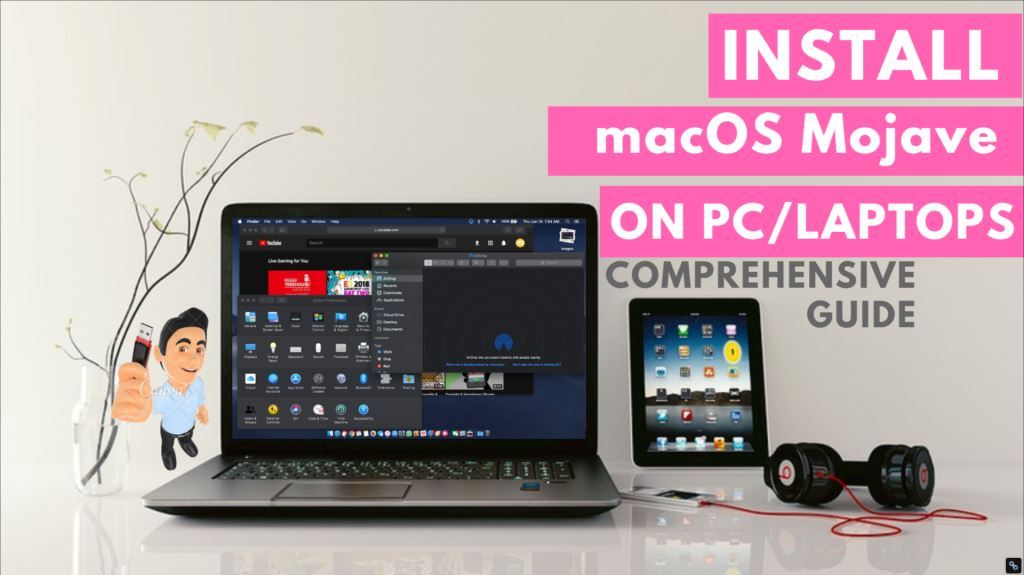 Thus, if you own a Windows Laptop powered by either Kaby Lake or Coffee Lake processors, proceed with this tutorial. If you own a system with older generation processors such as skylake and below, you can still use this guide but need to replace a few files in clover to install and run macOS Mojave on a Windows 10 laptop.
Further, if you want to install macOS High Sierra 10.13.6, follow this guide on how to install macOS 10.13.6 High Sierra on a Windows PC or Laptop without using a Macbook or macOS.
NOTE: This is the simplest and the easiest How-To guide on macOS Mojave installation on the internet with all the screenshot and video guides. However, currently, these videos are offline coz. Apple Inc. raised a copyright claim on our macOS MojaveInstallation video, and we got a strike on our YouTube channel. So we had to take down all macOS installation guides.
However, we will soon upload them to other platforms such as Vimeo and on our Facebook fan page. On TechPosts, we always try to create a video guide along with the post and you will find almost all posts with a video guide. And that's what makes us different.
How to Install macOS Mojave 10.14 on a Windows Laptop or PC
BEFORE YOU BEGIN…
Before you begin the installation, let me make myself very clear. I or TechPosts cannot be held responsible for any damage, whatsoever if anything happens to you or your system by following this guide. This is entirely for educational and learning purpose. So proceed with this guide at your own risk.
Steps to Install macOS Mojave10.14 On PC without Mac
We have prepared all the necessary files required for installation and tried making this guide more straightforward for better understanding. So all you have to is download, copy, and paste. In case you find it difficult, follow the process as shown in the embedded macOS Mojave installation video guide.
Step 1. Backup Drive and Data [Highly Important]
Backup the entire drive or all the critical data from the system before you begin installing macOS on the internal drive if you have dual storage, no problem. Just don't touch Windows OS drive.
However, we still highly recommend you to back up the internal drive data as we will be formatting the hard drive for macOS Mojave installation. Which means any data on the drive will be permanently lost. So be careful and create a backup to be on the safer side.
Step 2. Create a macOS Mojave Installer for PC
To create a macOS installation media, you need at least 8GB USB thumb drive. However, 16GB is recommended. And make sure it's USB 3.0 for quick installation.
Download the macOSMojave.dmg file which is around 5.6 GB
http://getintopc.com/softwares/operating-systems/macos-mojave-v10-14-18a391-app-store-dmg-free-download/
install TransMac app on your PC.
Connect USB Thumb drive to your PC and then run Transmac application as administrator.
Then right-click on the USB Thumb Drive and click Format for MacOS.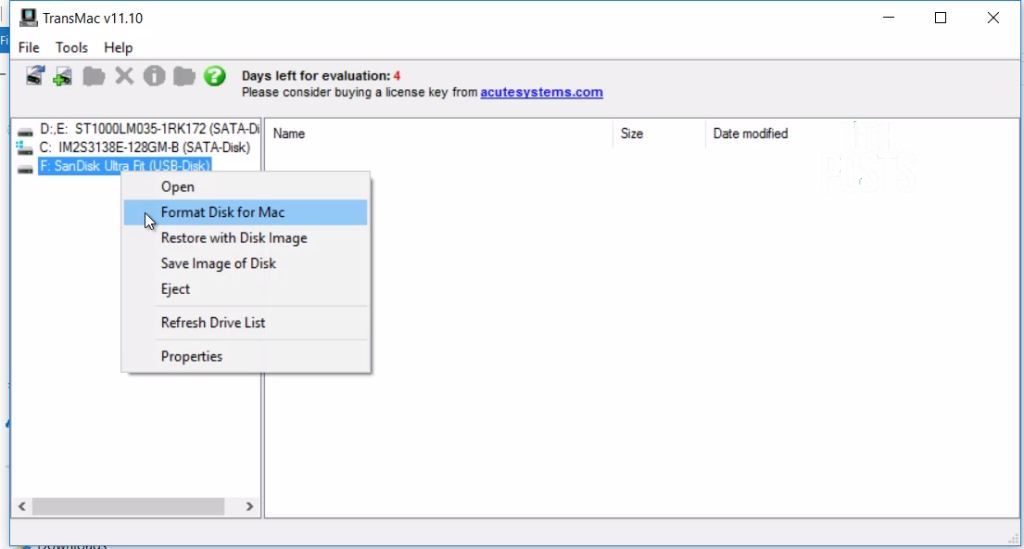 Right-click again on the USB drive but this time select Restore from Disc Image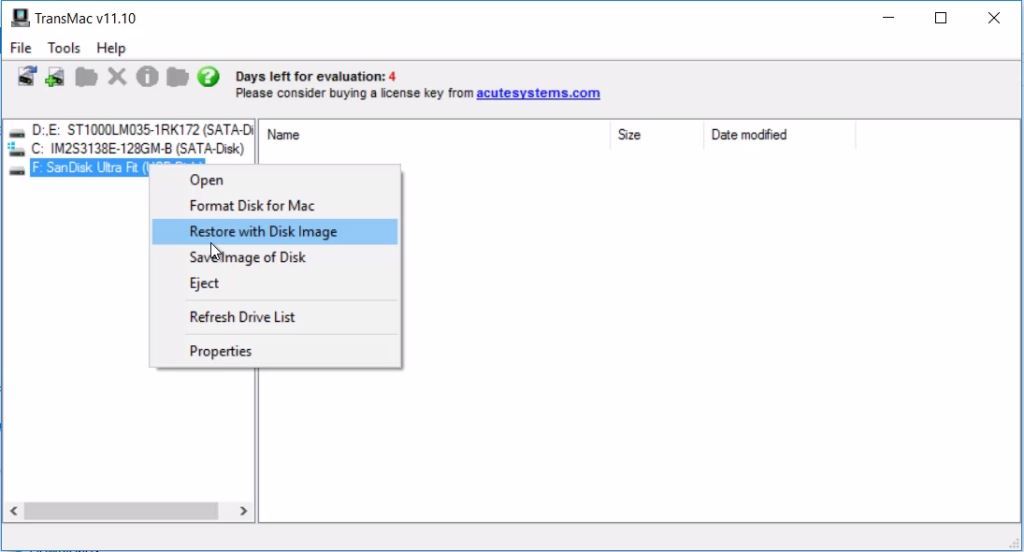 Now browse the MacOSMojave.dmg file you downloaded and select it
Click OK to proceed. Now, this can take a while depending on your system speed
Once it's finished, you can go to 'File Explorer' and then open the thumb drive partition
Inside the partition, you will see a few files and folders- delete everything. Don't format drive
Download the compressedEFI folder and then extract the CLOVER and BOOT folders to the USB Thumb drives EFI partition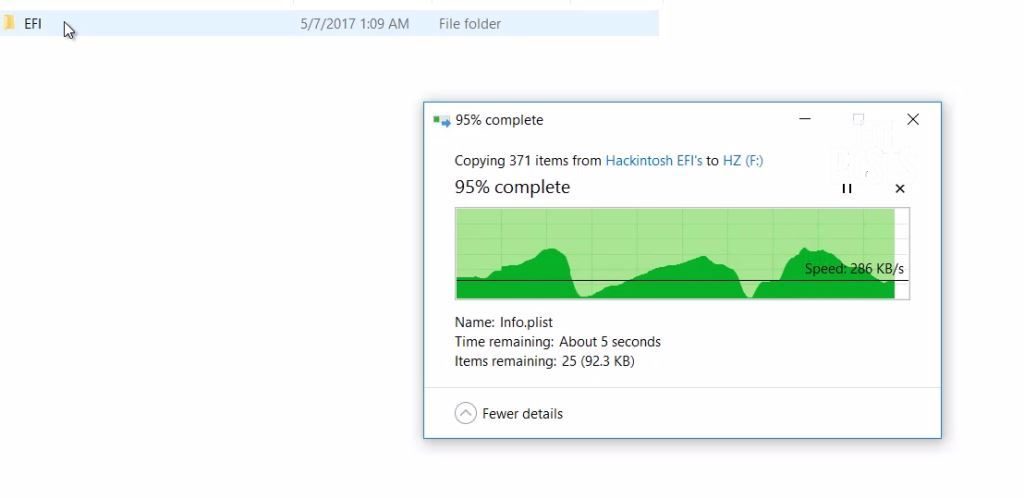 Now that you have copied the EFI folder, shut down your system
Press the power button to turn on the PC and immediately start pressing BIOS key usually F2 as the system boots.
Then change the following settings:
Deactivate Secure Boot.
Under virtualization, disable VTD or VT for Direct I/O.
"use strict"; var adace_load_5e1fc04f64a9c = function(){ var viewport = $(window).width(); var tabletStart = 601; var landscapeStart = 801; var tabletEnd = 961; var content = '%3Cscript%20async%20src%3D%22%2F%2Fpagead2.googlesyndication.com%2Fpagead%2Fjs%2Fadsbygoogle.js%22%3E%3C%2Fscript%3E%0A%3Cstyle%3E%0A%40media%28max-width%3A%20600px%29%20%7B.adace_adsense_5e1fc04f64a7a%20%7Bwidth%3A300px%3B%20height%3A250px%7D%7D%0A%40media%28min-width%3A%20601px%29%20%7B.adace_adsense_5e1fc04f64a7a%20%7Bwidth%3A336px%3B%20height%3A280px%7D%7D%0A%40media%28min-width%3A%20801px%29%20%7B.adace_adsense_5e1fc04f64a7a%20%7Bwidth%3A336px%3B%20height%3A280px%7D%7D%0A%40media%28min-width%3A%20961px%29%20%7B.adace_adsense_5e1fc04f64a7a%20%7Bwidth%3A336px%3B%20height%3A280px%7D%7D%0A%3C%2Fstyle%3E%0A%09%09%3Cins%20class%3D%22adsbygoogle%20adace_adsense_5e1fc04f64a7a%22%0A%09%09style%3D%22display%3Ablock%3Bwidth%3A336px%3Bheight%3A280px%3B%22%0A%09%09data-ad-client%3D%22ca-pub-1582616950037164%22%0A%09%09data-ad-slot%3D%227513274354%22%0A%09%09%0A%09%09%3E%3C%2Fins%3E%0A%09%09%3Cscript%3E%28adsbygoogle%20%3D%20window.adsbygoogle%20%7C%7C%20%5B%5D%29.push%28%7B%7D%29%3B%3C%2Fscript%3E'; var unpack = true; if(viewport=tabletStart && viewport=landscapeStart && viewport=tabletStart && viewport=tabletEnd){ if ($wrapper.hasClass('.adace-hide-on-desktop')){ $wrapper.remove(); } } if(unpack) { $self.replaceWith(decodeURIComponent(content)); } } if($wrapper.css('visibility') === 'visible' ) { adace_load_5e1fc04f64a9c(); } else { //fire when visible. var refreshIntervalId = setInterval(function(){ if($wrapper.css('visibility') === 'visible' ) { adace_load_5e1fc04f64a9c(); clearInterval(refreshIntervalId); } }, 999); }
})(jQuery);