Link Bubble Released yesterday by the Australian developer who's also behind some great applications like Tweetlanes and Action Launcher, today unveiled his latest creation – Link Bubble. Link Bubble is an all-new browser designed and crafted solely with mobile devices in mind.
Link Bubble is free, but it's limited to opening links from just one Application. But, there's an option to purchase a pro version which unlocks the multi-tabs which will all load in the background while you continue surfing the web, Twitter, Google+ or whatever application you want.
It's $4.99 to upgrade to the Pro Version.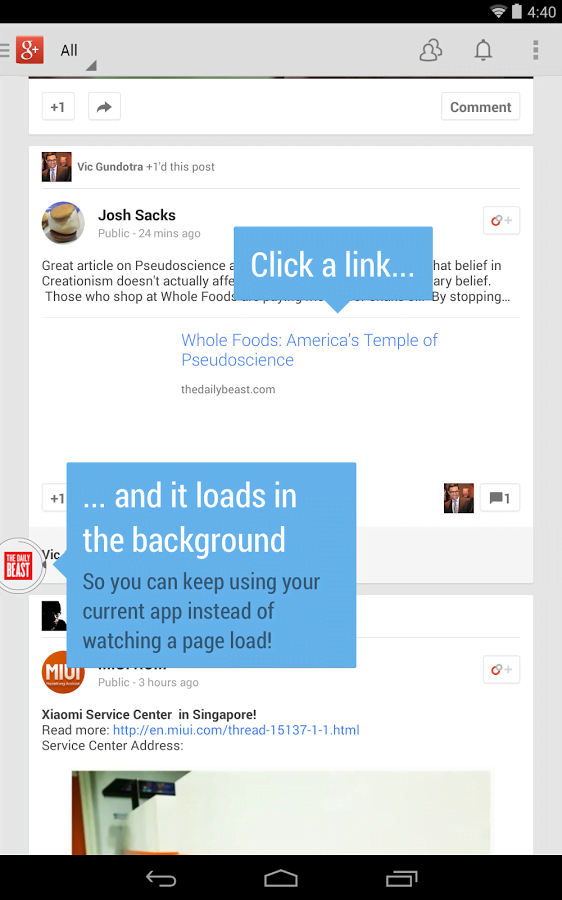 Features of Link Bubble :
• When you click on a link in an app, Link Bubble loads that webpage in the background, leaving you free to keep using your current app rather than your precious time being wasted watching a page load. Once the page has fully loaded, it will animate on screen.
• Link Bubble's flick physics allow you to go from clicking a link to sharing a link or adding it to a service such as Pocket in little more than a second!
• Load multiple links from your current app at the same time (requires Pro).
• Gracefully handles links that redirect to other apps. No longer does clicking an Instagram link in Twitter redirect to a full screen browser before loading Instagram!
• Deep integration with the apps on your system.
• Locates embedded YouTube videos on web pages, and provides a shortcut to load those videos directly in the YouTube app.
• Handy stats that illustrate how much time you are saving by using Link Bubble.
Regarding the Location permission: This is required so that you might grant permission for a website to access your location (such as those with an embedded map). Link Bubble itself never accesses your location.
There's also another neat feature that Link Bubble brings to the party, it detects YouTube video embeded in webpages and gives you an option to load them up in the YouTube App. You can get the free version from Google Play, here. Or the Pro version is available on Google Play, here.