Below is a list of some of the must have Android apps for your phone that will make your Android phone more efficient and productive.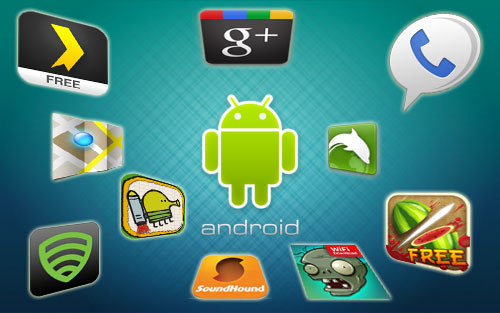 You can Download them and install them in your Android Phone.
Clean Master — Speed up your slow Android phone and also recover precious disk space.
Reader — Read PDF files on your Android, the app can open password protected files too.
TeamViewer — Remotely access your Windows or Mac computers from any Android phone.
Keep — Create notes, to-do lists, voice memos and photo notes with searchable text.
Ustream — Broadcast any event live from your phone or tablet – anytime, anywhere.
tTorrent — Download torrents directly to your Android phone or tablet.
RingtoneMaker — Create custom ringtones using segments from one or more audio files.
WiFi Manager — Discover Wi-Fi networks around you and connect to the best network.
Timely — A beautiful alarm clock that automatically syncs with your other devices.
InstaFontMaker — Create custom fonts in TrueType format with your own handwriting.
TrueCaller — Identify calls from unknown numbers and block SMS from spam numbers.
LapseIt — Create stop-motion videos with background music on your phone.
FoxFi — Turn your phone into a mobile Wi-Fi hotspot and share your data connection.
Shush — It remembers to unmute your phone after a certain period.
Avast — Secure your Android device against theft, viruses and phishing attacks.
AVG AntiVirus — Protect your device from viruses, malware and fake apps.
MyScript — An advanced calculator that even recognizes your handwriting.
DU BatterySaver — The app solves your battery problems and extend the device's battery life.
BatteryGuru — The app extends battery performance by monitoring your usage.
SuperBeam — The easiest and faster way to share files between two Android device.
SmartCam — It turns your mobile phone into a webcam for your computer.
My Tracks — Record you path, speed and distance as you walk or drive.
Fing — Find out which devices are connected to your Wi-Fi networks.
File Wrangler — An easy to use but powerful file management app for your Android.
Any.Do — Easily manage your tasks and to-do lists with Google Tasks sync.
Focal — A full featured camera app for even older Android phones.
HomeStyler — Snap a picture of a room, place furniture and visualize the interior design in 3D.
Splashtop — Access your Windows or Mac computer from any Android phone or tablet on the same network.
Cogi — Record your college lectures or the conversations happening in meetings.
Photo Grid — Quickly create collages and photo walls in different layouts.
News 360 — A smart news reader that aggregates news stories and blogs around your topics of interest.
SchematicMind — Visualize ideas and brainstorm with mind maps on your phone.
Repix — Remix your photos and turn them into piece of art using brushes and other tools.
Droid TimeLapse — Record high quality time lapse videos on your Android device without any complicated
settings.
Tape-a-talk — A simple voice recorder app that can record voice notes and audio even when the screen is off.
Calculator — A simple yet advanced calculator with a beautiful halo interface and free of any ads.
Viber — You can send free messages as well as make free calls to other Viber users over 3G or WiFi.
Line — Send unlimited messages and make free calls from your Android phone over VoIP.
Screenshots — You can capture screenshots of your Android device with keys or action triggers.
Expensify — Travelling on business? The app make it easy to file expense reports.
Contacts+ — A contact manager app for Android that display rich profiles for your contacts.
Glympse — Remember Google Latitude? This is worthy alternative that shows where your friends are.
HelloText — If you aren't too happy with the built-in SMS app of your phone, Hello is a good alternative.
AntennaPod — A simple podcast client for Android that allows automatic downloads for episodes.
Easy Backup — Backup your SMS, MMS and call records to the external SD card.
BackupPro — Backup your phone and easily move your data and media file to another device.
Podax — A basic podcast client for Android with widgets for the home screen.
WiFi Analyzer — Analyze your Wifi and expand the reach of your wireless router.
Veetle — You can easily broadcast and watch live video on your Android phone or tablet.
Easy Alarm — Set any YouTube songs as your wake-up alarm.
PocketCasts — The best podcasting app for your Android phone. Period.
MightyText — Send and receive SMS text messages from your desktop computer.
Shifu — The app knows when you have free time and suggest pending task that you may work upon.
Llama — Silence your phone at work or let it go quiet when its time for bed.
AirDroid — With AirDroid, you can transfer files to and from your Android device wirelessly without needing any USB cables.
RingDroid — Create your own ringtones and alarms sounds from songs or your own voice.
SoundHound — Recognize music playing around you with a single tap or by entering words from the lyrics.
Subsonic — Stream music from the desktop and listen on your phone or tablet anywhere, anytime.
Poweramp — The most advanced music player for Android with clean and beautiful interface.
Saavn Music — Unlimited access to Bollywood and Indian regional music and radio on your Android device.
PushBullet — Send web links, text notes and even push files from computer to your phone.
Flipboard — Read news and updates from your favourite source in a beautiful, magazine style layout.
TuneIn Radio — Listen to live radio stations and podcasts from all over the world.
Jango Radio — A personalized online radio service that plays the best music by artists you love.
Shazam — Tap the Shazam button to instantly recognize music playing around you.
Smart Voice — Record high-quality audio while skipping the silent portion from the audio.
Pixlr — A versatile photo editor from Autodesk that is absolutely free.
µTorrent — Torrent downloader from the team that invented the popular BitTorrent protocol.
Aviary — A suite of photo editing tools that will make your photos stand out.
MX Player — This is the best video player for Android that lets you watch any of your videos without conversion.
Readability — Send web pages to your Kindle for reading later in a clutter free environment.
Before you go….
Just wanted to let you know that we've launched YouTube Channel where we upload awesome video content. Make sure you hit the subscribe button to stay up to date with the new videos we upload every week. Enjoy..!!!