PPSSPP is a PSP emulator written in C++ and it translates PSP CPU instructions directly into optimized x86, x64 and ARM machine code us8ing JIT re-compilers.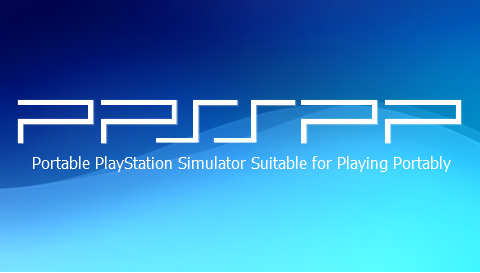 You can download PPSSPP Emulator from Google play store. It's Free.
It's been long time since PPSSPP emulator was developed and Released and with time more and more games were added to the compatibility list of PPSSPP emulator. Now there are Hundreds of Games which you can play on PPSSPP Emulator on your Android smartphone or Tab and in this post, I'm gonna tell you about which games of PSP are compatible and playable on PPSSPP Emulator. You can download the ROMS of these Games here.
#:
.hack//Link – ULJS00266 –
[playable]
-Saki- Portable – ULJM05556
100-in-1 Megamix – NPUH10088 – [playable]
1000 Tiny Claws – [playable]
300: March to Glory – ULUS10241 – [playable]
50 Cent: Bulletproof G Unit Edition – ULUS10128 [playable]
7 Wonders of the Ancient World – ULUS10227 – [playable]
7th Dragon 2020 – NPJH50459 – [playable]
A:
Accel World: Kasoku no Chouten – NPJH50607 – [playable]
Ace Combat: Joint Assault – ULUS10511 [menu/intro]
Ace Combat X – Skies Of Deception – ULUS10176 [playable]
Aces of War – ULES00590 – [ingame]
Activision Hits Remixed – ULUS10186 – [playable]
Adventure Player – ULJS00011 – [playable]
Adventures To Go! – ULES01383 – [playable]
Aedis Eclipse – Generation of Chaos – ULUS10242 – [playable]
After Burner: Black Falcon – ULES00785 [playable]
Age Of Zombies – NPZ00044 – [playable]
AI Igo – ULJS00008 – [playable]
AI Shogi – ULJS00009 – [playable]
Air Conflicts: Aces of World War II – ULUS10404 – [playable]
Alien Syndrome – ULUS10245 – [playable]
Alien Zombie Death – NPEZ00115 – [playable]
Aliens vs. Predator – Requiem – ULUS10327 – [playable]
All Kamen Rider Rider Generation 2 – [Playable]
Akatsuki no Goei : Trinity – ULJM06174 – [Playable]
Akiba's Trip Plus – NPJH50563 – [Playable]
Amagami – [Playable]
Amagami Ebikore Plus – ULJS00339
Amnesia – ULJM05931 – [Playable]
Anata o Yurusanai – ULJM05279
Angry Birds – NPUZ00119 – [playable]
Another Century's Episode Portable – ULJS00322 – [playable]
Antiphona no Seikahime Tenshi no Score Op A – ULJS00229 – [playable]
Ape Academy – UCES00010 – [playable]
Ape Academy 2 – UCES00302 – [playable]
Ape Escape: On The Loose – UCUS98609 – [playable]
Ape Quest – NPUG80061 – [ingame]
Aqua Panic! – NPEH00026 – [ingame]
Arabians Lost – ULJM06104 – [Playable]
Archer Maclean's Mercury – ULUS10017 – [playable]
Armored Core 3 Portable – ULJM05492 – [playable]
Armored Core Formula Front – – [playable]
Armored Core Last Raven Portable – ULJM05611 –
Armored Core Last Raven Portable – NPUH10024 – [playable]
Armored Core: Silent Line Portable – NPUH10025 – [playable]
Army of Two: The 40th Day – ULUS10472 – [Ingame]
Arthur and the Invisibles – ULES00669 – [playable]
Asphalt: Urban GT 2 – ULES00719 – [playable]
Assassin's Creed: Bloodlines – ULUS10455 – [Playable]
Astonishia Story – ULUS10083 – [Playable]
Atari Classics Evolved – ULUS10325 – [playable]
Asterix and Obelix XXL 2: Mission WiFix – ULES00527 – [Playable]
ATV Offroad Fury – UCUS98603 – Blackscreen
Audition – ULKS46122 – [Playable]
Auditorium – NPUH10069 – [playable]
Autoescuela Aprueba Conmigo – ULES01366 –
Avatar: The Last Airbender – ULUS10165 – [playable]
Avatar: The Legend of Aang – ULES00633 – [playable]
B:
B-Boy – ULUS10363 – [menu/intro]
Battlezone – ULUS10156 – [playable]
Battle Dodgeball 3 – ULJS00468 – [playable]
Battle Spirits Heroes Soul – ULJS00280 – [playable]
Battle Spirits: Kiseki no Hasha – ULJS00238 – [playable]
Baka Test to Shōkanjū Portable – JP – [playable]
Bakemonogatari Portable – NPJH-50605 – [playable]
Bakugan: Defenders of the Core – ULUS10536 – [in-game]
Battle Dodgeball 3 – ULJS00468 – [playable]
Battle Robot Damashii – NPJH50720 – [ingame]
Bejeweled 2 – [menu/intro]
Beam'Em Up – NPEZ00081 – [playable]
Beaterator – ULUS10405 – [playable]
Beats – NPUG80060 – [menu/intro]
Ben 10: Protector of Earth – ULUS10307 – [playable]
Ben 10 Alien Force – ULUS10387 – [playable]
Ben 10 Alien Force: Vilgax Attacks – ULUS10488 – [menu/intro]
Ben 10 Ultimate Alien: Cosmic Destruction – ULUS10542 – [playable]
Beowulf: The Game – ULUS10329 – [playable]
Beta Bloc – ULES00792 – [playable]
Beyond the Future Fix the Time Arrows – ULJM05988 – [playable]
Blade Dancer: Lineage of Light – ULES00541 – [ingame]
Black Rock Shooter: The Game – NPJH50448 – [playable]
Black Rock Shooter The Game (US) – NPUH10126 – [playable]
Blast Off – NPUZ00021 –
BlazBlue: Continuum Shift Extend – NPJH-50582 – [playable]
BlazBlue: Continuum Shift II – ULUS10579 – [playable]
BlazBlue: Calamity Trigger – ULUS10519 – [playable]
Blaze Union: Story to Reach the Future – ULJS05503 – [playable]
Blazing Souls: Accelate – ULUS10527 – [ingame]
Bleach: Heat the Soul – UCJS10008 – [playable]
Bleach: Heat the Soul 2 – UCJS10017 – [
playab
le]