Discord is a popular platform for online communities and gaming groups. But like any other online space, it can sometimes attract bad actors. To ensure a safe and enjoyable experience for all users, Discord provides tools for reporting harmful behavior.
Reporting someone on Discord can help keep the community a safe and enjoyable place for everyone. Whether it's harassment, spam, or something else, reporting is a simple and straightforward process that can make a big difference.
Read this to understand a step-by-step guide on how to report someone on Discord, including what information to include and what happens after you submit a report. By understanding how to report people on Discord, you can help create a safer and more positive community for everyone.
Check Whether Message Violates Guidelines
Before reporting someone on discord you must need to understand whether the message is against the discord community guidelines or it follows the guidelines. Here are some activities and messages which are strictly not tolerated on Discord are
Spam Messages
Harassment
Violating IP rights
Distributing viruses
Circulating pornography
Glorifying or promoting suicidal and self-harmful messages
Threatening other users
Sharing images of animal cruelty
If messages don't fall under any of the above guidelines you cannot report them directly to the Discord. The best case is to connect with the other members of your community about this conduct. And if you are the owner of the Discord server, you can even kick them out of the server or ban them from joining the group.
How to Report Users on Discord?
There are various ways to report people who are continuously spamming, harassing, or simply using violation words in the chat. You can find an entire discord server doing harmful activities which are against the community guidelines. Here's how you can alert Discord moderators against it.
Report People on Discord on the Desktop
Reporting someone in Discord is not as a cup of tea as it sounds and not even on the desktop. You need to first look for some ID codes which are required to find the offending messages. Follow the below steps on how to report someone on Discord.
First, click the Gear button given on the bottom left side of your screen.
Choose the Appearance tab.
Drag down to the Advanced section and Turn on the Developer Mode.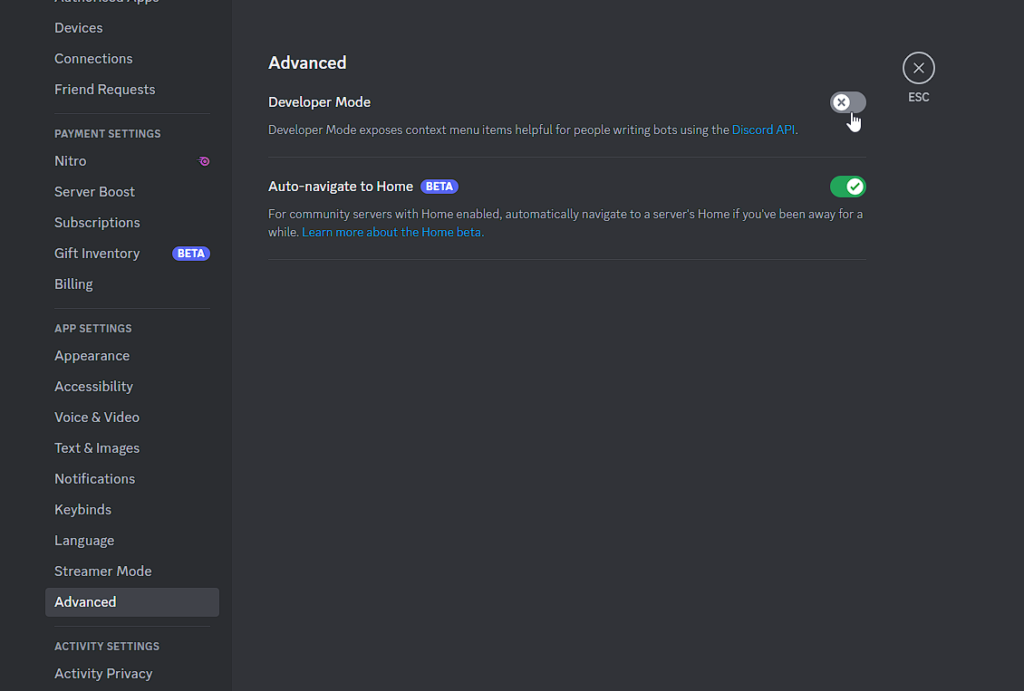 To get 3 different ID codes, Go to the Message menu.
Right-click on the user's name.
Choose Copy ID.
Now write down the number you have copied and label it as "user ID". Make sure if that user has changed their username, its ID will still remain the same.
Right-click on the message and Copy its ID. This time you will receive the message ID number and channel.
Now paste the ID and mark it as "Message-ID".
Go to the icon of the server and right-click on it.
Choose Copy ID and paste it with other IDs.
Mark this as "Server ID" or something else.
Now send your report.
In the last step, share your report with Discord through its Trust & Safety request center. Enter the email address and choose the type of report given in the drop-down box which closely resembles your situation. Enter that subject, explain the incidents, and give all three marked ID codes in the description box.
However, you also need to provide a screenshot of the particular message with Discord as well which can be submitted in the attachment section of your form. Send your report to the Discord center, and allow the team to take care of the person.
Report on Android & iPhone
Reporting any Discord user on smartphones is an easier process than doing it on your computer. Follow these steps on how to report people on Discord on your Android & iPhone.
Open the Discord app on your mobile.
Find the message or behavior you want to report and tap and hold on to it.
Choose "Report" from the options that appear.
Select the reason why you want to report the user.
Provide additional information about the behavior you're reporting if prompted.
Tap "Submit Report."
This time you are not required to send any ID codes to report. The support team will declare that they will look into the reports as with all others. However, if the incident is time sensitive and requires immediate attention, you can mail the issue to [email protected].
Note: While sending the mail provide all the details of the situation along with the link and screenshot of that message.
How to Remove a Report from Discord
If you come into a situation where you mistakenly report someone on Discord, the best way is to send a direct message to the Discord Twitter page. Tell the incident and ask them to remove your report. Also, to assist them in getting the report you can share your Discord email ID with them. This will help them to identify your report details and clear the report.
What If You Don't Want to Report
If you think you don't want to report that person but still want to cure the situation, you can take some other steps. An easier one is to block that person from your Discord. For this, Right Click under the user name and Press the Block option.
Blocking someone on discord doesn't allow you to see the message in the shared server. You need to choose the placeholder to see their messages. Also, the person would not be able to send any messages to you as well.
Last Words
Apart from blocking or reporting, you may also connect with your Discord moderators. Try to get in touch with your moderators about the situation, they will be able to ban the person or remove them from the group.
Discord is really the best place for people to hang out, when anyone can break the rules you can report them on the server. Don't let anyone get away with harmful messages that can ruin others' experiences. And if you can't find what to do and how to report someone on discord, connect with your server mod.
Did you enjoy this article? You may also like A Guide on How to Use Microsoft Teams.