In my previous post, I showed how you can access and turn on Game Power Mode which is hidden by default in Samsung One UI. Today I will show you how you can tune each and every game on your Samsung Galaxy device and also tune some advanced game settings such as FPS, Game Resolution, etc. that will save a significant amount of battery power. So let's get started!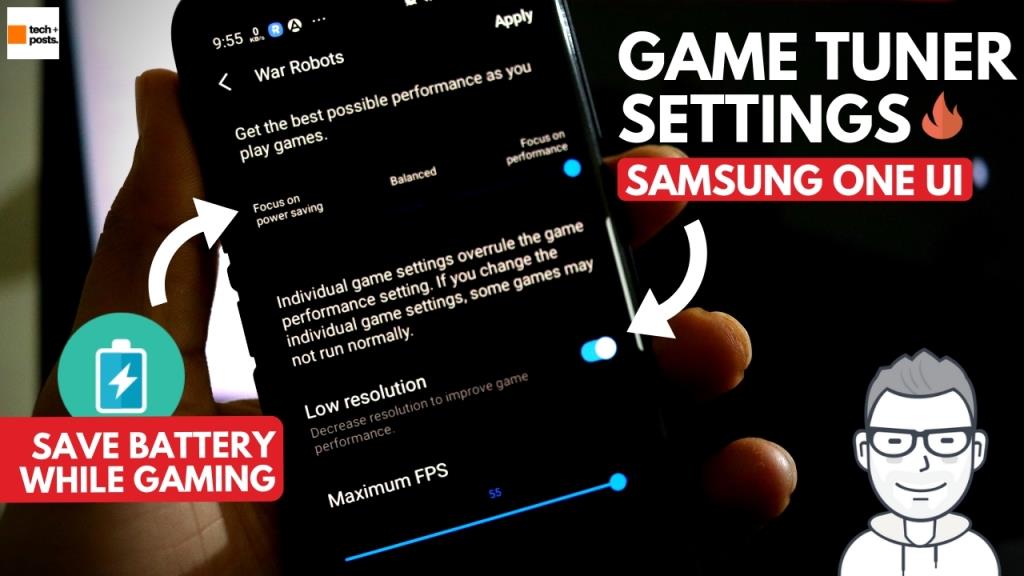 The settings are within the Game Launcher, so lets first add the Game Launcher to home Screen so that we don't have to find it every time
Now tap on Game Launcher.
The Game Launcher smartly identifies and distinguishes between games and normal app and lists all the Games installed on your Galaxy Device.
And yes, you can add a game if it's not listed here. You can also add normal apps like Twitter or Reddit or any app that is installed on your device.
You may say why?
Well, you can record the app screen without any third party app, that's the first reason and then you will also see better performance and open additional apps in popup view with just a few taps without leaving the app. Nifty right?
Now, let's head to the Game Launcher settings, Here you can choose to Hide Games and if you do so, the games will be visible only in the Game Launcher or if you search it. Otherwise, you won't be able to find them like other apps
To access the more Game Launcher settings, you can just launch any game and then tap on this Game Controller icon
Now here, you can change some more settings such as Recording
Now, let's head to more advanced game settings where we can define customized settings for each game and save a lot of battery power
To access those settings, Tap on this Gear icon at the bottom
Now you can choose to apply universal settings to all apps or define individual settings for each game. So for instance, a game like Asphalt may need high-performance mode but a game like War Robots can run on battery save mode and less FPS and low resolution
And from low resolution, it means HD which is perfect for the screen if you want to save battery while gaming.
You won't notice much difference, at least I didn't.
Here's the Video Guide on Samsung One UI Game Tuner
And the games work fine. In fact, the Asphalt runs fine with battery save mode. which is amazing. So you choose to focus on battery saving or Performance or can also stay somewhere in between and its called Balanced.
Fix Battery Drain in Samsung One UI