Ad blockers are a controversial topic for many webmasters. While its very much right to use adblocker on sites which throw many ads at you, for example, animated banners, flash, with sounds, or popup ads, which also makes the site difficult to navigate properly. On the other hand, i do not like users who block ads on websites that do not implement these annoying types of ads, particularly if they visit those websites regularly and like what they read. Why?. Ad blocking software like AdBlock and Ghostery, nowadays, are installed on millions of computers which affect the bottom line of web publishers who are dependent on online advertising networks like Google AdSense to pay their bills. It takes time and effort to maintain a website but if the visitors are blocking ads, the revenues are reduced.
It is equivalent to running a restaurant where people come and eat but without paying.
As a website publisher, we do not have many options. One thing that we can do is that we can detect Adblock on the visitor's computer and hide content if the ads are being blocked. Here in this article, we will talk about two different approaches to deal with the visitors using extensions like Adblock Plus. Each approach has its pros and cons.
Passive Approach
In this approach, you can display alternative content to people who are blocking ads. For instance, you may display a Facebook Like box or a Twitter widget in the place of ads, you may run youtube videos or you may display any custom message to the visitor. See example
To achieve Passive approach :
Use Ad Blocking Detector plugin for WordPress. This plugin includes a tool for specifying two alternative collections of content. One collection to display to visitors without ad blockers (such as an ad). The other to display ad block wielding visitors (such as a message or image). In the message, you can add HTML or facebook like box iframe code. Then, using the shortcode, sidebar widget, or another method, let Ad Blocking Detector intelligently determine which to display to the user. Check out the demo on the plugin's website, or look at the screenshots for an example.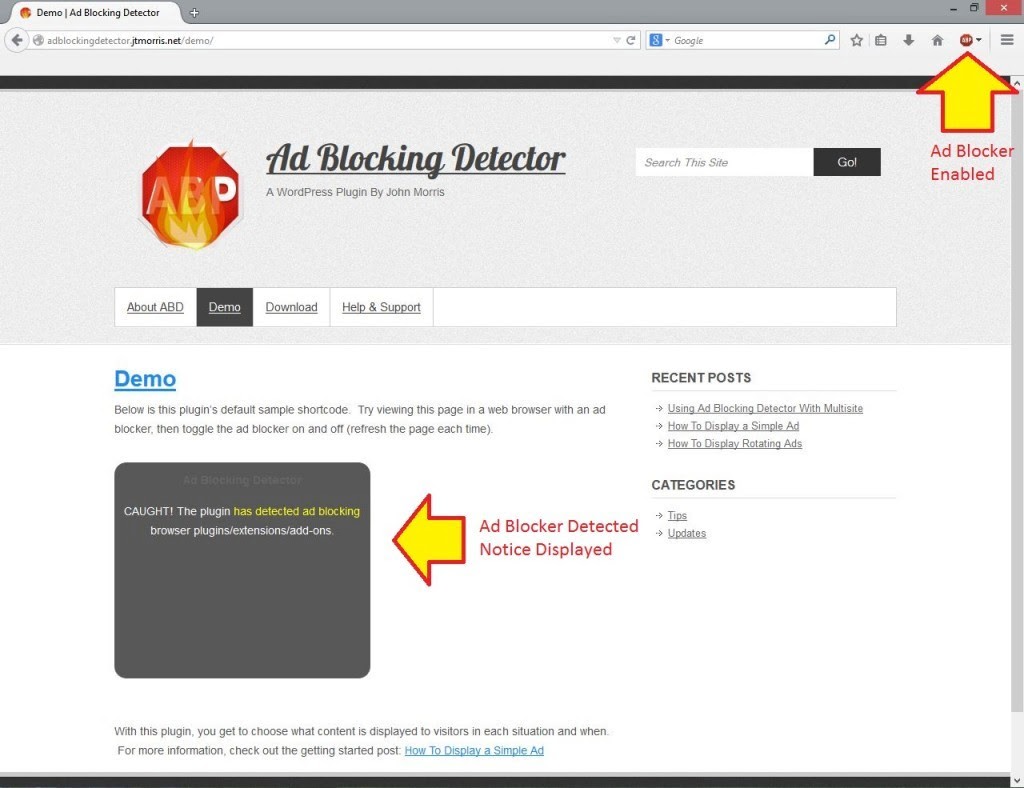 Aggressive Approach
In this approach, you simply block the site for users unless they disable Adblock for your site. You can do this in a much better way by explaining to the user how it is hurting your revenue. Sometimes a gentle nudge can solve the issue. Alternatively, you can force them to disable Adblock by simply locking them out of the website.
To achieve Aggressive approach :
You can use a plugin called Adblock Alerter which automatically detects if a user is using Adblock, Adblock Plus or any other software that might be disabling ads on your website and prompts them to disable it. You can display a message or image and ask the visitor to disable it or add your website to their whitelist before viewing the content on your website. The message you display is totally customisable. See Screenshot below :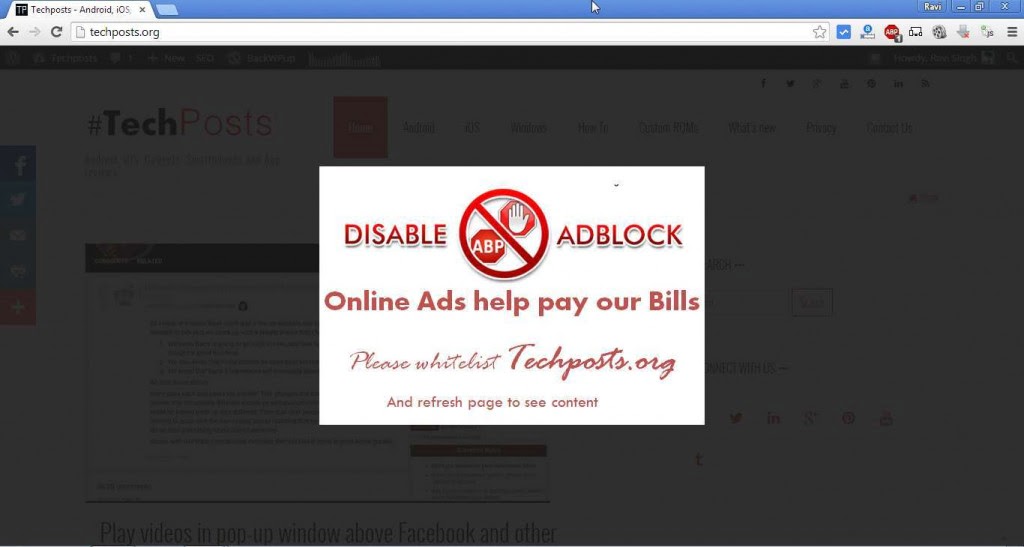 Conclusion :
If you don't want to lose your significant traffic but still desire to warn those visitors who are using AdBlocker, then apply Passive approach. This would give a small nudge to visitors and will ask them to disable their AdBlocker, but it will not force them to disable AdBlocker in-order to get access to your blog.
Before You Go…
Just wanted to let you know that We've launched YouTube Channel where we upload awesome video content. Make sure you hit the subscribe button to stay up to date with the new videos we upload every week. Also, Subscribe us for more How ToGuides and Reviews…!!! @http://youtube.com/checknma for more How to guides. Enjoy..!!!