Photoshop is the most powerful image editing software developed by Adobe, It can edit and compose raster images in multiple layers and supports masks, alpha compositing and several color models including RGB, CMYK, Lab color space, spot color and duotone. With Photoshop, one can create anything they can imagine. This software can be used to work across desktop and mobile devices to create and enhance your photographs, web and mobile app designs, 3D artwork, videos, and more. The complexity of this tool deters many users, monetary barrier is another reason for most users. So to keep that in mind, we have created a list of top 10 Adobe Photoshop alternatives of 2017 which are available for Windows, Mac and Linux PCs. We have tried to list all the free powerful alternatives to Photoshop but if we have skipped one, please let us know via comments down below.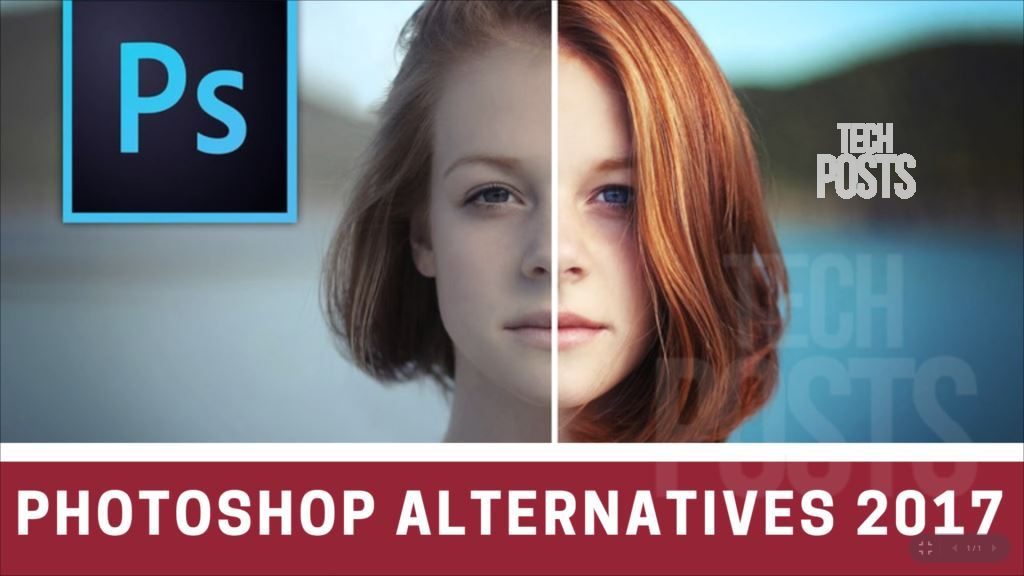 Top Alternatives to Adobe Photoshop 2017
1. GIMP
GIMP is a freely distributed program for such tasks as photo retouching, image composition and image authoring. It's the first alternative choice for the Adobe Photoshop. It can be used as a simple paint program, an expert quality photo retouching program, an online batch processing system, a mass production image renderer, an image format converter, and more.
GIMP interface is easy to understand and user friendly. It's not as complex as of the Photoshop. Whether you are a graphic designer, photographer, illustrator, or scientist, GIMP provides you with sophisticated tools to get your job done. You can further enhance your productivity with GIMP thanks to many customization options and 3rd party plugins.
GIMP provides top-notch color management features to ensure high-fidelity color reproduction across digital and printed media. It is best used in workflows involving other free software such as Scribus, Inkscape, and SwatchBooker.
2. Paint.net
Paint.NET is also a free powerful image and photo editing software that runs on Windows. It features an intuitive and innovative user interface with support for layers, unlimited undo, special effects, and a wide variety of useful and powerful tools. An active and growing online community provides friendly help, tutorials, and plugins.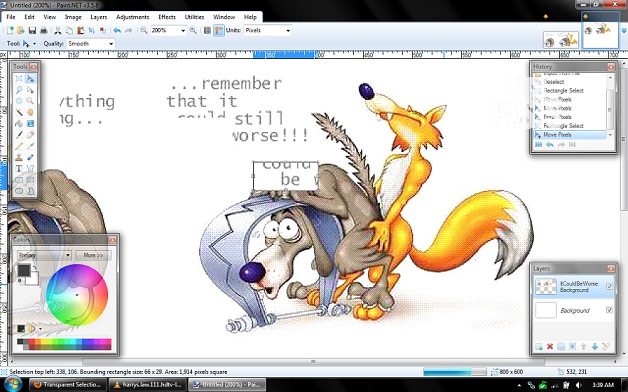 Just like in Photoshop, you can use multiple Layers to create rich image compositions and edit or compose raster images in multiple layers. Unlike Photoshop, Paint.net is not hardware intensive software. Paint.NET is the fastest image editor available. So whether you have a netbook with a power-conscious Atom CPU, or a Dual Intel Xeon workstation with 16+ blazingly fast processing cores, you can expect Paint.NET to start up quickly and be responsive to every mouse click.
Paint.NET boasts Many special effects for enhancing and perfecting your images. Everything from blurring, sharpening, red-eye removal, distortion, noise, and embossing are included. Also included is our unique 3D Rotate/Zoom effect that makes it very easy to add perspective and tilting.
3. Krita
Krita is a complete creative sketching and painting application with advanced, commercial quality features. It's free, open-source and available across all major desktop platforms like Windows, Linux, Mac etc. Krita has an intuitive and user friendly user interface. The dockers and panels can be moved and customized for your specific workflow. Once you have your setup, you can save it asyour own workspace. You can also create your own shortcuts for commonly used tools.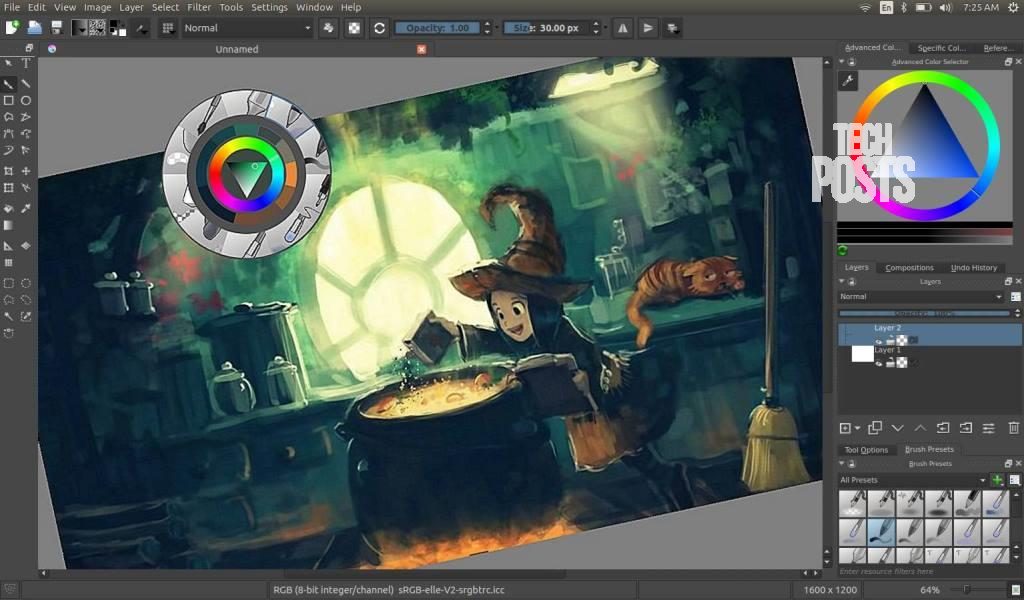 Features of Krita
Pop-up Palette – Quickly pick your color and brush by right-clicking on the canvas.

Brush Stabilizers – Have a shaky hand? Add a stabilizer to your brush to smoothen it out.

Brush Engines – Customize your brushes with 9 unique brush engines.

Wrap-around mode – It is easy to create seamless textures and patterns now. Press the 'W' key while painting to toggle wrap-around mode.

Resource Manager – Import brush and texture packs from other artists to expand your tool set.

Layer Management – Krita comes with vector, filter, group, and file layers. Combine, order, and flatten layers to keep organized. Add drop shadows and other simple effects using visual styles.

Full Color Management – Krita supports full color management through LCMS for ICC and OpenColor IO for EXR, allowing you to incorporate Krita into your existing color management pipeline.
4. AutoDesk Pixlr
AutoDesk Pixlr is a popular Web/Mobile application from Pixlr® which makes it easy to transform everyday images into stunning works of art. Whether you're applying a quick fix to your photos or adding your personal touch with effects, overlays, or borders, Pixlr has everything you need to make your moments beautiful. It's a web app, so you can use it via any web browser or you can simply install their mobile app available for iOS and Android dmsrtphones.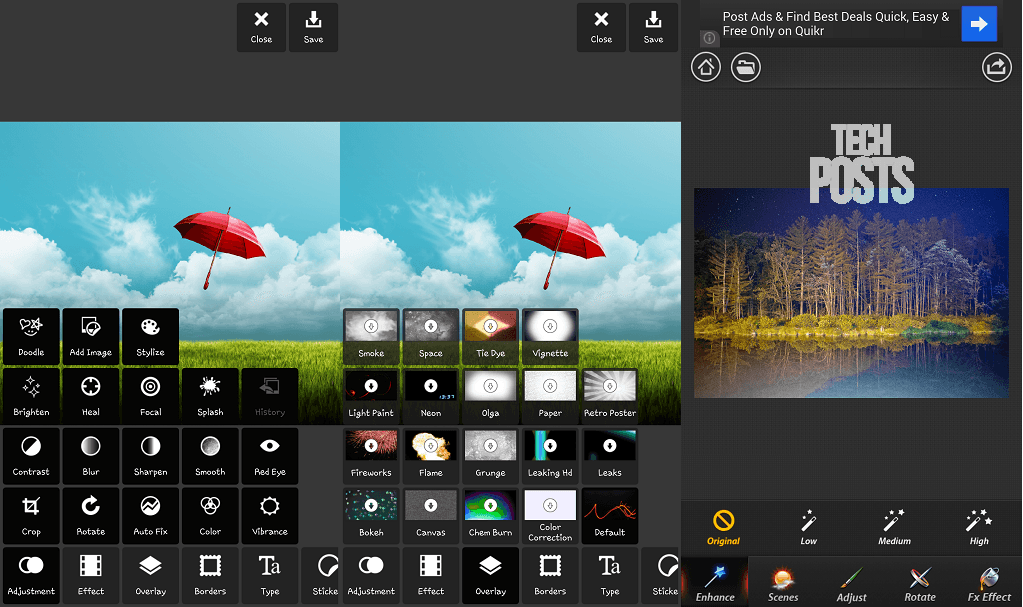 Features:
• Powerful features in a simple and easy-to-use interface.
• Apply quick fixes to your photos with features such as crop, straighten, resize, and more.
• Auto fix feature balancesout colors and adjusts for poor lighting conditions in a simple one-click fix.
• Easily modify different elements of your photo and adjust its color, contrast, resolution, and texture.
• Merge two images with the Double Exposure tool.
• Erase imperfections with heal and red-eye tools.
• Make your photos pop by adding or removing color from select parts of your photo with the Color Splash brush.
• Add impact to your photos by adding focus to specific elements of your image with the Focal Blur tool.
• Add your personal style to photos with over 100 effects, 340 overlays, and 200 borders. Adjust transparency, resize, and rotate each element to create the perfect touch.
• Transform your photos into works of art with the Stylize feature – choose from effects such as pencil sketch, watercolor, and many more.
5. MyPaint
MyPaint is a fast painting program with an emphasis on full-screen use. If you look at the interface of MyPaint, you will be amazed with the simplicity, yet it gives you all the tools you need to create great artworks.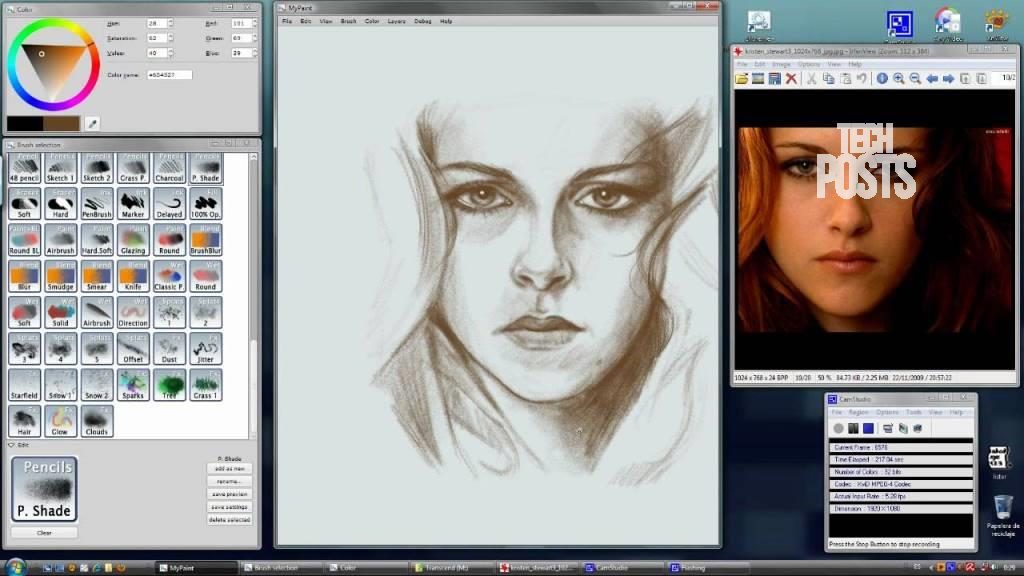 It lets you focus on the art instead of the program. You work on your canvas with minimum distractions, bringing up the interface only when you need it. MyPaint supports pressure or tilt sensitive graphic tablets and comes with an easy-to-use brush collection. There is a complex interface for creating own brushes, focusing on brush dynamics (changes with speed, pressure, randomly). It's free and available for Mac OS X, Windows and Linux OS.
6. PixelMator
Pixelmator, the beautifully designed, easy-to-use, fast and powerful image editor has everything you need to create, edit and enhance your images. It lets you enhance and touch up photos, sketch, draw and paint, add text and shapes, apply dazzling effects and more. The smart and powerful Move Tool lets you easily move, rotate, and distort any element, selection, text, shape, or an entire layer. Each time you click an object, the Move Tool knows whether it's text, a shape, or an image layer, and gives you all the options that you need. And when you move any of the layers, the smart Alignment Guides appear so you can align and distribute objects just perfectly.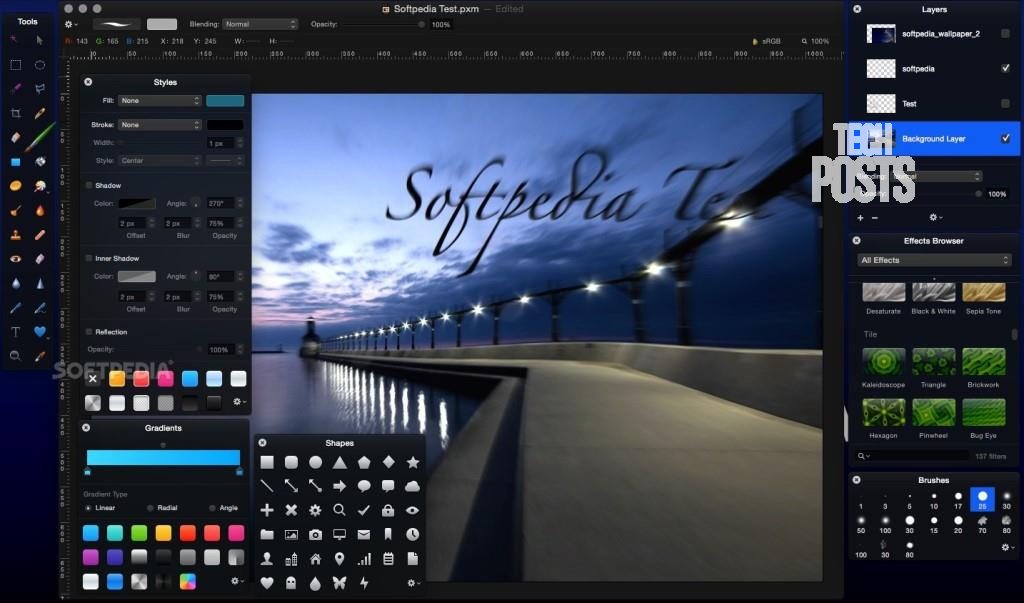 With Pixelmator's powerful, pixel-accurate selection tools, you can quickly and easily select any part of your image. Then, refine your selection by applying color adjustments and special effects, transforming, moving or deleting. You can also duplicate, or copy and paste your selection onto a new background.
It's only available for Apple devices like iPhone, iPad and Mac OS.
7. Affinity Photo (Paid)
Affinity Photo is a professional, full-featured raster graphics editor. Working in Affinity Photo is always live and you can pan and zoom at 60fps, with live previews and non destructive application. It supports unlimited layers and a dedicated RAW editing workspace, as well as RGB, CMYK, LAB, Greyscale colour space with end-to-end CMYK workflow with ICC colour management, and 16-bit per channel editing.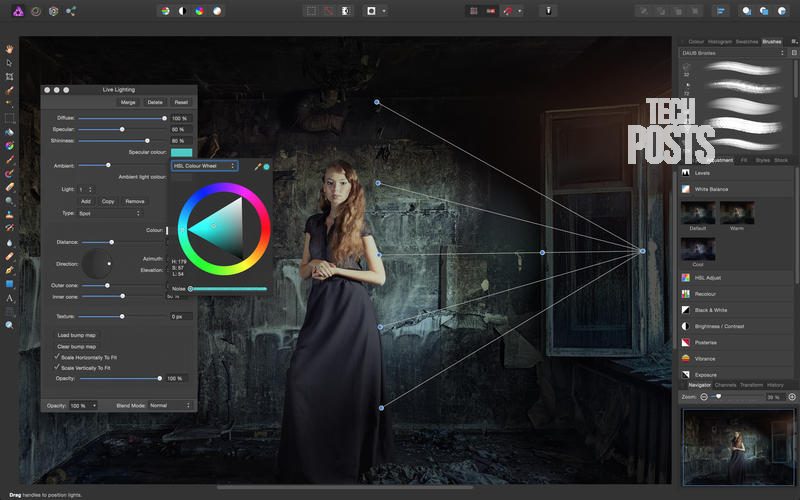 Features:
Fast and Efficient Tool Set
Pan and zoom at 60fps, even with huge images
Live tools, live previews, real-time editing
RAW and regular processing united in one app
8. Pinta
Pinta is a free, open source drawing/editing program modeled after Paint.NET . Its goal is to provide users with a simple yet powerful way to draw and manipulate images on Linux, Mac, and Windows. On Windows, Pinta requires the .NET framework, just like Paint.NET. You can use easy drawing tools to draw freehand, lines, rectangles, ellipses, and more. Pinta also supports Multiple Layers like Paint.NET and Photoshop to help separate and group elements of your image for easy editing. With over 35 adjustments and effects for tweaking your images, Pinta is worth a try as a best alternative for Photoshop 2017.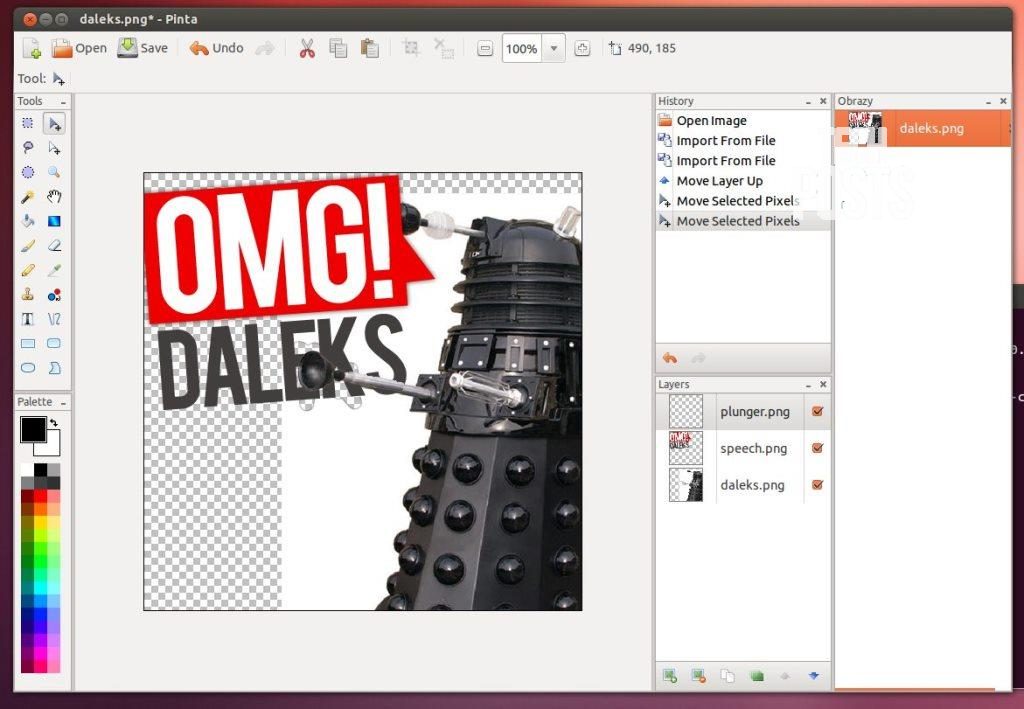 9. CorelDRAW Graphics Suite (Paid)
With vector illustration, page layout, photo-editing and tracing software, CorelDRAW Graphics Suite X7 is ideal for professional and occasional designers tackling any type of graphics project. Precision design tools, market-leading file compatibility and high-quality graphics content help you turn your creative ideas into professional results.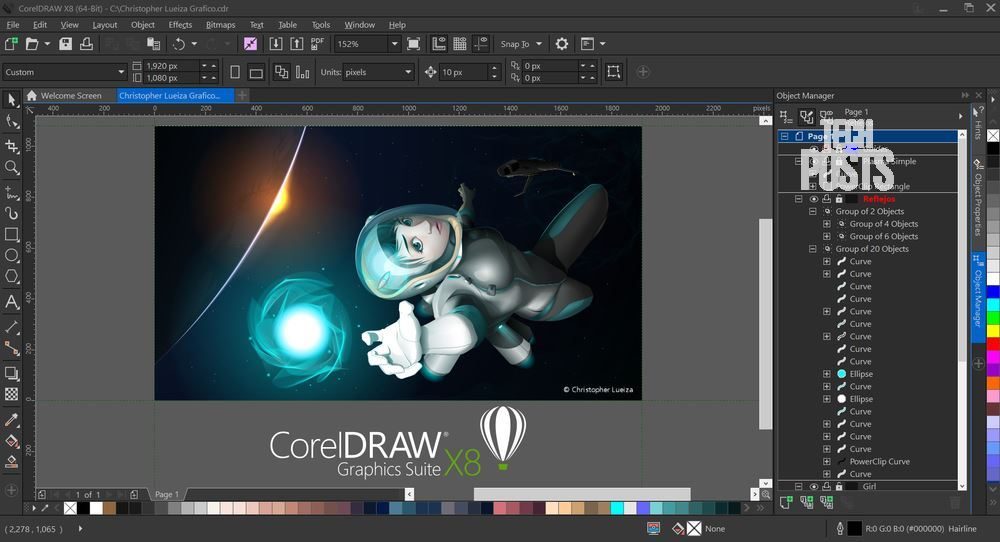 Features of CorelDRAW Graphics Suite
CorelDRAW, a vector-illustration and page-layout application
Corel PHOTO-PAINT, an image-editing application
Corel PowerTRACE, a utility that is embedded in CorelDRAW and allows you to trace

bitmap images and convert them to editable vector graphics

Corel CONNECT, a full-screen browser that allows you to browse and search for content that is available on the Content Exchange or on the websites of online content providers

Corel Website Creator, an application that helps you create websites and design web pages (Note: To use the application, you need to have a

CorelDRAW Standard Membership.)

Corel CAPTURE, a utility that allows you to capture images from your computer screen
Download and Install CorelDRAW Graphics Suite
10. Inkscape
Inkscape is a Open Source vector graphics editor, with capabilities similar to Illustrator, CorelDraw, or Xara X, using the W3C standard Scalable Vector Graphics (SVG) file format. Inkscape supports many advanced SVG features (markers, clones, alpha blending, etc.) and great care is taken in designing a streamlined interface. It is very easy to edit nodes, perform complex path operations, trace bitmaps and much more. We also aim to maintain a thriving user and developer community by using open, community-oriented development.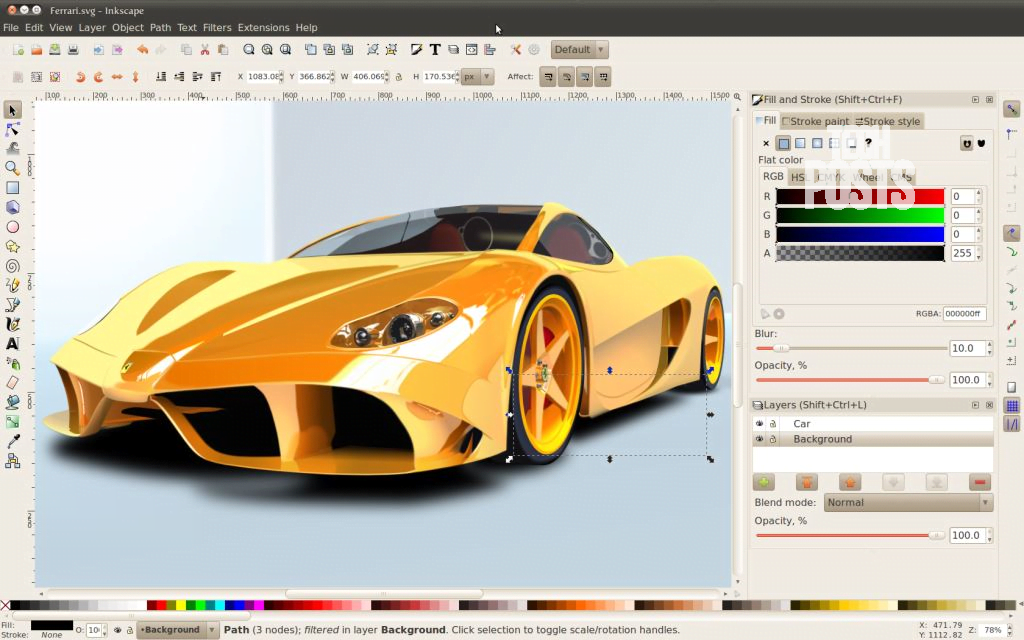 Conclusion
Is there any other alternative of Adobe Photoshop that we skipped. If so, please comment down below. Don't forget to vote for your favorite Adobe Photoshop alternative 2017. Please don't forget to follow TechPosts on Facebook, Google+, Twitter and YouTube to keep up with future Howto Guides.