Tasker Profiles are used to automate tasks in Android devices. For instance, you can perform basic tasks such as turning ON Wi-Fi or Bluetooth and a complex task like, for example, Quickly Log in to your Windows PC using the Fingerprint Sensor of your Android phone.
Or you can set up a profile in the Tasker app where if the phone's battery reaches 50%, the device will automatically switch to power-saving mode. Similarly, you can automate tons of tasks in your Android smartphone and increase your productivity.
What is Tasker and Tasker Profiles?
Tasker is basically an automation app that is available for Android devices to automate most of the tasks. Using Tasker, one can create a list of actions, called a task, which can then be executed according to a variety of conditions you set. Think of the IFTTT app where you tell IFTTT that you want it to do tasks
A, B, and C when X happens. But it can do a lot more than what IFTTT does. Tasker offers a huge variety of both services and plugins. Also, Tasker can do more complex tasks on Android devices.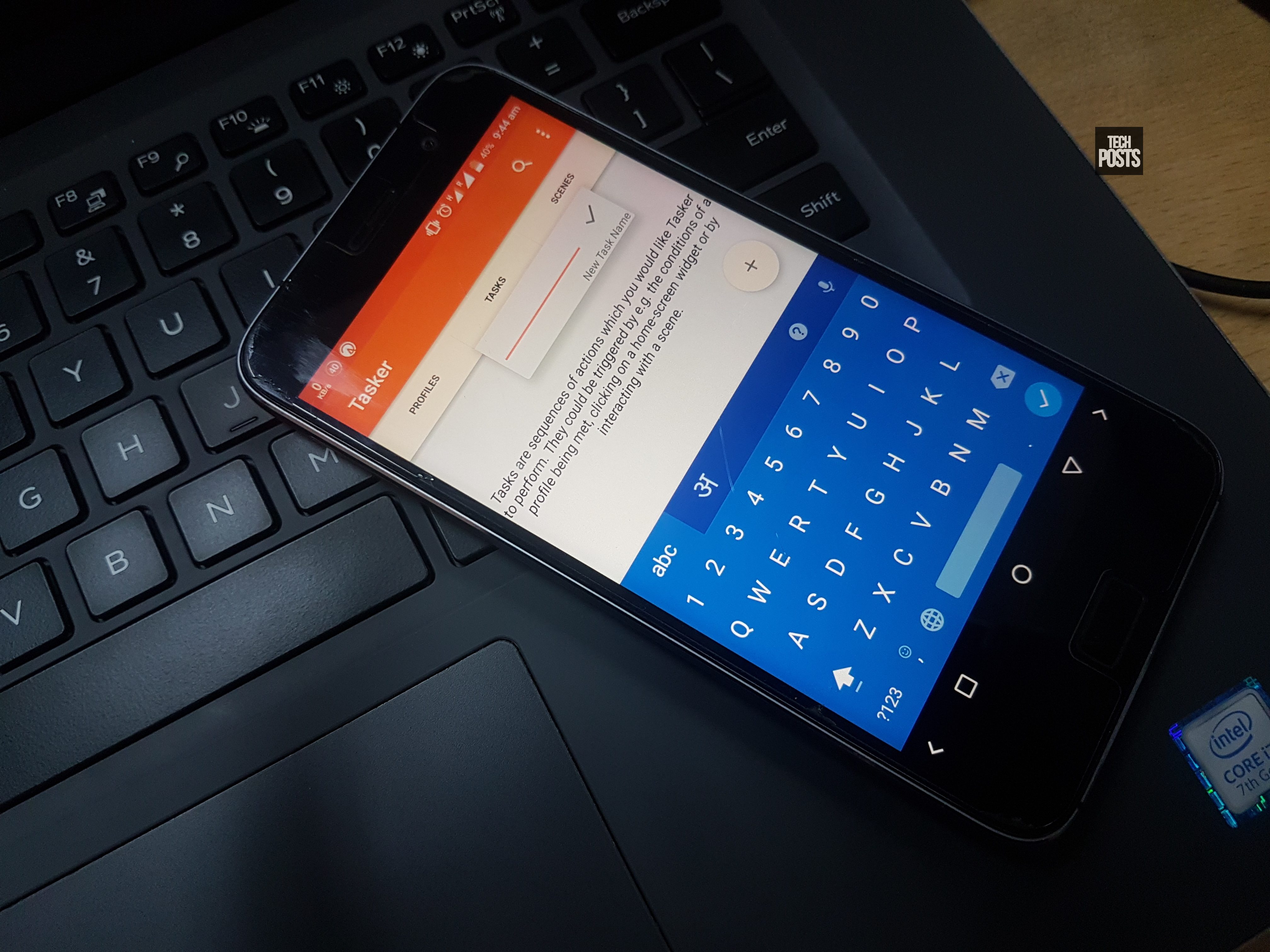 List of 35 Best Tasker Profiles 2023
Following are some of the most popular and best Tasker Profiles you can set up in your Android phone to automate your everyday tasks. To create a profile in Tasker, open the Tasker app and tap the + icon and then tap 'Create'. Then follow the steps discussed below to set up new Tasker profiles.
1. Turn On Battery Saving Mode When You Have Low Battery
Using this profile, you can save some of your battery juice when you are running low on the battery charge.
Go to the profile. Select State.
Next select Power option followed by Battery Level.
Now you need to choose the battery range as to when to enable this profile. Let us say we keep the range as 0-5.
Now to create a new task, tap on the "+" icon. Then select Net and turn your Bluetooth, auto-sync, mobile data, Wi-Fi off.
This method might come in handy when you are expecting some important calls while being on a low battery.
NOTE: Mobile Data Off requires you to allow and grant Write_Secure_Settings to Tasker through ADB command or root access.
2. Device Sleep Timer
It mostly happens with many of us that while laying down in bed and listening to some peaceful music we fall into deep sleep, only to keep the songs keep on playing on your phone. Well, Tasker profiles offer a solution for this. Using this pattern, you can stop the song or any other audio playback after some particular time.
Go to Tasks section and create a new task using the "+" button.
Then tap + again and choose Media.
In media, go to Media Controls and go to cmd.
Under cmd, select option stop.
Now, we want to halt the song playback so we will choose the app. Tap the grid type square icon near the bottom right corner and choose the music app.
Next step is to go to the menu of Tasker and look for the icon Task timer and drag that widget to your home screen.
Upon being asked by the widget to link it to a task, select the sleep timer job created in the first step.
3. Night Mode
Trying to have a quiet, peaceful sleep at night but the non-stop messages and notifications from your phone keep disturbing you? Well, this task profile activates the Silent mode on the phone at night, along with turning the Wi-Fi off and deactivating them in the morning.
Go to Profiles.
Click on "+" sign.
Select the time limit for your night mode. For example, 24:00 to 07:00.
Add a new task and click on "+" icon.
Search for Audio and go to silent mode and turn it on.
Go to the created task again, and click on the net and turn off Auto-sync and Wi-Fi.
Now finally you can every day have a good sleep free from disturbances.
4. Keep The Screen On While Reading Any e-Book
Having to keep tapping on the phone screen continuously while reading an e-Book to maintain the display light from going off can be very irritating. With the help of Tasked, you can set an automated profile for keeping the screen light on every time you read an e-Book on your phone.
Go tho profile and then navigate to Application.
Select which all e-Book reader app you want to add under this category.
Add new task.
Click on "+" icon.
Go to Display then Display time-out.
Next step is to increase the Display time-out limit according to your desire.
5. Turn Phone Upside Down to Keep Your Phone in Silent Mode
While sitting in class or attending some important meeting sometimes suddenly our phone rings up this causing disturbance. To avoid such situations, you can simply use this Tasker profile and just turn your phone upside down to stop it from ringing.
Navigate to Profile and select state.
Then, head towards Sensor and select Orientation.
Under Orientation, a menu will appear from which you need to select Face down.
Now, create a New Task. And, click on the "+" icon.
Then go to Audio and click on silent mode.
To stop the phone from ringing select vibrate.
Next time onward, in situations where you don't intend your phone to ring up, just turn your phone upside down.
6. Launch Apps Serially
We all have a serial of using apps followed by another app. Every time we have to go to the menu page of our phone and open the apps. Using these steps, this process can be made easier as one app after another will start opening itself automatically.
Go to profiles, then navigate to "Application."
Here select the app that you want to open first, or you usually do open first.
Create a new task and click on "+" icon.
Click "App" and select "Launch App."
Now choose the second app that you want to open right after the first app.
Long press on the second app and click on the option "Move To exit."
Next time your apps will open up serially for you.
7. Play Music When Headphones Are Plugged
With this profile, you need not manually open your music playlist when you plug in headphones.
Go to profile and select "State."
Next step, go to "Hardware" and click on "headset plugged" then tap on "Any."
Create a new task and tap on the "+" icon.
Click on "App" and select on "Launch App."
Click on your music player app.
Now every time you plug in your headphones, your playlist will play automatically.
8. Shake Your Phone to Turn on Flash Light
Download Tesla LED flashlight.
Go to "Profile" in Tasker and click on "Event."
After that press "sensor" and click on "Shake."
Now choose your preference for axis, sensitivity, and duration.
Create a new task and tap on "+" icon.
Click on "Display" and tap on "System Lock."
This might be handy when the light goes off instantly and suddenly.
9. Send an Emergency Text
Sometimes when you are running on low battery, and you think of sending a text of urgency before your phone goes dead, this automated task profile might help.
Create a profile.
Go to "State" and then tap on "Power".
Select the battery level between 0-5%.
Create a new task and tap the "+" icon.
Navigate to the "Phone " and press "Send SMS."
Now just enter the Phone number and type the message.
So next time whenever you are running low, and the battery and your phone are about to be dead then automatically an emergency text will be sent to that particular number.
10. Turn On Auto-Rotate When You Open Some Apps
Some apps work better on the landscape mode like YouTube videos.
Create a new profile and select an application.
Choose an application that when being opened the Auto-Rotation should be turned on.
Create a new task and tap the "+" icon.
Tap on "Display."
Set "Display Auto-rotate" to ON.
Now, whenever you watch a YouTube video; the screen will automatically turn to landscape mode so you can enjoy watching your video correctly.
11. Read Out SMS While You are Driving
Looking at the phone while driving might lead to some serious accidental hazard. So this profile helps you read the SMS's out loud for you.
Go to "event" and click on "Phone" section and hit "Received SMS."
Now, press "Application" and click on "home" or "Car."
Create a new task and press on the "+" icon.
Hit "Misc" button and click on, "say."
Then enter "SMS from %SMSRF: %SMSRB."
So from now on, no need to look at your phone to read texts and put yourself in harm's way.
12. Find The Exact Location Where You Parked Your Car In The Parking Lot
A long row of cars is parked in a parking lot, and too many of them look familiar, and in such situations, it might become difficult for you to find out where exactly is it parked.
Go to your phone home screen and press and hold it little longer.
A menu will pop-up, and from that, you need to select "Task."
Press the "New" button in the upper-right corner.
Give a name to the widget that will save your location and also give the "One Time" option.
Create a new task and tap on "+" option.
Go to Misc and search for GPS and set it on.
Go to "Applications," open "map."
Go to the mode and select navigate. Provide the latitude-longitude.
This might be helpful when your car is in a packed parking lot, or on an unfamiliar side street.
13. Decrease Your Phone's Brightness In The Morning
Waking up in the morning and suddenly facing the high brightness of your phone, that's going to hurt much. So here's a solution to this problem.
Open Tasker and go to "context" and then go to "Time."
Now set a time in the morning before you wake up.
Create a new task and tap on "+" option.
Go to "Display" and tap on Display Brightness and set it at level 0.
Hit the green check button when you're done.
In the Task Editor window, you can click on the Play button in the bottom right to preview the task. Then just press the green check button to save your job.
14. Notify When the Battery Is Charged
Overcharging your phone's battery can highly affect its lifetime. Moreover, sometimes we keep our phone plugged into the charger at night and somehow fall asleep and forget to plug it out when the battery fills up. Tasker provides a solution for that.
Go to "Profile" and select "Event."
Click on "Power" and hit on "Battery Full."
Now just adjust the Battery limit priority according to your comfort. For example, you might adjust the priority as 'less than 30% and higher than 80%'.
Now create a new task & hit on the "+" icon.
Click on "Alert" and tap on "Notify Sound."
Type "Disconnect your charger."
15. Lock Your Applications
Why unnecessarily install another app for just locking your apps when you can have Tasker do it for you! Listed below, are the steps to do that.
Go to the "Profile" section and click on "+" sign.
Go to "Application" and select all the applications you want to lock.
Now create a new task & click on the "+" icon.
Navigate to "Display" and hit the "Lock" button.
Now set your desired password for securing all applications.
16. Turn On Wi-Fi At Home
Most of us usually prefer using Wi-Fi at home but when we once leave home we most likely change to our Mobile data connection as it is not possible to get Wi-Fi signal everywhere. Tasker helps in automating this process.
Go to your GPS and turn it on.
Go to the place in your home where your Wi-Fi router is located.
Now open Tasker and navigate to "Profile" and choose "Wi-Fi at home."
Head to "Location" and do your Net on and your GPS off. Also, set the radius as 500m and get Fix.
Now create a new task & click on the "+" icon.
Go to the net and then click on "Wi-Fi" and turn it on.
Create another task and click on "+" icon and name it "Leaving Home." Now in this section, you need to turn off your Wi-Fi. So go to "Net" and then search for Wi-Fi and turn it off.
So by this process, your phone will automatically know when you are at the home and will make the Wi-Fi on.
17. Set Your Phone To Mute In Meetings
Having your phone ring up or vibrate while being in a meeting can become embarrassing. So with these steps, we can make your phone go mute during meetings.
Go to the Profile screen of Tasker.
Click on "New" and choose "State."
Press "App" and choose the "Calendar Entry" and change the availability to No.
Long press on the entry field named Calendar to select your primary Calendar. Then click Done.
Now create a new task & hit on the "+" icon.
Go to Audio Settings and select "Silent Mode" and turn it On. Now click on Done.
On the next page, click on Done again to return to the main screen of Tasker.
Next time when you are in a meeting neither will your phone ring or vibrate.
18. Separate Button To Turn Mobile Data On Or Off
Rather than having to go to your settings and turn off your mobile data, what if there was a separate button on your home screen for the same!
Long press on an empty spot on your home screen, and soon a widget will appear.
Search for Tasker in that widget and select it.
On the Profile screen of Tasker, choose the 3G_Toggle task.
Now just select the green check mark to save your new widget.
That's it, work done. You are free to change the widget icon to whatever you like.
The above steps reduce the extra steps of going to Mobile settings every time to set your mobile data on.
19. Turn The Camera On With A Simple Gesture
Just hold your phone in landscape mode, like you do while taking pics and your phone camera will click the pic.
Go to Profile screen of Tasker and click on "new" and Press on "event."
Press on "Sensor" and select gesture and name it "Camera gesture."
Hold your phone in your left hand & long press on the volume down button.
Now hold your phone like you're taking a picture in landscape mode. This will be the gesture.
While being in that landscape mode, long press on the volume down button again. Your gesture is now recorded.
Change your camera preferences in the "preferences" button.
Once you are done setting the preferences, the press was done and add a task, naming it "Camera On."
Click on the "+" icon.
Click on "App" and navigate to "Load App." Select "camera" and hit "Done" button.
Click on "Done" again and then press "Apply." Next is just to test your Camera gesture.
If you want, then you can also set some other gestures like waving the hand or smiling, etc. The only change will be in steps 4 and 5 when you Need to perform your desired gesture to get it recorded.
20. Speak Weather In The Morning
Using this profile, you can have your phone talk to you about the weather every day at the same time.
Download the Profile from this link.
Install the Profile and click on the task and change the HTTP.
Type the address of your city and state so that you can get the weather for your location.
21. Build Your Phone – Finding Snitch Profile
Go to Tasker main "Profile" screen.
Click on"New" button and choose "Event" as your context.
Click on the "Phone" category, and create "Received SMS" as your event.
Now type your desired number and message in "Sender" and "Message" section respectively.
Click on Done.
How about locking your phone by just shaking it? Well here are the steps regarding how Tasker can do that for you.
22. Lock Phone By Shaking
Go to Tasker & Create a new profile.
Navigate to "Events", hit "Sensor" and choose "Shake."
Now enter your preferences for axis, sensitivity, and duration.
In next step, Create a new task and tap the "+" icon.
Click on "Display" and then select "System lock."
23. Remotely Enable GPS
Go to Tasker profile and click on "Event."
Go to "phone" and click on " received SMS" section.
Select the number that you own and set the message as "GPS On."
Create a new task and tap the "+" icon.
Go to "Misc" and click on GPS.
With this method, you can remotely enable your GPS without any trouble
24. Remotely Wipe Data
Sometimes when you lose your phone, then we get apprehensive thinking about someone else getting to know about all the important details saved in our phone. By this method, you can remotely erase out all the data on your phone.
Go to Tasker profile and press "Event."
Navigate to "phone" and choose " received SMS" section.
Create a new task and tap the "+" icon.
Press "File" and choose " Delete Directory."
Now check for "Recurse" or else non-empty folders won't be deleted.
This process becomes helpful when somebody steals your phone, and you want to keep them off from peeking into any of the important details saved in your phone.
25. Forward or Bock Certain Calls During Night Time
Getting calls during resting hours sometimes gets on our nerves. So Tasker helps you by forwarding or blocking all calls during a period.
Go to Tasker profile and click on "Event."
Now navigate to "Time" and adjust the time between 00:00 am to 07:00 am (or any other period of your preference).
Create a new task and tap the "+" icon.
Then go to "phone" and select call diverts or blocking call.
Now go back to having your happy nap without any disturbances.
26. Disable Screen Lock when Camera is on
Sometimes while clicking pics if the screen lock timer runs out then our phone automatically locks up itself. To stop this, you need to create this profile.
Go to Tasker profile and click on "Application."
Then choose Camera from the collection of applications.
Create a new task and tap the "+" icon.
Click on "Display" and set the "screen timeout" to a very high value.
27. Bluetooth Auto-Answer
Go to Profile.
Click on "New state" with context as "Bluetooth connected."
Set the name same as the Bluetooth name of your device.
Click on Done.
Select that profile and tap on Add Context and Incoming Call but leave the Caller Number blank because we want all calls to be answered.
Create a new task and tap the "+" icon.
Check if your phone is idle and then "Wait" for 5 seconds.
Now "take the call."
28. Disabling Keyguard When At Home
Having to enter your unlock code or keyguard pattern, even when you're at home or the office might be very annoying. So with this profile, you can disable your keyguard while being at such regular locations.
Create a new profile and name it "Screen Unlock At Home."
Add an event context for "Display unlocked."
Add a state context for "WiFi near," & enter the SSID of your home or office network.
Create a new task with the name "Wait" and adjust the time limit for 2-3 seconds.
Then navigate to " Display" and select "Keyguard" and set it OFF.
29. Enabling Keyguard When You Leave Office Or Home
Create a new profile with the name "Home."
Add a "WiFi Connected" state context item, with your home/office SSID.
Create a new task and go to "Display" & then select "Keyguard" and set it ON.
30. Read Out The Whatsapp Notification
In this tasker profile when you get a what's app notification while your display is off then your phone will read out loud that notification for you.
Create a profile and click on the + sign.
Go to an event and search for notification.
Select WhatsApp from the notification list.
Create another profile and click on "+" sign.
Go to state and click on "Display."
Now go to "Display State" & turn it OFF.
Create a new task and click on "+" icon.
Click on Misc and select "Say."
Now under the text field space, type "New WhatsApp %NTITLE."
So with this even when your display is off you get to know your WhatsApp notifications without actually having to open and look into your phone.
31. Alert When Your Friends Try To Open Your Personal Stuff
With this when any of your friends tried to open some of your apps like Facebook or what's app then they first get an alert beep and your home screen pops up rather than the app being opened.
Create a new profile.
Go to Application and Select all your private apps
Create a new task and set action 1 as to go to home screen.
Now go to Alert and select beep.
In next step go to flash and enter your desired message which you want to flash on your phone screen.
32. Intruder Selfie
When someone else tries to open up certain locked apps in your phone with multiple unsuccessful logins then, a discreet selfish will be clicked.
Download Secure Settings plugin from Google Play store.
Go to your settings and search for device administration and then provide permission to Tasker and secure setting.
Open Tasker and select Preferences and click on Misc.
Now click on 'Allow external access'. This will allow Tasker to use external apps.
Create a profile and select State click on the plugin.
Now select secure setting and configure it by clicking on the small pencil icon.
Set the condition as maximum 4 failed login attempts.
Click on "device admin enabled' and save it
Create a new task.
Select the Media option and click on take photo.
Now choose the front cam, & provide any filename like 'snaps' or 'pics.'
Check the option 'insert in the gallery' and 'discreet'.
Now go to display and click on "set wallpaper" and enter the storage path of the picture. By default, it is stored at this location /sdcard/DCIM/Tasker/pic.jpg.
Go to Misc and click on Say and type "Intruder detected".
33. Speak Up When Battery Is Low
When the battery level goes below a certain specified level then, a particular song will be played to Alert you and battery saver mode will be activated.
Create a new profile and go to State.
Click on Power & select Battery level. Now set your desired battery level, let's say 9% to 10%.
Create another profile and select State.
Now go to Hardware and click on USB connected and select "Any". Checkmark 'invert'.
Create a new task and click on "+" icon.
Go to Media, select Music Play and then Paste the storage path of the mp3 file that you would like to be played when your battery becomes low.
Now go to Net & turn OFF Bluetooth, Auto Sync, and Wi-Fi.
34. Automatically Turn on GPS/Bluetooth/Wi-Fi for MAPS App
Click on "New" from taskers main screen menu.
Click "Applications" and select Maps.
Create a new task and provide it a suitable name.
Now go to "Misc" and select GPS.
Set the GPS On.
That's all of the Tasker tricks and tips we have. Have better luck creating these profiles and take your device to another level of automation.
35. Switch Between Random Wallpapers In A Folder
Looking at the same old wallpaper on your phone screen might get dull enough, yet we always forget to change our wallpapers. What if we could use Tasker to make it happen automatically for us? Well, that is possible.
Go to the Profile screen of Tasker.
Now create a new task & hit on the "+" icon.
Name the job as "Wallpaper Switcher."
Add the Tasker to the variable set action.
Make a variable called "random_image_folder" and fix its value same as the folder's name you wanna use as the base for your wallpaper.
Go to the script and add JavaScriptlet Action.
Now we need to set the codes in the javascript.
Now set the codes to
var files = listFiles(randoimagefolder, false).split("\n");
var number = Math.floor(Math.random() * (files.length));
setWallpaper(files[number]);
Now add some Images into the folder and then create a profile that shows when the wallpaper should change.
So those were few tasker profiles that you can use to automate tasks on your Android device. Please share a tasker profile that you use and you think is the coolest one that everyone should use. Leave your comments and suggestions, subscribe to our newsletter below for more updates