Now you can Directly Download Latest Movies and TV Shows with Direct Links. No Torrent links required. Downloading Movies and Favorite TV Shows are much faster with direct links than the Torrent links. I will show you how you download your Favorite movies and TV Shows using Direct download link for free.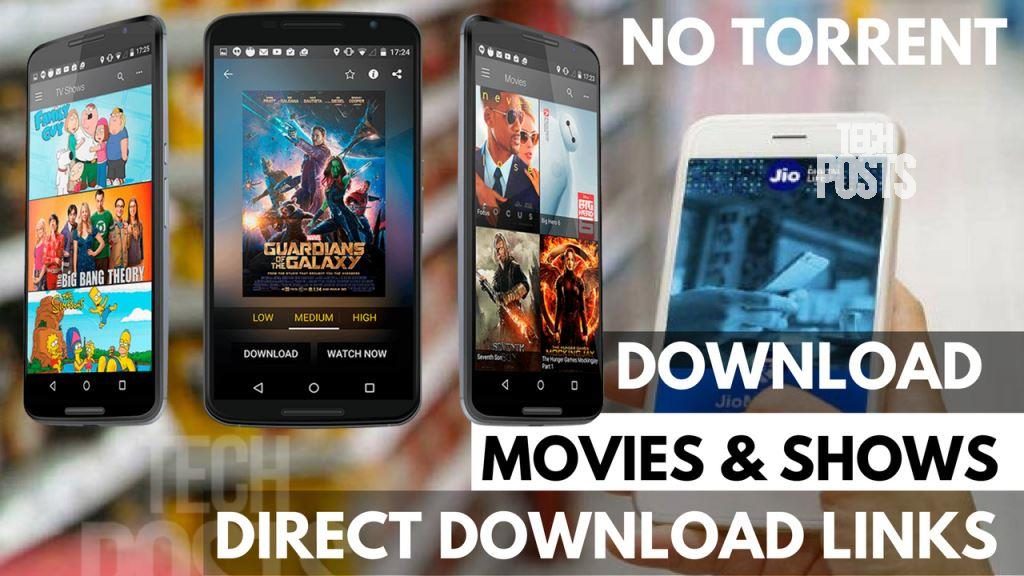 Direct Download Movies and TV Shows with Direct Link
To achieve this we will use three apps:
#Step 1. All apps are free and you can install them from PlayStore. You can download Showbox and other two apps using the links above. So once you have Showbox installed, open the app and look for your favorite movie. Tap on it and then you will see two options: Watch Now and Download.
#Step 2. When you click download, the Showbox shows you all torrent links with file size and if you ever tried to download using Showbox inbuild torrent downloader, you know how slow and inefficient it is. And that's the reason you should use direct links to download movies and we will be extracting these links using MX Player.
#Step 3. On the movie page, tap on Three Dots and then select Other Player from player options.
Next, Tap on Watch Now button and you will see all available players on your Android device. Make sure you have installed MX Player. So as soon as it shows up, tap on MX Player and then MX Player will start streaming the movie.
#Step 4. Now as soon as it does, you have to Tap on anywhere on the screen and then tap on the Three dots at the top right corner of MX Player.
#Step 5. Next, you have to tap on Tools>Then Properties. Next thing you will see is a link and Resolution of the video being played. I prefer 480P because of smaller size.
#Step 6. Double tap on the link text and copy entire link. Exit the MX Player app.
#Step 7. Now open the ADM (Advance Download Manager). Install from Play store, it's free and a perfect download manager for Android phones. I highly recommend this app.
#Step 8. Inside ADM, tap on + icon at the top right corner to add a link. Paste the link copied in the Link field. It will automatically retrieve file information and then you may play with advanced settings if you want to, but Default settings are good enough, so you can HIT Start as soon as file information is retrieved. You should name the file as by default it will be the resolution no. of the video file, in my case 480.
#Step 9. The ADM will create a File to check if space available and then it will start downloading the data from the link at a very high speed. Similarly, you can browse your favorite TV Shows and use the link to download those shows.
Alternatively, you can copy and paste these links in notepad and then transfer it to your PC or Laptop and use IDM or any download manager app to quickly download your favorite TV shows and Movies and then watch them anywhere and anytime, whenever you want.
PLEASE NOTE: These links expire after some time and will not work later. So if you copy it, make sure you download the file within 3-4 hour, otherwise, you will get  "file not found error".
You may also use these links to watch Showbox movies on your PC or Laptop screen by pasting the link in Web Browser without any interruption. Watch this Video guide for complete process and understand better.
VIDEO TUTORIAL:
If you liked this video, hit thumbs up and Subscribe to our channel for more guides. I will be back with another video soon, Thanks for watching.