Hello Smartphone Users, in this post we will show you the list of top 10 games which are compatible with PPSSPP Emulator. PPSSPP is the only PSP emulator available for Android, Windows, iOS, Mac, and Linux.
UPDATE: We all know about PSP HIGH END and LOW-END games some were super hit and some were epic so today I am going to RIP those PSP games and upload them for you so you can enjoy your favorite PSP games on your beloved Android, Windows Phone or iPhone. PPSSPP With this emulator you can play almost all the PSP games on your Android phones easily. You can buy PPSSPP Gold from App Store to support the development of PSP Emulator.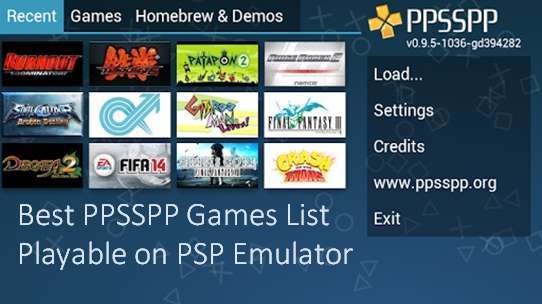 Requirement
Android Phone.
PPSSPP Emulator – Download It from here (PLAY STORE)
and PSP GAME ROM [iso or cso Format] pp ss pp support both types of File Format.
List of Top 10 PPSSPP Compatible Games
1.) TEKKEN 6
Tekken 6 the most famous PSP game is now available for Android mobile and tablets free at Apktank.com.Tekken 6 Sony PlayStation Portable [PSP] roms has now playable in Android, so play and enjoy on your Android device with full features of PSP game. – READ MORE
2.) GHOST RIDER
Ghost Rider PSP is a third-person game released for the PSP, PlayStation 2 and Game Boy Advance based on the movie of the same name. Xbox and GameCube versions of this game were canceled – READ MORE
3.) DRAGON BALL Z – SHIN BUDOKAI 2
Download Dragon Ball Z Shin Budokai 2 PSP iso Game available for Android Mobiles & Tablets. Dragon Ball Z is a Fighting Action Game and it is a Part of Dragon Ball z Series. Dragon Ball z shin Budokai 2 was the first Dragon Ball z series Game on the PlayStation Portable (PSP). Its sequel is Dragon Ball Z: Shin Budokai – Another Road. – READ MORE
4.) GOD OF WAR- GHOST OF SPARTA
Download & Play God of war: Ghost Of Sparta PSP iso Game on PPSSPP. God of War: Ghost of Sparta is a third person action-adventure video game developed by Ready at Dawn and Santa Monica Studio, and published by Sony Computer Entertainment (SCE).Download God Of War- Ghost of Sparta Game ISO Rom for your PlayStation Portable. –  READ MORE
5.) CRISIS CORE FINAL FANTASY VII
Download Crisis Core Final Fantasy VII PSP iso Free Android Game for mobiles & Tablets. Crisis Core: Final Fantasy VII is an Action role-playing game developed and published by Square Enix for the PSP (PlayStation Portable). – READ MORE
6.) SPIDER-MAN 3
Download Spiderman 3 PSP iso is free android apk game for mobiles & tablets SpiderMan 3 is an action game loosely based on the Spider-Man 3 film and released for the Game Boy Advance, Microsoft Windows, Xbox 360, PlayStation 2, Nintendo DS, Wii, PlayStation 3 on May 4, 2007. – READ MORE
7.) TOM CLANCY'S SPLINTER CELL
Download Tom Clancy's Splinter Cell PSP iso Gaming Rom for your Android Devices. PSP (Play Station Portable). Splinter Cell: Essentials starts off in 2009, after the events of Splinter Cell: Double Agent. Sam Fisher sneaks into the graveyard where his daughter, Sarah, who has been recently killed in a car accident, has been buried. – READ MORE
8.) DISSIDIA  012 FINAL FANTASY
Download Dissidia 012 Final Fantasy PSP iso gaming rom for your mobiles & Tablets. Dissidia is a gaming series of most famous Game Final Fantasy. Dissidia 012 Final Fantasy is a fighting and action RPG game and it is developed  only for the PlayStation Portable (PSP) If you are PSP Games lover than this game is made for you. It's awesome… – READ MORE
9.) PRINCE OF PERSIA REVELATIONS
Prince of Persia is the top and most Addictive Game of PSP it has 100% smooth gameplay for Android. Finally
Prince of Persia Revelations PSP iso Gaming Rom is now playable on Android phones & Tablets. So download this game and play without any lacking on your android devices… – READ MORE
10.) BLEACH HEAT THE SOUL 4
Bleach: Heat the Soul 4 Download this Awesome Game and play on your Android Device. Bleach Heat the Soul 4 is the fourth video game for the PlayStation Portable Bleach: Heat the Soul series… – READ MORE
HOW TO PLAY
First Download PPSSPP Emulator – [Playstore]
Then Download your Game Rom and save it on your device where you want.
Then Open PPSSPP Emulator select your rom where you saved.
Enjoy & Play the Game
Let us know how it worked for you, and for more Android tips and tricks, Connect with us to stay updated with more on Facebook, Google+, and Twitter.
Before You Go…
Just wanted to let you know thatWe've launched YouTube Channel where we upload awesome video content. Make sure you hit the subscribe button to stay up to date with the new videos we upload every week. Also, Subscribe us for more How-To Guides and Reviews…!!! @http://youtube.com/checknma for more How to Guides.