The Domain Name System is an essential component of your internet infrastructure that translates the human-readable website name into IP addresses that computers can understand. Every device connected to the internet uses a DNS server to perform this translation, but not all DNS servers are created equal.
Some of them can be slow or unreliable which leads to slow internet speeds or security risks. This is why choosing the best DNS servers is essential for improving internet speed, security, and privacy. Fortunately, many free and public DNS servers are available that can help enhance your internet experience.
These servers can also offer additional security features such as blocking malicious domains and protection against phishing attacks. Read on to explore the best public and free DNS servers of 2023, their benefits, and their drawbacks to get a better understanding of choosing the best DNS for your needs.
What are DNS Servers?
DNS is considered a phonebook of the internet. It translates the website names into an IP address, making it easier for us to access the websites we want to visit on the internet.
The algorithm of DNS is quite complex, as most of its information is not stored in a single database, instead, it is widely distributed in a global directory. This global directory contains a vast number of DNS servers.
Fortunately, users do not get involved in the DNS server. Whenever a user types something on the browser, the DNS searches it with the corresponding IP address which loads the website on the screen.
Best Free Public DNS Servers in 2023
There are various best DNS servers to use from. However to choose the best we have listed DNS servers that can be used for both mobile devices and computers.
| DNS Server | Primary IP | Secondary IP | Benefits | Drawbacks |
| --- | --- | --- | --- | --- |
| Google Public DNS | 8.8.8.8 | 8.8.8.4 | Faster browsing, accurate results, improved security | Meant for experienced users |
| Quad9 | 9.9.9.9 | 149.112.112.112 | Blocks malicious websites and supports DoH | Limited setup |
| Cloudflare | 1.1.1.1 | 1.0.0.1 | Fastest DNS, tight privacy, supports DoH and TLS | No significant drawbacks |
| AdGuard DNS | 94.140.14.14 | 94.140.15.15 | Prevents tracking, blocks unwanted websites | No significant drawbacks |
| ControlD | 76.76.2.0 | 76.76.10.0 | Spoof your location, improves privacy and security | Requires custom configuration |
| OpenDNS | 208.67.222.222 | 208.67.220.220 | Veteran operator, optional web filtering | No significant drawbacks |
| CleanBrowsing | 185.228.168.9 | 185.228.169.9 | The paid version has more functionalities | Not recommended for inexperienced users |
| Alternate DNS | 76.76.19.19 | 76.223.122.150 | Blocks ads and unsafe web pages | Blocks malicious websites supports DoH |
IMPORTANT NOTES:
Primary DNS servers are preferred DNS servers while Secondary DNS is alternate DNS. Both of them can be mixed and matched from different providers to protect your data if the primary DNS server has any problems.
IPv6 addresses are also available for some DNS servers, providing additional support for IPv6 connections.
Google Public DNS
Google has offered three core benefits in its DNS i.e. faster browsing experience, accurate results without getting redirects, and improved security features.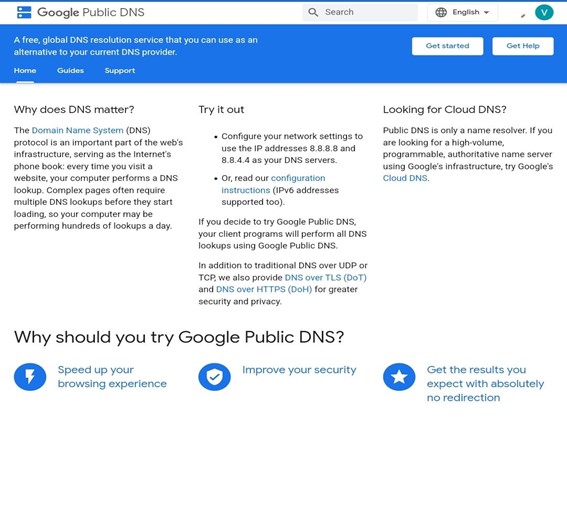 Primary DNS: 8.8.8.8
Secondary DNS: 8.8.8.4
For IPv6 Versions
Primary DNS: 2001:4860:4860::8888
Secondary DNS: 2001:4860:4860::8844
Google has secured the fastest internet speed with its public DNS servers as the data centers are hosted across the world. This means that whenever you try to access a website on the internet using the above IP address, you will be directed to the nearest servers. Also, along with the traditional DNS over TCP/ UDP, Google has introduced DNS over HTTPS (DOH) and TLS (DoT) for the internet.
Why you Buy:
Solid Privacy Front
Commendable Transparency
Why Not:
Meant only for experienced users
Quad9
Quad9 is also a popular free public DNS server that protects your computer from getting into malicious websites. It also protects the system from security threats by immediately blocking access to dangerous websites without saving your information.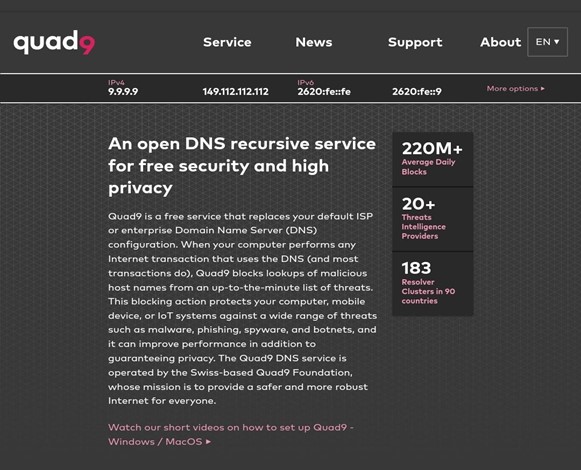 Primary DNS: 9.9.9.9
Secondary DNS: 149.112.112.112
For IPv6 DNS Servers
Primary DNS: 2620:fe::fe
Secondary DNS: 2620:fe::9
Quad9 does not filter the website content, instead, it blocks phishing or malware attacks. There is also an unsecured IPv4 public DNS server (i.e. no malware blocking) at 9.9.9.10 (2260:fe::10 for IPv6). It also supports DoH.
Why you Buy:
Speed Performance Levels
Blocks the malicious web
Why Not:
Cloudflare
Cloudflare is among the best DNS servers which comes with 1.1.1.1 the fastest internet DNS directory. It won't allow you to log into your IP address, never sell data and use your data for creating target ads.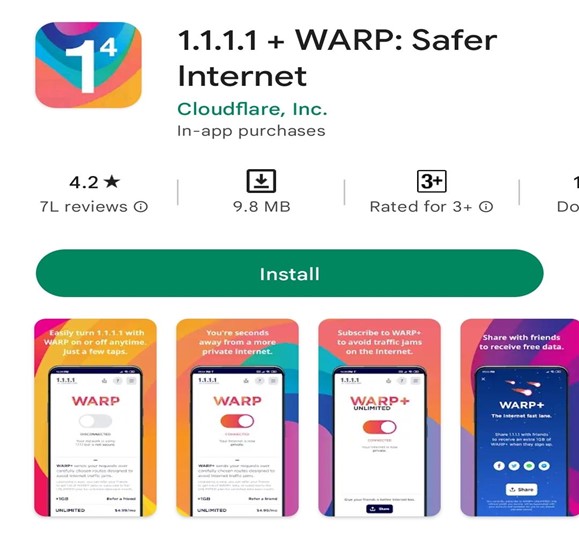 Primary DNS: 1.1.1.1
Secondary DNS: 1.0.0.1
For IPv6 Version
Primary DNS: 2606:4700:4700::1111
Secondary DNS: 2606:4700:4700::1001
One of the methods to use Cloudflare is through the 1.1.1.1 app, which helps you to set up your DNS servers quickly on mobile as well as computer systems. This also doubles as VPN, the 1.1.1.1 for families should block malware (1.1.1.2) or malware and adult content (1.1.1.3). It supports the DNS over HTTPS and TLS also.
Why to Buy:
Impressive Performance
A community forum for support
Tight Privacy Levels
Why Not:
AdGuard DNS
AdGuard DNS server has two different sets which can block ads of games, videos, apps, and websites. The basic AdGuard set is called Default servers, which block the ads and trackers.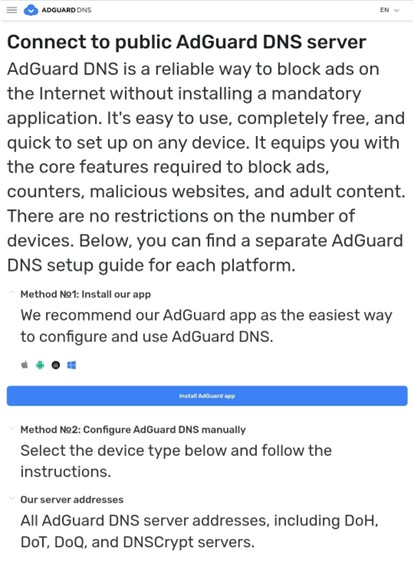 Primary DNS: 94.140.14.14
Secondary DNS: 94.140.15.15
Ipv6 also supported to
Primary DNS: 2a10:50c0::ad1:ff
Secondary DNS: 2a10:50c0::ad2:ff
AdGuard also has Family Protection servers whose IPs are 94.140.14.15 and 2a10:50c0:: bad1:ff. It usually blocks all the adult content including everything stored in your Default servers. It also has a non-filtering server if you are not interested in blocking anything i.e. 94.140.14.140 and 2a10:50c0::1:ff. It is also available as DNS over HTTPS, QUIC, TLC, and DNSCrypt.
Why you Buy:
Prevent from tracking
Blocks unwanted websites
Why Not:
ControlD
ControlD is popular because of the choice to choose from several DNS servers. Each of them is categorized by theme. Its uncensored proxy, commonly blocked the websites of most countries to bypass the IP of various news web pages. Other servers are used for stopping all malicious websites, blocking ads and trackers, social networks, and all adult content. It has a basic option of Unfiltered which offers DNS query privacy and security.
Primary DNS: 76.76.2.0
Secondary DNS: 76.76.10.0
For the IPv6 DNS server version
Primary DNS: 2606:1a40::
Secondary DNS: 2606:1a40:1::
ControlD also has a custom configuration that you can set up if standard configurations are not good for the websites. For instance, join the trackers and ads, phishing, malware, and gov websites for making custom filters on the server. It also has a subscription at a very low cost. ControlD supports both DoH and DoT.
Why you Buy:
Spoof your location
Improves privacy and productivity
Why Not:
It's a custom configuration
OpenDNS
OpenDNS has millions of user bases with 100 percent reliability and time. They provide two free public DNS servers, one of them for parental control and having dozens of filtering options.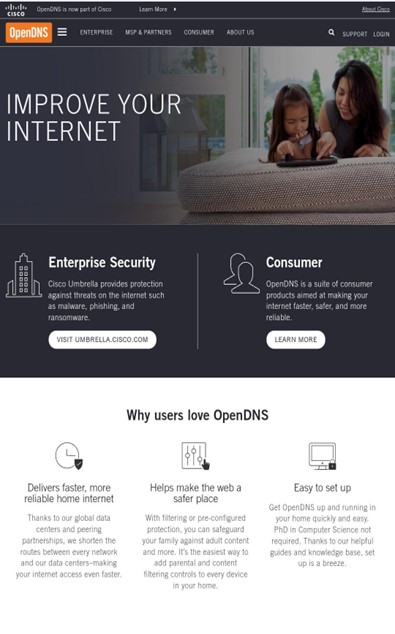 Primary DNS: 208.67.222.222
Secondary DNS: 208.67.220.220
For IPv6 version
Primary DNS: 2620:119:35::35
Secondary DNS: 2620:119:53::53
The servers mentioned above are for the OpenDNS Home, used for custom settings. The company also has OpenDNS FamilyShield which blocks adult content. Its IP address is 208.67.222.123 and 208.67.220.123. Both of them support DNS servers over HTTPS.
Why you Buy:
Veteran Operator
Phishing websites are blocked by default
Optional Web filtering
Why Not:
CleanBrowsing
CleanBrowsing is also a public DNS server that can block unsafe web pages. It is the best DNS which typically has 3 public DNS servers i.e. family filter, security filter, and adult filters. However, the most basic of them which block malware and phishing sites update on an hourly basis.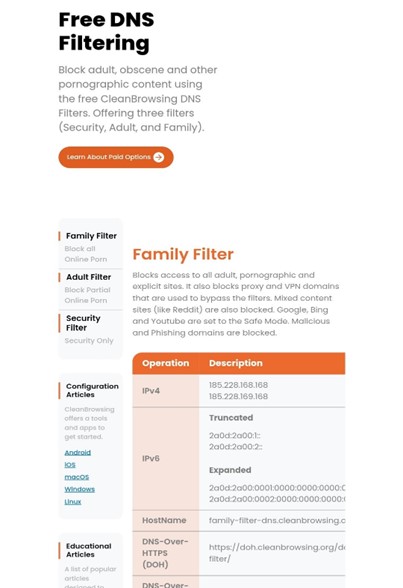 Primary DNS: 185.228.168.9
Secondary DNS: 185.228.169.9
IPv6 addresses are also available
Primary DNS: 2a0d:2a00:1::2
Secondary DNS: 2a0d:2a00:2::2
The family filter (185.228.168.168) blocks the VPNs, proxies, and mixed adult content whereas the adult filter (185.228.168.10) only prevents you from accessing adult domains. CleanBrowsing also supports DoT and DoH.
Why you Buy:
Safe Browsing Experience
Block Malicious Contents
Why Not:
Alternate DNS
Alternate DNS is among the free DNS servers whose main purpose is to block ads and unsafe web pages from reaching your network.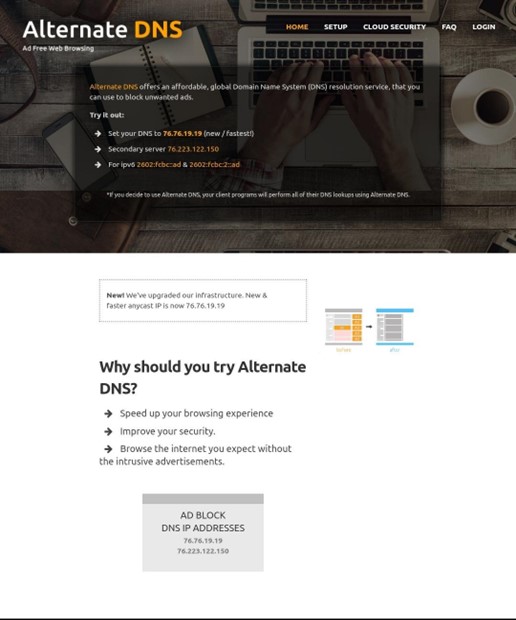 Primary DNS: 76.76.19.19
Secondary DNS: 76.223.122.150
IPv6 address also supported to
Primary DNS: 2602:fcbc::ad
Secondary DNS: 2602:fcbc:2::ad
A fairly new DNS server, which provides good speed and most users prefer its server and uptime.
Why you Buy:
Reliability and Server Uptime
Blocks unsafe websites
Why Not:
Paid has various functionalities
Note: If you are not sure, you can use IPv4 DNS servers provided by the DNS provider. These are some IP addresses that include periods. The Ipv6 address uses colons.
Why Use Different DNS Servers?
Internet server issue is the main reason behind switching to different DNS servers. One of the easy methods you can use to test DNS servers is just by visiting the website IP address in your browser. If you successfully log in to the IP address, but not the name, then your DNS server is most likely having some issues.
Some also change due to performance issues such as sluggish or slower browsing experience. If the existing DNS servers are not good enough, you can double up your internet speeds by switching to these servers. Another reason is for protecting your privacy and login information. Using DNS servers can block those websites from storing information and other malicious websites.
Last Words
By jumping into free DNS servers, you might encounter small technical issues and much more responsive browsing experiences. Some of the DNS servers have security features like blocking phishing and unsafe websites and filtering search results. We recommend you choose the DNS server which best suits your needs and provides a good user experience.