While Android system has all the best features in their phones, windows takes the lead in the sound quality arena. But to all the music lovers, you no more have to switch to windows for experiencing good sound or audio quality. Android has a huge marketplace for applications, and we at Techposts.org have found out  not just the top ranking but the most efficient apps for you.
In this article, you will come across some of the best applications for a music lover. You can customize your sound, volume, bass, speakers everything via these applications and enjoy the heavenly feel of music. So all of those out there who are disappointed by their android phones sound quality, this is a must read. Get the best applications , free of cost.We have mentioned few selected apps below. you can choose one that best suits you.
1. MUSIC VOLUME EQ 
Music volume equalizer is a great application for android phones. It has a volume slider with live music stereo led, VU meter and 5 bands equalizer with Bass boost and Visualizer effects. It's features speak for itself, it's one of the most amazing application for music lovers, they get all that they want. It improves the sound quality and the volume levels of your device, works in background and controls alot of players like- Winamp, Google Music, MixZing, power-ramp and YouTube also.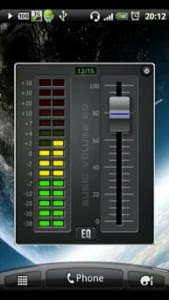 2. EQUALIZER
This application lets you adjust sound effect levels on your smartphone. There are also few audio effects which can be used.  It's free of cost and require internet permission for the download of the widgets. It allows you to create your own custom preset with 5 bands equalizer controller.
Drawback – It requires android 2.3 or above, so if you have a custom ROM , this application may not be for you.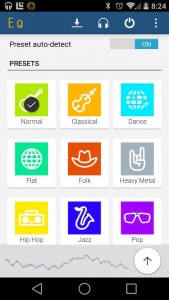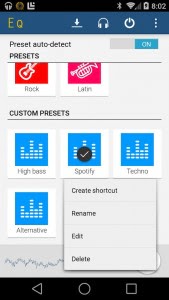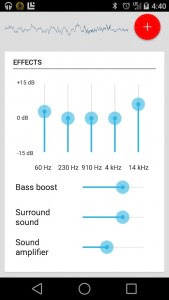 3. BASS BOOSTER

You think your smartphone doesn't provide you with perfect bass? No worries. Go to your play-store and download this wonderful application and it will prove to be the best. It has 6 bands equalizer and set of more than 20 presets for you to use. The app comes in free as well as paid version.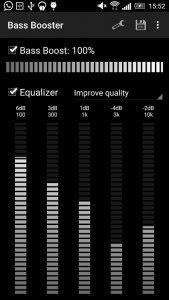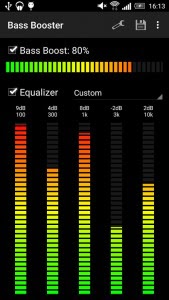 "use strict"; var adace_load_5df6c879ab327 = function(){ var viewport = $(window).width(); var tabletStart = 601; var landscapeStart = 801; var tabletEnd = 961; var content = '%3Cscript%20async%20src%3D%22%2F%2Fpagead2.googlesyndication.com%2Fpagead%2Fjs%2Fadsbygoogle.js%22%3E%3C%2Fscript%3E%0A%3Cstyle%3E%0A%40media%28max-width%3A%20600px%29%20%7B.adace_adsense_5df6c879ab305%20%7Bwidth%3A300px%3B%20height%3A250px%7D%7D%0A%40media%28min-width%3A%20601px%29%20%7B.adace_adsense_5df6c879ab305%20%7Bwidth%3A336px%3B%20height%3A280px%7D%7D%0A%40media%28min-width%3A%20801px%29%20%7B.adace_adsense_5df6c879ab305%20%7Bwidth%3A336px%3B%20height%3A280px%7D%7D%0A%40media%28min-width%3A%20961px%29%20%7B.adace_adsense_5df6c879ab305%20%7Bwidth%3A336px%3B%20height%3A280px%7D%7D%0A%3C%2Fstyle%3E%0A%09%09%3Cins%20class%3D%22adsbygoogle%20adace_adsense_5df6c879ab305%22%0A%09%09style%3D%22display%3Ablock%3Bwidth%3A336px%3Bheight%3A280px%3B%22%0A%09%09data-ad-client%3D%22ca-pub-1582616950037164%22%0A%09%09data-ad-slot%3D%227513274354%22%0A%09%09%0A%09%09%3E%3C%2Fins%3E%0A%09%09%3Cscript%3E%28adsbygoogle%20%3D%20window.adsbygoogle%20%7C%7C%20%5B%5D%29.push%28%7B%7D%29%3B%3C%2Fscript%3E'; var unpack = true; if(viewport=tabletStart && viewport=landscapeStart && viewport=tabletStart && viewport=tabletEnd){ if ($wrapper.hasClass('.adace-hide-on-desktop')){ $wrapper.remove(); } } if(unpack) { $self.replaceWith(decodeURIComponent(content)); } } if($wrapper.css('visibility') === 'visible' ) { adace_load_5df6c879ab327(); } else { //fire when visible. var refreshIntervalId = setInterval(function(){ if($wrapper.css('visibility') === 'visible' ) { adace_load_5df6c879ab327(); clearInterval(refreshIntervalId); } }, 999); }
})(jQuery);