Gmail's archiving feature to Microsoft Outlook
Gmail is certainly by far one of the best known mailing platforms and has plethora of handy options available. One such is its archive option which allows you to hide your mails from the inbox or the sent folder. Certainly the mail will be visible when seen in all mails. You could either select the mail and mark it archive or just simply press the 'e' button on your keyboard and the purpose is solved.  While Gmail seems so easy and convenient Microsoft's outlook doesn't have this handy feature. In this article we aim to help you to feel the same comfort while using your outlook account as well.
Microsoft has recently launched a new version of Outlook for Mac with 2016 Office inbuilt. Though the new version is very nice but it doesn't allow you to archive your messages so easily. You can obviously make efforts by selecting the mail and moving it through the available option again and again but that cannot match up to the simplistic procedure of Gmail. So in order for you to enjoy the same ease here is guide to help you out.
The best part the entire words doesn't require any sort of scripting and is very easy to do. Try this feature on your Apple MAC and get the simplistic experience.
Follow the steps below and enjoy the comfort.
Add Gmail-like Archiving to Outlook
Here is a step by step guide by techposts.org to help you emulate gmail's archiving feature into your outlook account. Though this tutorial is for Office 2016 but it will work for other versions of Outlook on Mac OS X as well.
Step 1: Open your Microsoft Outlook account and select any email and move the selected mail to another outlook folder. The simplest way to do this is by selecting the mail and then pressing Ctrl+shift+M.
Step 2: Once you have selected the mail a pop will appear on your screen. If you are using Gmail with outlook, type all mail in the window to select the archive folder. See the picture below. You can even type the name of some other folder which you intend to use for archiving messages.  Click move to the selected message.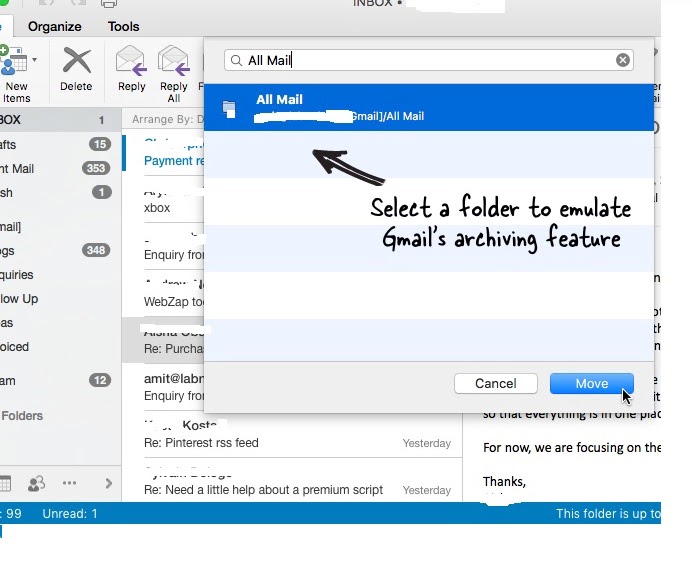 Step 3: From the outlook menu present on the top of your screen, click on the message option. In message go to the move option. Make an exact note of the highlighted option corresponding to the folder that you have chosen.
Step 4: From the apple menu, select system preferences and click on the keyboard option. Click on shortcuts and then App Shortcuts and then finally click on Add.  Chose Microsoft Outlook in the Application option from the dropdown menu. Type the exact menu name as selected in the previous step and put the Keyboard shortcut as Ctrl+E.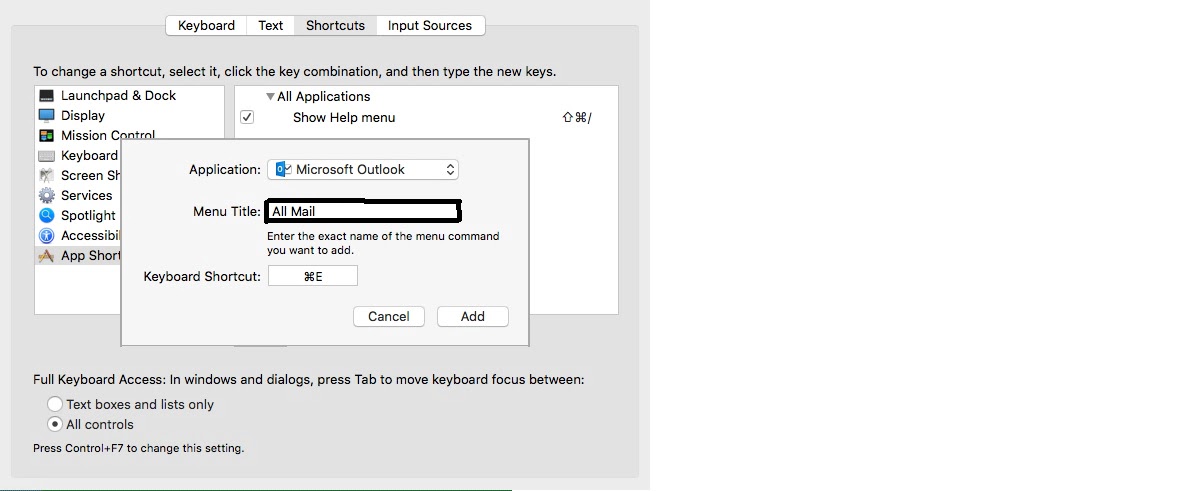 Step 5: Click on add to create a shortcut and then select multiple mails and press Ctrl+E. If you have followed the steps rightly, your mails will successfully get archived.
Hence we see how just in 4 simple steps you created a shortcut for your Outlook and made it as comfortable as Gmail without any type of scripting. Let us know what you think via comments below. Please, don't forget to subscribe to our Newsletter, you can also like us atFacebook, Follow us on Google+ and Twitter.