So today we will talk about how you, yes You can hack any windows PC, no matter if it's a Windows 7, 8, 8.1 or Windows 10 or Windows 10 Creators update. You can hack a Windows administrator account within 5 Minutes. Yes, less than 5 Minutes. Not only that I will also show you how to protect your PC from these hacks. So let's get started and hack a Windows Admin Account.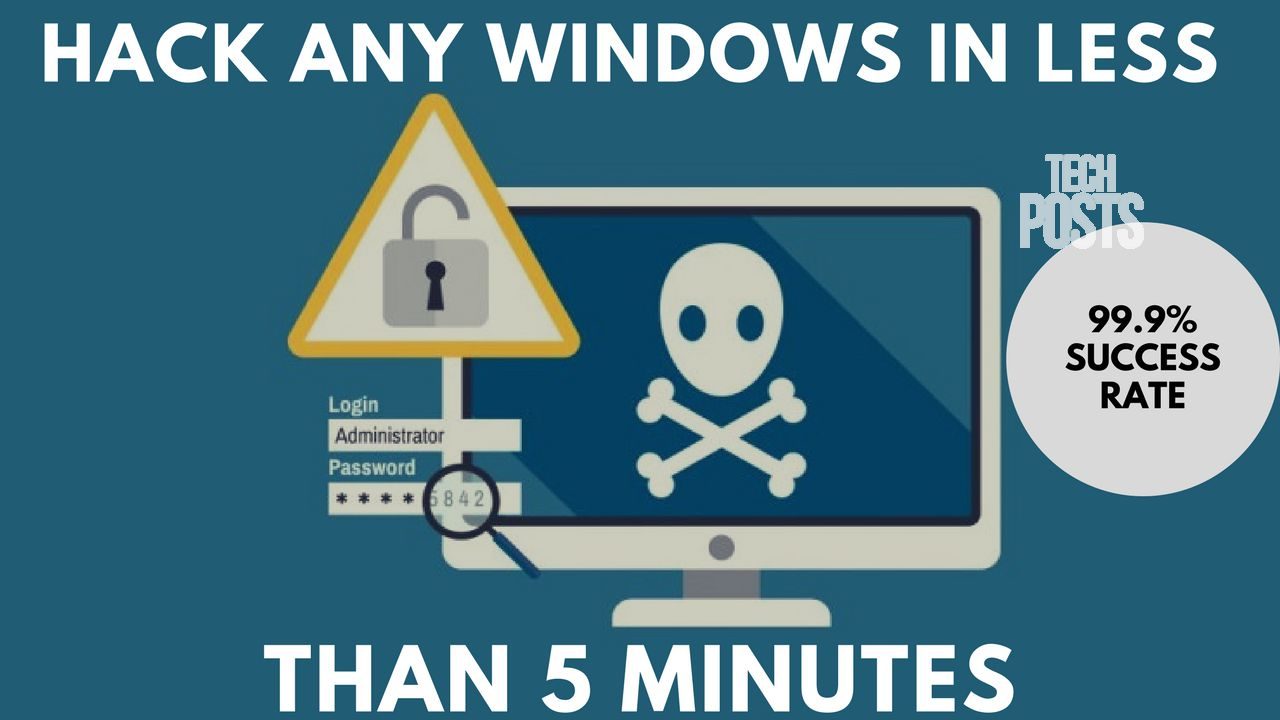 Disclaimer/Warning
Before we begin, I want you to know that This video is entirely for educational purpose and with this video, i am trying to aware you people about the vulnerabilities that still reside in a Windows Operating System. So Don't use this to harm anyone or for stealing data or information from any PC as it's illegal and you may find yourself behind bars. Sooner or later.
Before We Start
At the end of this video as i said I will also show you what are the ways to protect your system from this simple but most effective Hack. So watch this video till the end or you may skip some important points if you skip this video. Also, I want you to please share this video as much as possible with your friend and relatives and help them protect their System. Now let's begin.
So to Hack a Windows PC, no matter what version of Windows. All you need is a USB Thumb drive where we will copy Linux installation files using tools like Rufus. So download any Linux Version that you like. You can prefer Puppy Linux as it's very small in Size. I am using Kali Linux here as I already have Kali Linux ISO on my PC.
Run Rufus app and create a Linux installation drive.
Once done, you can now use this thumb drive to hack into any Windows PC. So let me show you how?
Hacking a PC with a  USB Drive
First, find the machine you want to hack, once you locate the victim, open his or her laptop or PC and insert your USB Thumb drive. Now press the Power button to boot the system and immediately, just after pressing the power button, Start pressing the F2 key or DEL key to access the BIOS. Inside BIOS, Turn of the Secure Boot. Save settings, Exit and then start press F12 key to see boot options. Under boot options, you will find the Thumb drive, select it and boot.
Now run the Linux in Live mode. Open the File Explorere or manager in linux and locate the Windows OS Disk. Next, Open the disk, Go to Windows, System32 and the search for CMD.exe
Rename it to CMD1.exe
Next Search for SETHC.exe and rename it to CMD.exe. Then finally rename CMD1 as Sethc.exe
That's it. We have completed all necessary steps. Now simply restart the system and remove your thumb drive. You will see Windows Login Screen asking for a password to login which we obviously don't know.
But now we can easily change the password and hack into the system. To do  so, press shift key 5 times continuosly. A CMD window will appear.
Now type command
net users
This command will show you all the user accounts on the PC. Find the administrator account name and then type
net user AdminAccountName NEWPASSWORD
You can type anything in password field and hit enter. Now you can use the password you entered in the cmd command to login to system admin account. As simple as that.
So it's a very quick way to hack any windows PC. I know some of you might be scared after watching this, but it's true, anyone with very little knowledge of computing can easily hack into any windows PC, specially after watching this video. But again, my motto is not to scare you people but to aware you guys about this vulnerability and also teach you how to protect your systems.
How to Protect Windows from This and other Hack
So to safeguard yourself from this hack, all you have to do is disbale the Sticky Keys in Windows. To do so,
Go to Ease of Access center.
Next click on "Make the keyboard easier to use".
Then, click on Setup Sticky Keys. Then simply uncheck "Turn on Sticky Keys when shift is pressed 5 times". That's it.
So from now, this hack that I explained will not work and you can confirm it by try logging out and repeating steps again. But this is not the only way to get into anyone's PC withut permissions. There are some other ways with which one can easily access your Windows account and can even leave a malware or trojan and can monitor all your activities remotely and you may never know.
So get a good Antivirus and disbale all unnecessary programs to boot at startup. This will not only help your system boot faster but also protect any malware or malicious code from getting executed at startup. So keep track of startup programs. You can use program like CCleaner for quick access.
Other than that, you may add a password in BIOS. So everytime when you start the system, it will ask for the Admin password and this is almost impossible to hack. SO from now no one can access your BIOS or anything on your System.
So that's all people, Subscribe now for more videos like this. I hope this video post will help you and others to protect their PC from this vulnerability. I will be uploading other videos on Hacking and stuff, so stay tuned and like this video. Also share this video as much as possible to spread awareness among all windows users and help them protect their PC or Laptops, most important, the data and info in it. So stay safe and keep visiting Techposts for more videos. Thanks you, have a great day.