Technology is growing at a very high speed and so is the size of the devices is getting smaller and smaller. A tiny circuit board has been developed by Next Thing Co and claimed to be "built for work, play, and everything in between." This $9 Computer has made the news all around the world which is about the size of a Credit Card that runs mainline Linux OS and can do just about anything you want it to.
THE CHIP is a real $9 computer. It has a 1GHz single-core processor, 4GB onboard storage and 512MB DDR3 RAM. The specs doesn't ends here! THE CHIP comes with inbuilt Bluetooth 4.0 to connect with the devices like PS3 or PS4 controllers and other bluetooth devices and WiFi for network connections as well as optional ports for VGA and HDMI monitors ($19 with the VGA adapter and $24 with the HDMI adapter). Wow, that's more than enough for a credit card sized PC.
What You can Do with this $9 PC
Well, you can install a light version of Debian and you can even plug it into something called the PocketCHIP that adds a touchscreen and keyboard to the mix in a package about as big as the original Game Boy. What's more, Chip comes with a completely integrated battery power circuit so that you don't need external power. All you have to do is attach a 3.7V battery to CHIP and you are good to go (now that's really cool).
Also See : How to recover Lost or Deleted Messages in Whatsapp
You can see how small this CHIP is as they are comparing size with a banana, lightbulb and pen. Click here to see

It is said that the CHIP will come with useful preinstalled apps, tools and games – VLC, Chrome, LibreOffice, Torrent, CAD and more. Apart from these, you can use thousands of free and open-source applications on CHIP.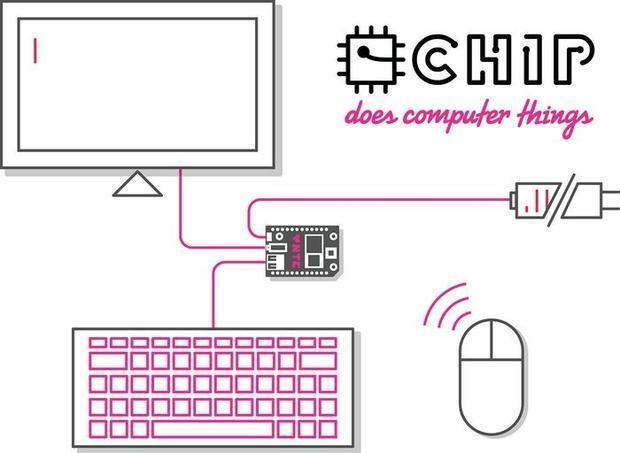 Currently, CHIP is a Kickstarter project and you need to visit the website to get this amazing product. The team was originally looking for $50,000 of funding to make CHIP a reality but has already raised nearly $350,000 after just one day.
If this $9 Linux based Computer has fascinated you then tell us your views in comments below. Do Subscribe us for more Tech Updates and News along with How to Tech Guides on Android, iOS, Windows, Mac and Linux below or Connect with us to stay updated for more on Facebook, Google+ and Twitter.
Recommended for you : How to make embedded YouTube video responsively in WordPress – An Efficient way