Photo shooting and sharing on Social media is one of the most used feature of any smartphone, doesn't matter if it's an Android user or an iPhone user. You can make those snapped pictures more beautiful and eye catching by simple editing using some of the most popular and powerful Photo editing apps available for Android and iPhone. These apps allows you to edit, crop, resize, add frames, apply effects, filters etc. on your pictures. Now you don't need a professional and complicated tool like Photoshop to create amazing effects, these apps have made it so easy and quick. There are hundreds of photo editing apps and from those we have selected top 10 best photo editing apps for Android and iOS 2017.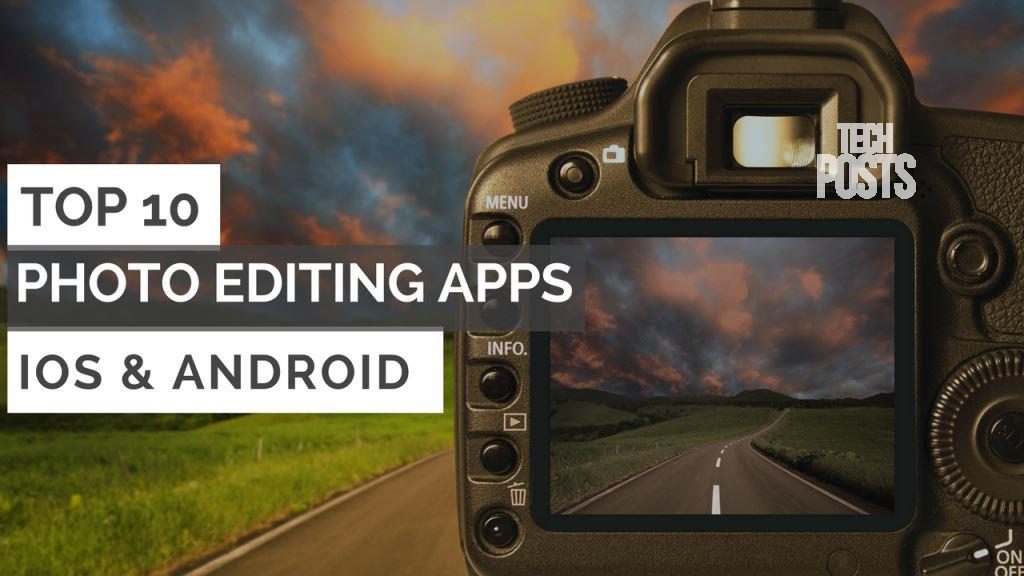 Top 10 Photo Editing Apps for iOS/Android
Instagram
It's more than a photo editing app and we think this app doesn't need much introduction. Instagram comes preloaded with face filters in the camera that makes it easy to turn an ordinary selfie into something fun and entertaining. You can express yourself and have playful conversations with friends. You can follow your friends and family to see what they're up to, and discover accounts from all over the world that are sharing things you love. Join the community of over 500 million people and express yourself by sharing all the moments of your day via photos and videos––the highlights and everything in between, too.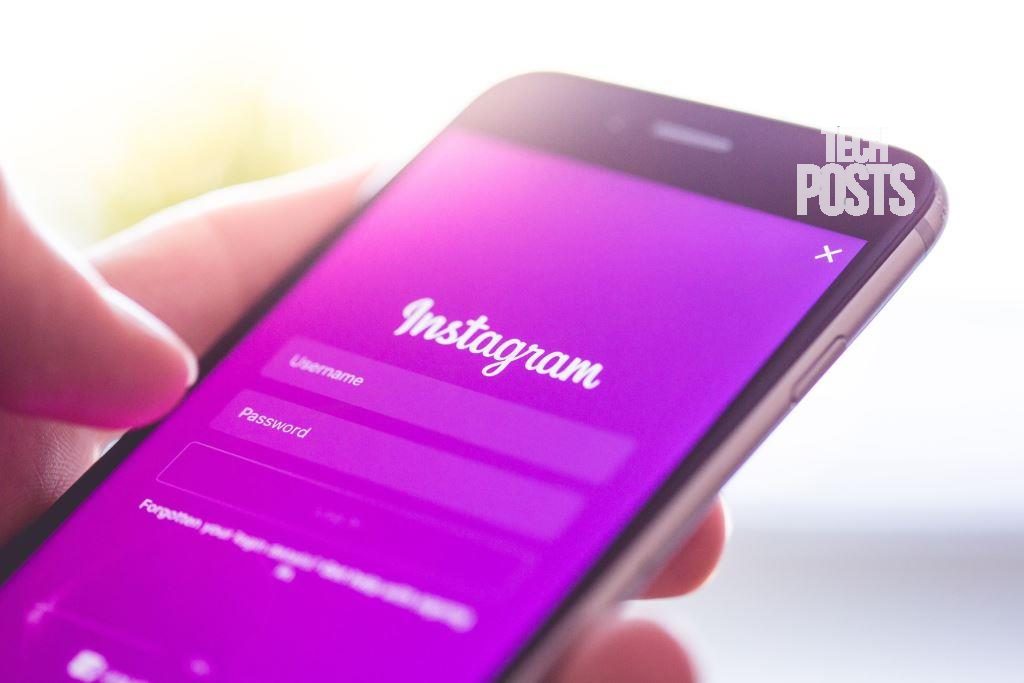 Download/Install Instagram – iTunes | Android
VSCO Cam
With VSCO cam, you can shoot and edit your images with some of the most superior mobile presets and advanced camera controls. VSCO cam also allows you to publish images or curate others to your VSCO profile. You can explore content from the people you follow, curated work from the community, and exclusive editorial content from VSCO Originals.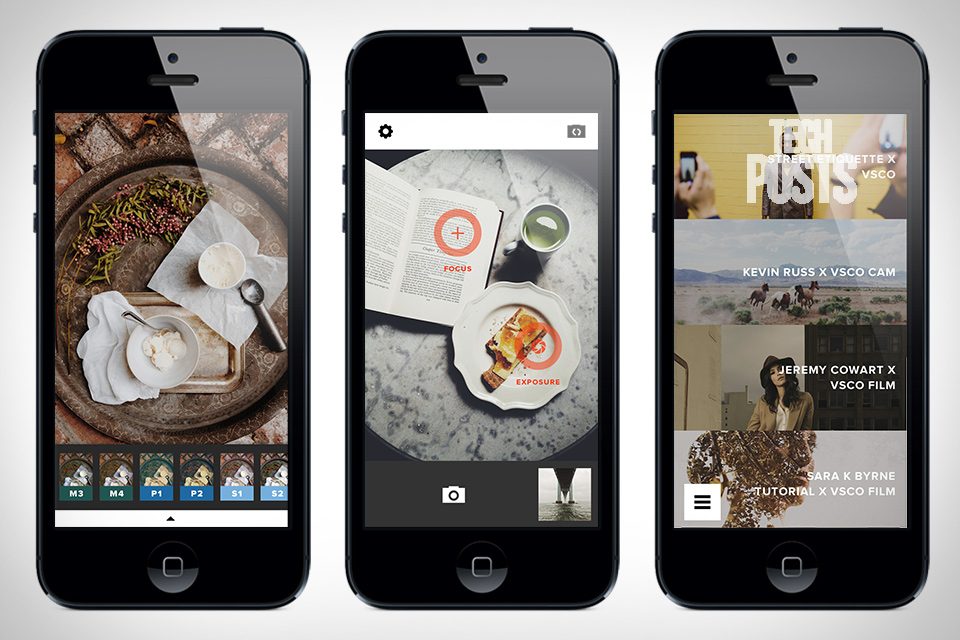 Download/Install VSCO CAM – iTunes | Android
Snapseed
Snapseed is a complete and professional photo editor developed by Google itself. It's preloaded with 29 Tools and Filters, including: Healing, Brush, Structure, HDR, Perspective etc. You can open and edit jpg and DNG formats without any problem. This app is rated 4.5 on the PlayStore and it's one of the most popular and widely used image editing app for both Android and iOS devices. You can crop any photo, tune it, enhance the quality, adjust colors and do a hell lot more things with your images.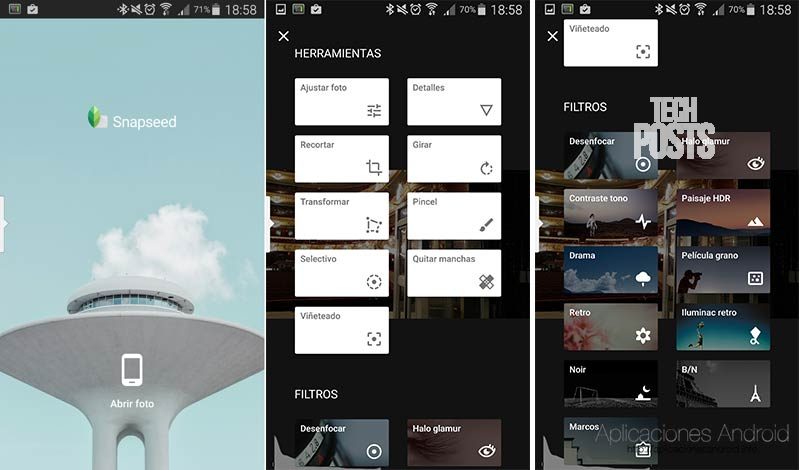 Download/Install SnapSeed – iTunes | Android
PicsArt
PicsArt is also one of the most widely used photo editor and pic collage maker on mobile. You can use tools, effects, collage maker, camera, free clipart library, millions of user-created stickers and drawing tools to enhance your images. You can remix and edit pictures into awesome collages and memes. It's available for both Android and iOS devices.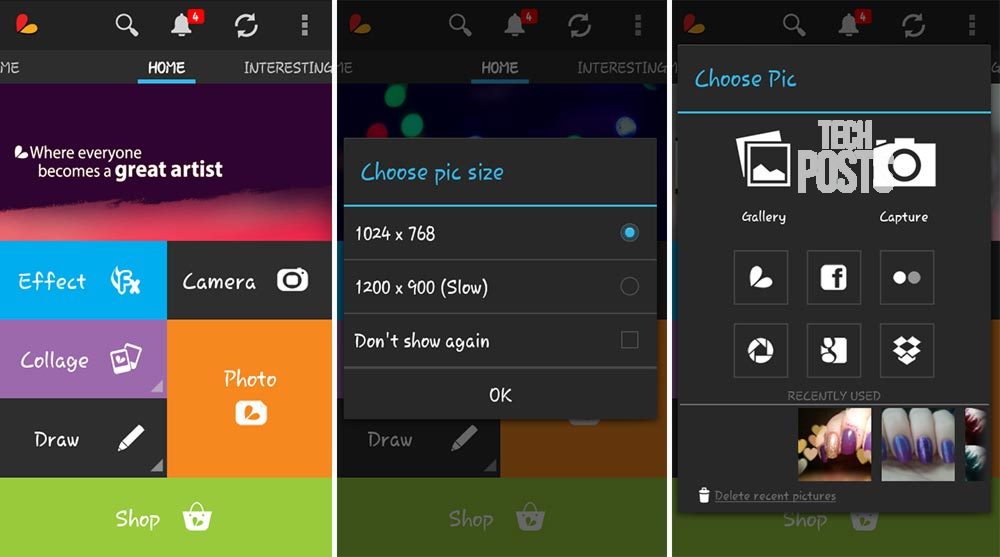 Download/Install PicsArt – iTunes | Android
Polarr
I personally use this app for image editing. Polarr is rated 4.4 on PlayStore that offers advanced auto-enhance tools and sophisticated filters to edit every detail of your photo. That's why it's used by the world's most professional photographer groups.
Polar is not limited to Android and ioS, it's also available on web, for Linux, Windows 10, BSD, Chrome and Mac.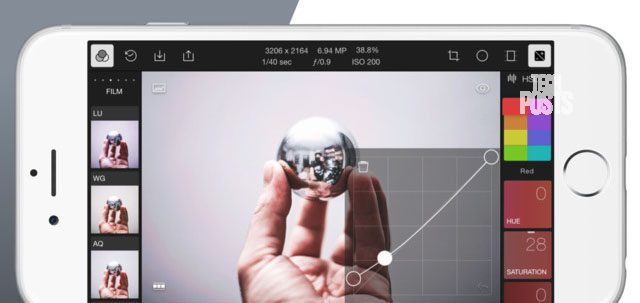 Features:
Complete set of color masking and brushing tools
Create, customize, and share your own filters
Multiple local and brush adjustments
Customizable toolbars and workspace
Download/Install Polarr – iTunes | Android
Prisma
Prisma transforms your photos into artworks using the styles of famous artists: Munk, Picasso as well as world famous ornaments and patterns. A unique combination of neural networks and artificial intelligence helps you turn memorable moments into timeless art.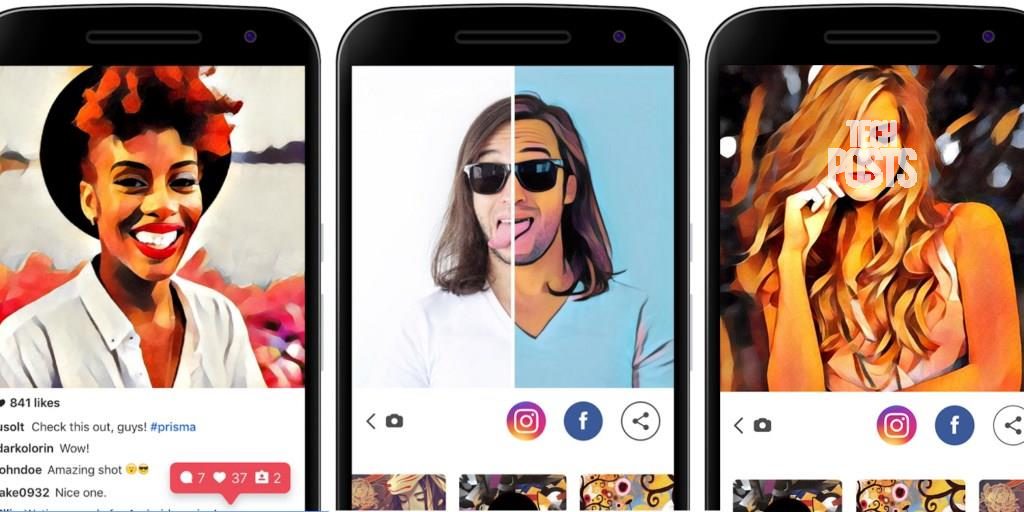 Features:
Modern art filters
Stunning photo effects
Fast sharing
Unique GeoFeed
Download/Install Prisma – iTunes | Android
PicMonkey
PicMonkey app puts the photo effects and tools you love into one sleek package and gives you the power to easily recolor, reshape, and remix your pics. With Picmonkey you can,
Add text in a variety of colors, fonts, and styles
Draw right on your photos
Design with our fresh, unique stickers
Add photo filters like Sepia, B&W, and Ombre
Layer photo effects and paint them on where you want
Paint on adjustments like Brightness, Contrast, and Clarity
Share on Facebook, Twitter, Instagram and Pinterest with pre-made sizes
Make memes with popular meme-maker fonts and one-touch drop shadow
Crop, rotate, blur, saturate, and so much more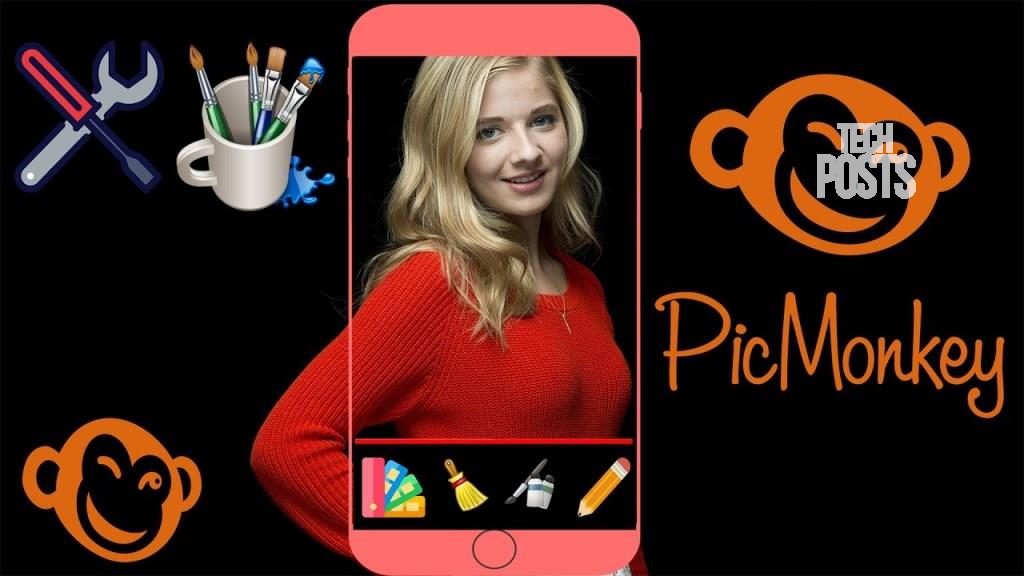 Download/Install PicMonkey – iTunes | Android
Adobe Photoshop Express
Photoshop Express is brought to you by Adobe, proud makers of the Photoshop family of products. Adobe Photoshop Express is a simple Android and iOS app to snap and edit photos with your mobile with a few simple on-screen touch. You can quickly Snap, Edit with one touch filters, colors, auto fix and basic image editing options and share the photos on Facebook, Twitter and other social networking sites.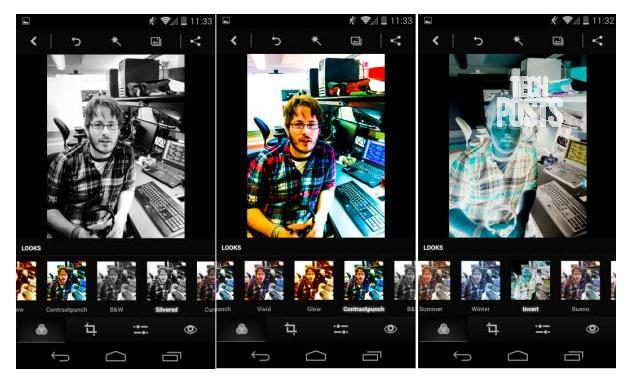 The USP of this editing tool is multiple file format support. Photoshop Express supports:
Photo: JPG, PNG
Raw files: arw (SONY), cr2 (CANON), crw (CANON), dng, erf (EPSON), raf (FUJI), 3fr & fff (HASSELBLAD), dcr (KODAK), mrw (KONICA), mos (LEAF), rwl (LEICA), nef & nrw (NIKON), orf (OLYMPUS), rw2 (PANASONIC), pef (PENTAX), srw (SAMSUNG)
Download/Install Photoshop Express – iTunes | Android | Windows
Cymera
Cymera is a powerful photo editor and an all-in-one beauty camera with over 200 million download worldwide. This app is rated 4.4 on PlayStore. With Cymera, one can Creates amazing collage photos, enjoy hundreds of filters, stickers, backgrounds, text feature, layout, emojis, beauty tools, hairstyles and more.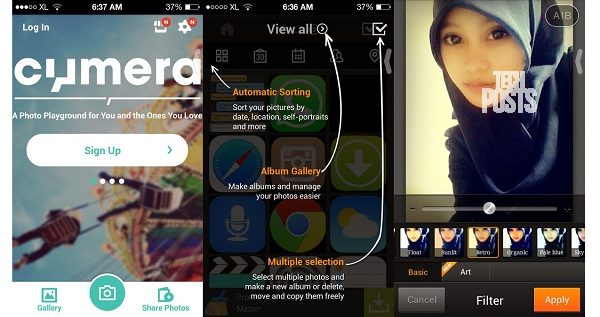 Download/Install Cymera – iTunes | Android
Open Camera
Open Camera is an Open Source Camera app for Android phones and tablets. It's rated 4.3 on PlayStore and completely ad free. Some features may not be available on all devices, as they may depend on hardware or camera features, the Android version, etc.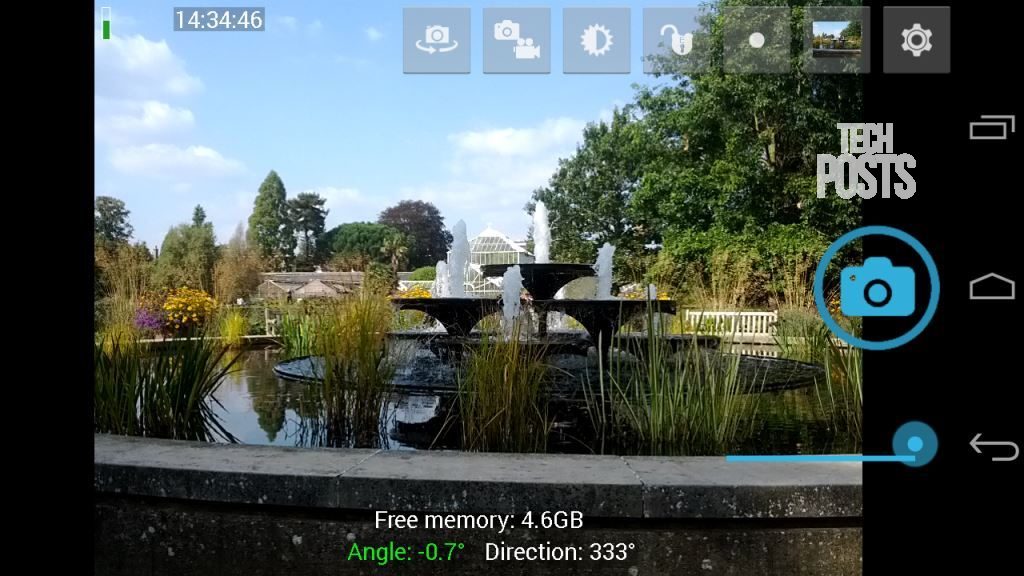 Features:
Option to auto-level so your pictures are perfectly level no matter what.
Expose your camera's functionality: support for focus modes, scene modes, color effects, white balance, ISO, exposure compensation/lock, face detection, torch.
Video recording (including HD).
Handy remote controls: timer (with optional voice countdown), auto-repeat mode (with configurable delay).
Option to take photo remotely by making a noise (e.g., voice, whistle), or by voice command "cheese".
Optimise GUI for left or right-handed users.
Disable shutter sound.
Apply date and timestamp, location coordinates, and custom text to photos; store date/time and location as video subtitles (.SRT).
Yes you can take a selfie (also known as front camera), includes support for "screen flash".
Support for HDR and Exposure Bracketing.
Support for Camera2 API: manual focus distance; manual ISO; manual exposure time; manual white balance temperature; RAW (DNG) files.
Dynamic range optimisation mode for better quality photos.
Small file size.
Download/Install Open Camera – Android
Vote for Your Favorite App
Conclusion
Vote which one is your favorite or vote the one you think should be ranked on the top and is the best Image and photo editing app for both iOS and Android devices 2017. Please don't forget to follow TechPosts on Facebook, Google+, Twitter and YouTube to keep up with future Howto Guides.