All the cord cutters out there who love to watch the series online rather than glaring at the television, for all those online TV devotees, who love to hop on and start watching Netflix, Discovery or any other channels, here is a wonderful SmartDNS service for you. Since not all channels that you desire to watch are available in every country or domain, there is yet another Smart DNS service which is providing online services but this time with great efficiency. UnoTelly is seemingly the latest hit amongst the civic, through its great customer services it has conquered the hearts of many.
What is Unotelly?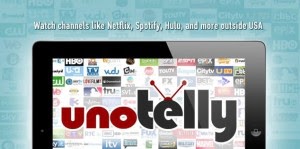 Unotelly is  a SmartDNS service which allows the customer to watch all the channels and series that they are missing because their country doesn't air it. In other words, it's an Online TV Service that bypasses Geographic Limitation.  It supports nearly all the media devices and provides great speed for streaming. It dodges the geoblocking which restricts direct access to internet TV services, hence allowing you to watch all the channels you had been yearning to see.
How it works?
It works through what we call VPN (Virtual Private Network). VPN encrypts every bit of traffic coming out of your system. Though it operates through VPN, but this service is still at its infancy, its basic idea is to use DNS (Domain Name server) which is much lighter weighted than VPN services.
Wide range of channels?
UnoDNS is a DNS based service, not a VPN. What Unotelly does, in few words, is that it will let you access blocked channels like Netflix, Hulu,  BBC iPlayer and more, from anywhere you are with the pressof a button.And unlike other such DNS services it provides you with a wide range of channels to select from. By February 2015 it had nearly 339 channels to select from and now (July 2015) it's 370.
From Netflix to Hulu to CWTV to Discovery networks. This is specially a gain for Indians, since India doesn't offer Netflix service. UnoDNS Dynamo is a unique feature, using which users can easily change channels regions. For example, with a Canadian Netflix account, you will be able to stream content from any of the 10 regions of Netflix available and especially Netflix USA (with the same account).
Plans Offered
The site offers two plans for the customers comes with * 7 days 100% Money Back Guarantee, the Premium and the Gold plan. Both the plans are budget friendly and won't cost much strain in your pocket. Furthermore, Unotelly also offers a free 8-day trial. You can sign up for Unotelly free trial account now. After the free trial is over, a user must subscribe to either a Premium or Gold package to continue using their services.
Premium Plan
It comes at a price of $3.94/month and provides you with 100%unlimited UnoDNS access to over 300 channels in 8 major languages in nearly 30 countries. You can request for unlocking new channels for free.
Gold Plan
the gold plan certainly comes with more perks. With just an increase of $1 per month, i.e. $4.93, you get to become the gold customer. In this, along with getting free unlocking request for channels and 300 channels in 8 major languages in nearly 30 countries, you also get US, UK, Netherlands's VPN servers. It also provides UnoVPN with PPTP and OpenVPN Protocol support 
 What others say about Unotelly SmartDNS?
Living in a connected world means that you want to watch the content anyways. Even though if you are willing to pay for it, content distributors seems to be stuck in 20th century mindframe and do not want to move forward. UnoTelly enables you to skipborders and enjoy in top quality broadcasting wherever you are.So, what are you waiting for?
– Theo Valich, Bright Side Of News
UnoDNS is meant for entertainment, and it only works on the specific streaming services and websites that are in their Channels list. And what a list! Pretty much every major television network and app you can think of is in there, ranging from Netflix to Hulu Plus, Pandora, Spotify, Vudu, and BBC iPlayer. There's also no bandwidth cap, or price adjustments for usage, which is a problem with most VPN services – especially if you like to stream movies in HD.
-Bobby Travis, 40tech
One might tend to think that VPN serve the same purpose but having tested both UnoTelly and a Virtual Private Network like a Hotspot Shield, we certainly found UnoTelly to give us a better data transfer rate while the VPN decreased our browsing speed as well as downloading speed to a certain extent. So if you want to break free from all the geographic restrictions online, check out UnoTelly!
-Vidit Chopra, Observer's Paradise
What we think
PRO's

CON's

 Easy Setup

 Supports nearly all media devices

 Great customer Service

 339 unlocked channels as of Feb,2015.

 Allows you to choose country specific versions of websites.

 Let's you turn off Netflix subtitles

Not many subscription plans are available.

 

Some problems have been faced regarding the device suppor

t
On Speed of Streaming
Impressive streaming speed in comparison to similar other VPN and DNS services. Splendid performance on Netflix and Hulu. Makes online TV watching a wonderful experience.
On Customer service
Though I didn't entail any customer service but seeing the public reviews it has been providing great customer services. In such a less period of time, it has ruled the hearts of many. The 24×7 online live chat is user friendly and competent.
On Device Support
The service is available across a perplexing array of devices:
| | | |
| --- | --- | --- |
| Windows XP | iPhone | Windows 8 |
| Linux/Ubuntu | MacOS, | Windows 7 |
| Windows Vista | iPad, | iTouch , |
| Sonos | Android (most versions) | Amazon Kindle Fire, |
| Xbox 360 & One | Sony PlayStation 3 & 4 | Apple TV |
The entire list can be seen here – https://www2.unotelly.com/devices
On Being Budget friendly
This apparently is one of the cheapest available VPN and DNS service which provides such wide range of channels legally. It is the best out of all the services that I have used up till now with two straightforward plans allowing the access of unlimited DNA at such an affordable price. Less than $5 in a month won't cause much strain, hence saving the greenery in your pocket.
On Ease of Setup
The setting up Unotelly is a very easy and a comfortable task. Effortlessly, you just have to access your device's DNS settings. Since each device has its own different method you can go through the HOW TO guides provided by the site. Its site provides hundreds of How to tutorials and some of them even include video tutorials. Bang on!
Customer Service

Device Support

Speed of Streaming

Base of Setup

Being Budget friendly

Device Support
Summary & Ratings
The basic difference between UnoDNS and traditional VPN services is that by using Unotelly service, you will have a much faster connection for streaming video as compared to VPN services. That's because unlike VPNs and other solutions, there is no "middle-man" and as a result, you can stream directly from the streaming media station (ie. Netflix, BBC iPlayer) with your full internet speed. Users can also stream content on almost any internet connected device(tablets, Video Game consoles, Smart TV's and many more), in contrast of VPN's that the majority of them can be used only on PC and Mac.
Please give Unotelly SmartDNS Service your star ratings and tell us what you think and leave your review via comments below.
This was all in Unotelly SmartDNS Tech Review. Don't forget to Subscribe us for more such Tech Posts and other tips related to Android, iOS, Windows, Mac, Linux and stay tuned for latest technology news, Updates from Techposts. You can also connect with us by following us on Facebook Google+ and  Twitter.