Line was the first social media platform to introduce stickers, and since then, it became quite the trend after Facebook adopted them.
Although TikTok is a very creative platform, it wasn't until recently that they jumped on the sticker bandwagon. Today, TikTok's probably figured out that stickers are among the simplest ways to allow user voicing.
So, What Are TikTok Stickers?
TikTok is all about letting the community use their imagination and art freely and in the best way possible. Stickers are the latest TikTok feature that lets users pin stickers in their video content – quite similar to Instagram and Snapchat. Be it for personal or business content, stickers on TikTok have become widely popular.
Stickers are instantly eye-catching and promotional – and a straightforward way to deliver your message in a way that effectively reaches the audience. But most of all, they are fun.
How to Get TikTok Stickers on iPhone and Android?
Getting stickers for TikTok on your phone is a simple process. Stickers are already integrated into the platform. Once you are done creating your video, you can click on the smiley at the bottom.
Step 1 – Use the search gif bar to look for stickers through various categories. You can also use the trending stickers option if that seems relevant to your video. The process is quite similar to what it's like in other apps. Make sure you have the latest updated version for access to inbuilt stickers.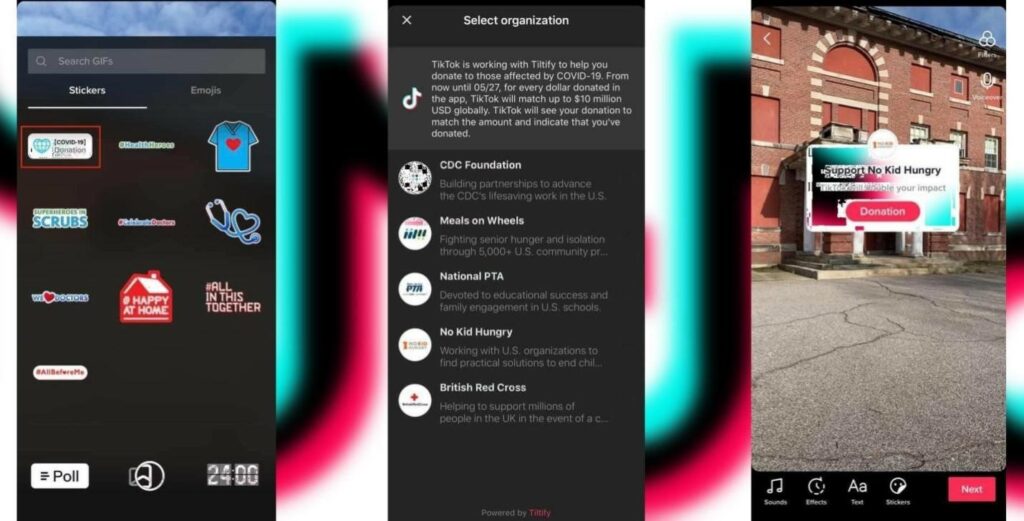 Adding Donation stickers on Android: https://www.technologyshout.com/tiktok-added-a-donation-sticker-to-help-raise-funds-for-charity/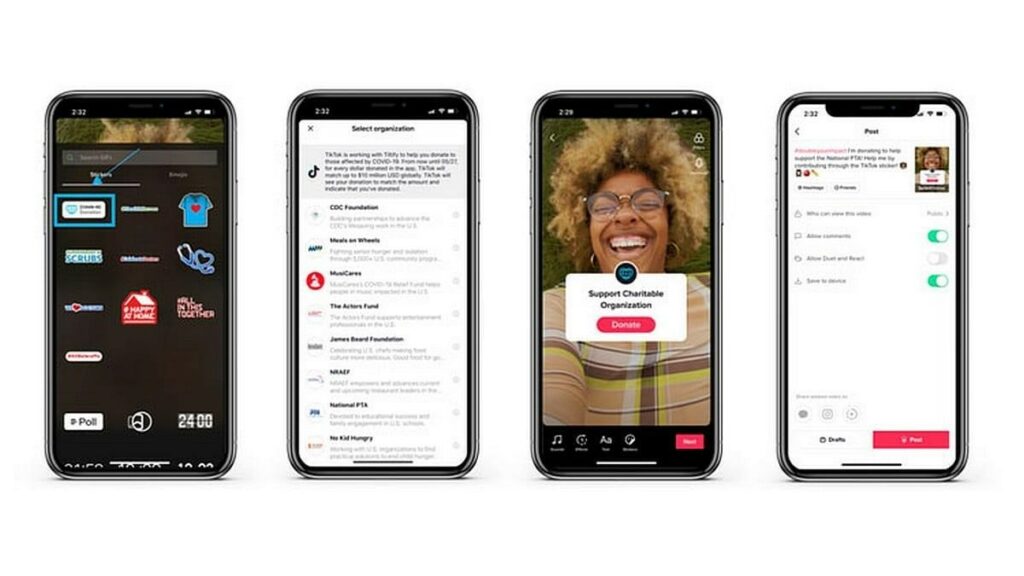 Adding Donation stickers on iPhone: https://gadgets.ndtv.com/apps/news/tiktok-donation-stickers-launch-creators-raise-funds-coronavirus-covid-19-relief-2219697
Step 2- The option for making your own stickers is not yet available. However, people can still use third-party apps like "Inshot" and "apkpure" to download and add more stickers for TikTok videos.
Step 3– TikTok has also partnered with Giphy to add an integration to get Giphy stickers on TikTok. You can go to the Giphy library search bar on #tiktok to get more stickers for your Android or iPhone.
Although Giphy users have the option to create and upload their own stickers to the platform, those won't be available on TikTok unless Giphy verifies them.
At the moment, only a few creators like Dreaknowbest, Benoftheweek, and Gabe have the opportunity.
And because TikTok has become so huge, many other third parties are working deals with TikTok to create stickers for their platform.
How To Do Stickers on TikTok Video?
Doing stickers on your TikTok video is pretty simple.
Login to your TikTok App and open the camera to record a video.
Once you are done recording your video, click on the Next button at the bottom of the screen, which takes you to the editing mode.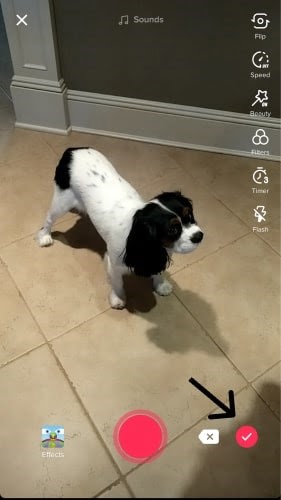 At the bottom, you will notice a peeled away face emoji which is your sticker button. Click on it to add a sticker.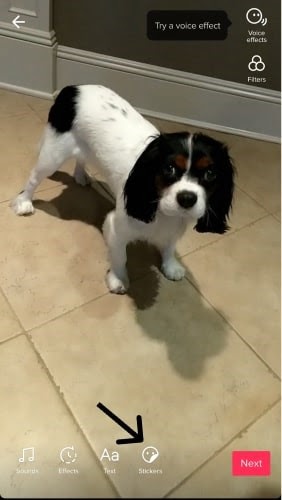 You can see many stickers. Scroll and tap on a sticker to select one.
There are five categories – lifestyle, text, decorative, nature and mood. Recently they have also added donation stickers that let you run fundraisers. If you want to remove a sticker, click on the 'X' next to it.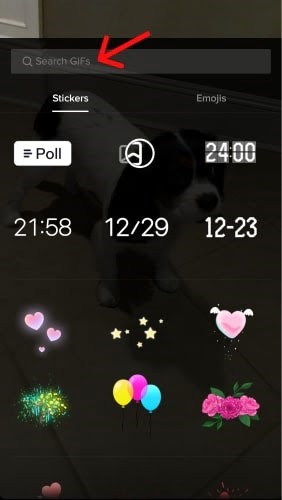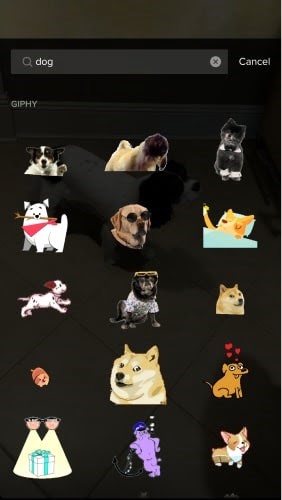 Once you have found the sticker, you want to use, tap on it and drag it to the place you want it to appear on the video. You can also modify the size of the sticker and select the duration for which you want it to appear on your video.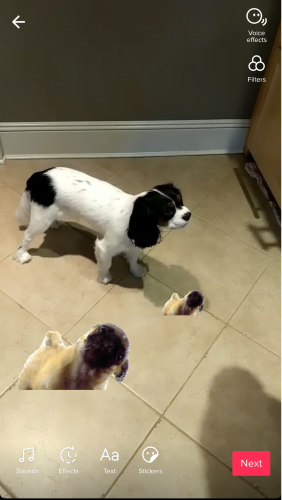 Source: https://www.giflytics.com/blog/how-to-use-gif-stickers-on-tiktok
Practical Tips for Using TikTok Stickers to Get You More Likes
Stickers are an excellent means of communication. They offer a better means of functionality and in a very convenient manner. They have become a non-intrusive marketing tool with quite a high potential reach to attract people to your brand.
For this very reason, messenger apps are making the likes of $270 million selling stickers.
However, just because they seem like a jazzy marketing tool doesn't mean you can just increase the likes on your video by tossing in a sticker. Here are a few things to take care of while incorporating stickers:
Customize the duration for which you want the sticker to appear in your video based on its utility and the length of your video.
Although the sticker adds charm to your video, it is not the focal point of the video unless you have a customized sticker set to shout out your brand. Hence choose, where you want to position the sticker.
Use customized, targeted and unique stickers that stand out from the crowd and appeal to your audience.
You can also use trending stickers to keep your content relevant.
Use poll stickers to engage your audience and find out what spikes their interest. Stickers make audiences more interested in voting and answering your questions.
Use stickers to build a relationship with your audience. For example, when you reply to a comment, use a thanks sticker instead of plain text – it's way more effective; it shows that you care. Similarly, you can motivate them to like, share and comment using stickers. You will be surprised to see how much more responsive your audiences are.
Remember, the underlying rule for getting more likes is always good content. Leverage stickers appropriately to accentuate your content, and it will automatically get you more engagements and more likes.
Conclusion
Stickers are the new way to make your content standout. Are you using TikTok stickers the right way?
While TikTok still doesn't give you the option to customize stickers, you can still do it with a third-party app like Filme to do the job. Don't miss out on this new in-thing when it comes to building brand recognition.