Video content has become an essential element in the content creation world. From social media to entertainment and education, you will find videos everywhere. With this increasing demand for high-quality content, there is also a growing need for an efficient way to compress and store these large files.
Video compression tools are the sure solution to this, which comes with many benefits from faster video uploads, improved quality, efficient storage, and reduced file size. However, choosing the right video compressor can be daunting as there are various options available in the market.
Here we guide you with the best free video compressor tools available, and features that help you to reduce the file size without losing quality. By the end, you will have a clear idea of the best compressor tool for your content creation needs.
What is Video Compression?
Video compression is a process of reducing the bits of a file size of a video. The main reason to compress video online is to remove or minimize the unnecessary data. In other words, this is done to make the video file more friendly, transferable, and playable without affecting its quality.
Types of Video Compressor
The video compression typically works by compressing the day in two different ways i.e. lossy and lossless. Both of them are discussed below
Lossy Compression: Being a traditional method, lossy compression involves the reduction of file size by omitting some deemed video parts. This can be image sequencing, repeating sounds, etc.
Lossless Compression: Lossless is the best type of video compression that preserves the quality of videos while decreasing their overall size. This also doesn't lose your video's content and quality.
How does it work?
Videos are generally compressed on any tool through the codec. These video codecs are the elements of video compression tools. They are the algorithm that is used to compile the video files via encoding data available.
These codecs extract the additional data such as frames by grouping them into several categories. Lastly, these unwanted data frames are eliminated from the file and encoded into a single file, which in turn leads to data bits loss and a reduction in file size.
Benefits of Compress Video
From faster reading and writing to great loading speed, you will get many benefits by compressing videos. Some of them include
Minimum Storage: Video compression decreases the size of the file making it easier to store, transfer and stream online.
Improves User Experience: It makes the videos easier to stream online leading to faster loading times and smooth playback speed.
Saves storage space: It also helps you to save storage space on devices and servers, allowing more videos to be stored and accessed easily.
Faster upload and download times: The compressed videos take less time than the original one in terms of uploading and downloading, which is necessary while working with large video files.
Preserves video quality: It also ensures that the quality of the original video is preserved, making it ideal for archiving and backup purposes.
Best Free Video Compressor Tools
There are various compressor tools that can help you to compress video online or on your device space while maintaining the quality. Here's a list of the best free video compressors for you.
Media
Media is a cloud-based tool that mainly compresses video online for free. Being among the best online compressors, it supports several video formats such as MOV, MP4, FLV, etc. You can also save the videos to Dropbox and share them over social media channels like Facebook, Instagram, etc.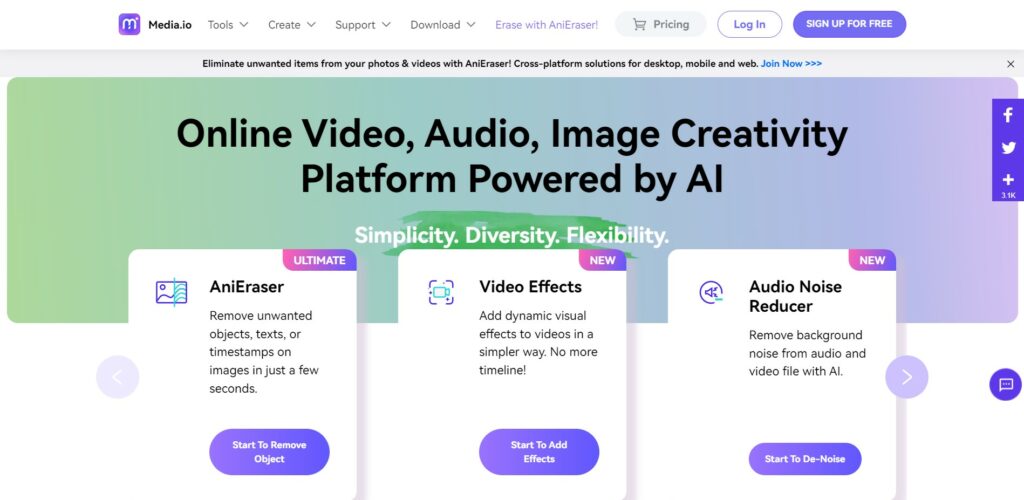 Features:
Supports video formats 4K, 1080p, 720p, 480p, etc.
Compress Video online without any file limits.
Decrease media size in a single click.
Use an HTTPS connection to securely upload any videos.
Supports all major platforms Windows, Linux, and Mac.
Costs:
Basic One year: $47.40
Pro One year: $79.99
YouTube Link: https://youtu.be/5l_KzDXIp2c
GiliSoft Video
GiliSoft is another video compressor that helps you to compress or reduce your video size without losing its quality. It is one of the best with a simple UI that enhances your video clips with minimal effort.

Features:
Compatible with over 160 video formats such as AVI, FLV, HD, etc.
You can merge, cut or rotate videos.
Allows to add subtitles and special effects in video clips.
Convert SWF files to audio or video.
Supports only Windows.
Costs:
One year License: $39.95.
VideProc
VideoProc is the best compressor if you are looking for large video compressions. It is fully-fledged application software that compresses videos in different formats such as 4K, HD, SD, VR 360, etc. This allows different Methods of resizing videos without compromising quality.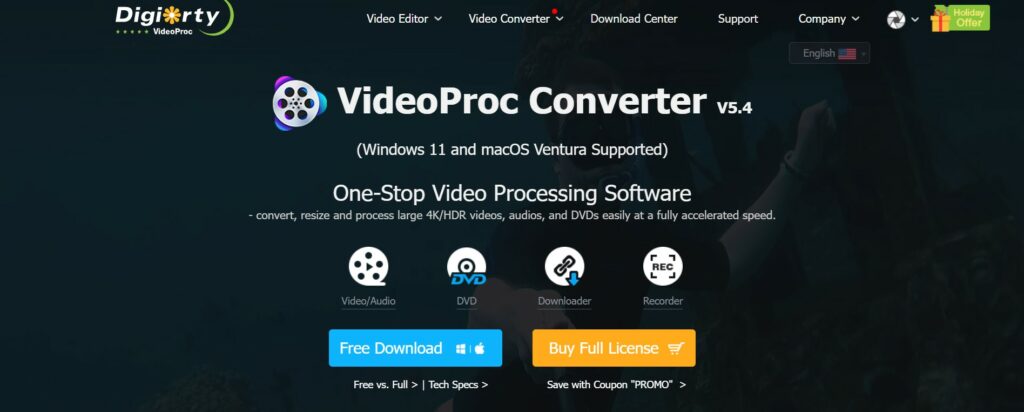 Features:
Available for more than 1000 video sites.
Record and compress live video streams.
It helps you to manage compressed videos too.
Supportable platforms are Mac and Windows.
Costs:
One Year License: $29.95
Lifetime License: $37.95
Family License: $57.95
YouTube Link: https://youtu.be/2dHFlKMCKIE
Movavi
Movavi is known for its easy-to-use interface with fast video compression speed. It allows you to quickly convert your media files in more than 180+ formats without reducing the quality. You can also merge, rotate and crop video files in Movavi.

Features:
Support over 180 video formats such as MKV, AVI, MP4, FLV, etc
Automatically identify devices with instant functioning.
Drag and drop approach of compressed videos.
You can also remove or add watermarks in the video.
Allows to change video formats based on TV, smartphone, or other devices.
Support platforms Mac and Windows.
Costs:
YouTube Link: https://youtu.be/4QeAXzlJKTE
HandBrake
HandBrake is a free video compressor tool that helps you to decrease your video files. It has a simple UI that allows you to convert your video clips into HD quality. You can also use this tool for scanning and compressing video in one go.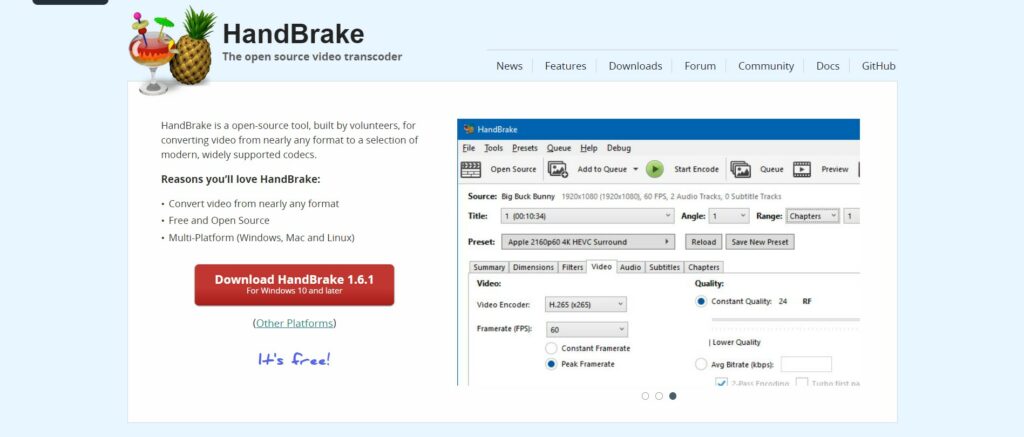 Features:
Compress videos to MP4, AVI, FLV, and more.
Provides preview before compressing original videos.
Different video ranges are available.
You can also filter out your videos during compression.
Costs:
Flexier
Flexier is a video editing software accessible to everyone. With its powerful technologies, you can edit your videos smoothly even on lower-end devices. The best feature of flexier is that anyone can compress their videos easily without creating an account.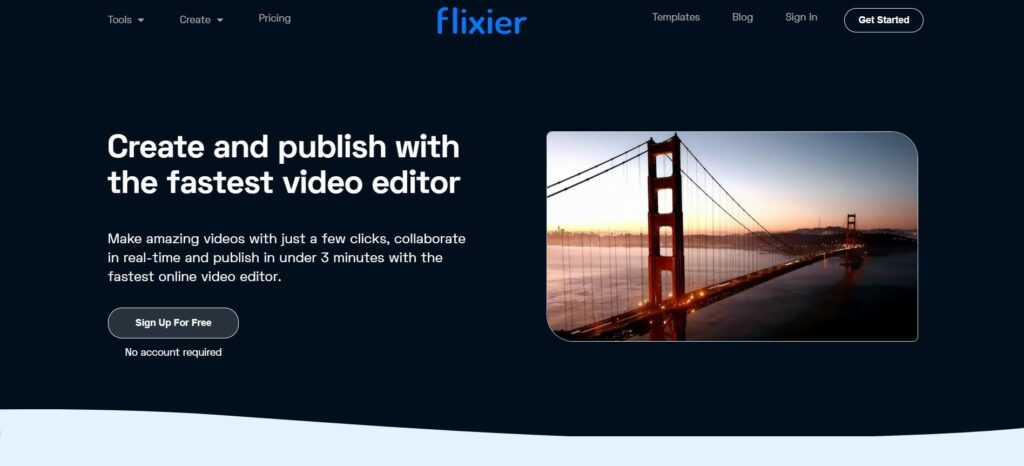 Features
Fastest video editor with just a few clicks in 3 minutes.
Trim, crop, and cut videos easily.
Power UI with ready-made drag and drop feature.
Available online without downloading the software.
Support platforms Mac and Windows.
Costs:
Pro per month: $14
Business per month: $30
Enterprise per month: $55
YouTube Link: https://youtu.be/pOg2ta2hAHk
Resi
A professional live streaming video compress application that provides you to convert any video online without losing its quality. It is a reliable tool that automates your videos into multiple streams based on your internet speed and processing power.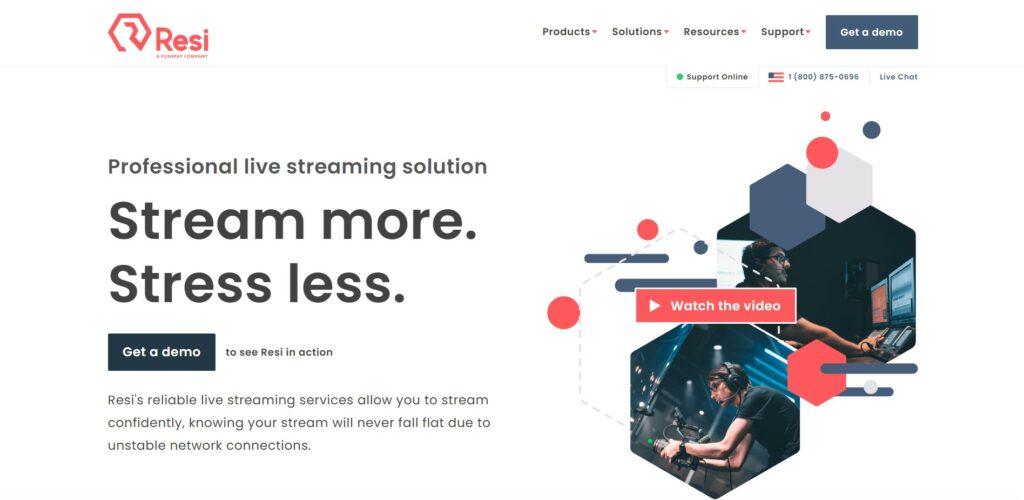 Features:
Powerful automation software.
Stream to multiple devices and video formats.
Switching between different streaming providers.
Support platforms Mac and Windows.
Costs:
Available on $139 per month
Clipchamp Video Compressor
Clipchamp is an application that helps you to compress videos without any delay. It also allows you to convert videos online in several formats such as MOV, MP4, and AVI without installing its software.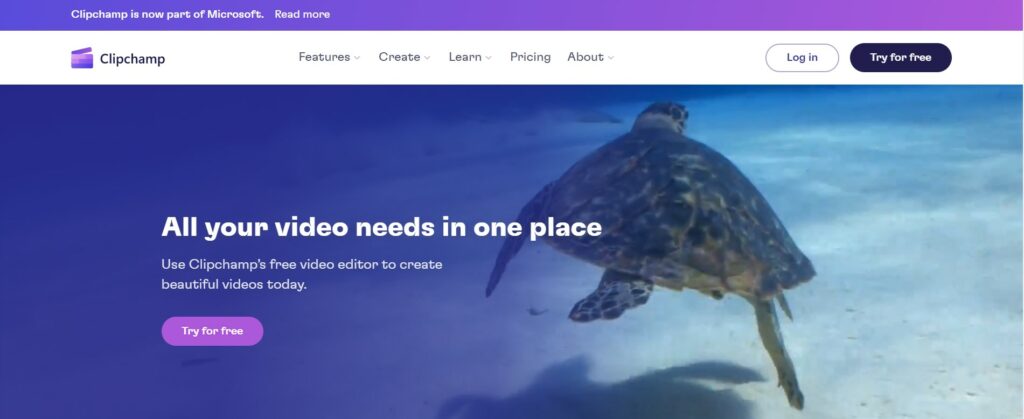 Features:
Compress videos without any effect on their quality.
Save your storage space.
Compress video clips in batches.
Easily share compressed video files with other people and channels.
Support both platforms Windows and Mac.
Costs:
Essential Plan: $11.99 per month
YouTube Link: https://youtu.be/bFEhbidpiAE
Factors to Consider For the Best Video Compressor
Choosing the best free video compressor is a tough task as there are various compression tools available in the market. Here are some factors you must keep in mind while choosing the best compressor.
Quality: When you compress your videos, their quality sometimes gets impacted. A reliable video compressor can minimize quality loss even after compression.
Supportable: A good compressor can support every video format so you can use this tool to compress videos in any size and resolution.
Compress Speed: While compressing videos, you need to save or share them on different platforms without any issue. If a video compressor has good speed and is handy to use, it will be helpful.
Easy to Use: Video Compressor Tools must have a simple user interface for their users as it allows them to edit or compress videos very conveniently and quickly.
Read More about : Best Video Editors for YouTube Enthusiasts– PC & Mac
Final Thoughts
These are some best video compressor tools available online. If you are a content creator starting your journey in videos, we recommend you to go with the one which can help you to achieve your desired conversion speed. It must be super fast and supports all resolutions, based on your needs and interest.