Be ready to tryout these 6 New games released this month in 2017 on Play Store for All Android devices. These games includes Strategic games, Puzzle game, Adventure games, RPG and Action games. Now most of these games are free to install while some of them are paid one's. The Justice League Action Run is upcoming Android since it's not release in every country. Similarly, N.O.V.A. Legacy has been released in some countries, but you can download it from APKMIRROR. Search on Google and you will find Justice League Action Run like i did.
Install 6 New Android Games on Any Android Phone or Tab
These are the Top 5 and best Android games of 2017 recently released after 15 February 2017 on Play Store. So if you want one, just download it from Playstore.
1. Justice League Action Run
control the run of your favorite superhero from Justice League. Help the hero gather many bonuses on the way to catch and defeat villains. In this dynamic Android game you will meet your favorite comics characters such as Batman, Superman, Wonder Woman and others. Protect the city from Jocker and other insidious villains. Take the heroes forward, help them jump over obstacles and avoid different traps. Swap the heroes during completing mission in order to apply unique superabilities of each character.
Game features:
Famous heroes
Simple system of controls
Incredible abilities
Interesting missions
Install Justice League Action Run : No Link as i can't put those links here. But you can easily find this game on Google search like i did. Cheers!
2. Gentleman Ninja 
Gentleman Ninja is an addictive and a very thoughtful game that i have played. It has been released for Android this week. It's available on PlayStore for free. Controls are simple and minimal. You can fight for high scores with your mates and it's very fresh. Unlock new Ninjas and customize your Gentleman Ninja.
3. GetMeBro
GetMeBro is a multiplayer game, you can enter the battlefield and knock down your opponents in a race for your life. You can create the best strategy and ensure your victory by choosing from a variety of abilities. You can also customize your character, unlock new abilities, enter tournaments and much, much more. Play private games with your friends and spectate them on any device. Great fun for home/LAN parties.
FEATURES
● Join a battle with players from around the world
● New challenging map every week
● Find the best combination of abilities for current map
● Rank-up all the way to the top of the ladder and unlock new rewards
● Customize your character
● Skill based gameplay without pay-to-win mechanics
● Earn BroCoins and buy new outfits
● Challenge your friends or watch them playing
● Play, Watch and Host tournaments
4. Batman: Arkham
This game was much awaited by many but i am not too impressed. The game is confusing and i was not able to figure out what i have to do in the game clearly. Graphics are normal, it's an strategic game just released for android.
About Batman Arkham:
Become the city's next criminal mastermind as you fight your way to the top in Batman: Arkham Underworld!
Recruit DC Comics super-villains to do your dirty work, then train an army of thugs to attack your rivals. Grow your criminal empire and crush your enemies to earn loot and respect. Create the ultimate hideout full of traps, security forces and hidden dangers to defend your turf from other aspiring crime lords.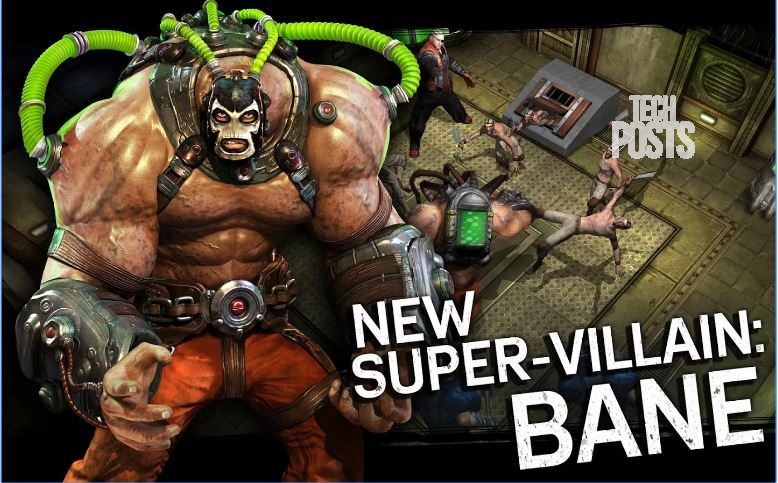 Features:
• COMMAND iconic DC Comics super-villains including the Riddler, Scarecrow, Killer Croc, Harley Quinn and more!
• BUILD the ultimate criminal hideout for you and your thugs
• CRUSH your enemies and RAID their turf with intense PVP action!
• CONTROL the streets as you earn respect and expand your empire
• BATTLE through intense story-missions within Gotham City's neighborhoods
• LEVEL UP your super-villains and unlock new abilities
• CREATE a CRIME SYNDICATE with your friends and other criminal masterminds
Install Batman: Arkham
5. Gravity Galaxy
This is a nicely designed puzzle game based on Gravitational pull of planets, stars in the universe. Graphics are nice, gameplay is really good. It's addictive, fun and vibrant game that you can play in your free time. It's not that hard, and concept of game is different. You must try this game and test your reflexes and timing as you outrun giant stars then harness the power of gravity to fly back home.
Game Features:
Simple and intuitive one touch gameplay.
Unique 3D art style.
Special challenges and Customisations.
Interesting and innovative mechanics.
Hand Crafted levels.
The answer to life, the universe and what to play on your daily commute!
Install Gravity Galaxy
6. N.O.V.A. Legacy
Now this game has really impressed me alot. N.O.V.A. Legacy brings you the best sci-fi FPS experience from the epic first episode of the critically acclaimed N.O.V.A. saga — all in a compact 20 MB version. Yes, just "24MB".
About Game:
A CONSOLE-LIKE EXPERIENCE ON MOBILE:
– An immersive shooter experience based on a renowned Gameloft FPS series in the same vein as Modern Combat.
– Craft and upgrade weapons, from powerful assault rifles to devastating plasma guns.
– Enjoy the original N.O.V.A. shooter experience with enhanced graphics and gameplay.
DEFEAT ALIEN FORCES IN VARIOUS GAME MODES:
– Story Mode: Delve into the plot and fight to uncover the truth about these alien invaders.
– Shadow Events: Defeat the aliens' Special Forces in challenging limited-time events.
– Special Ops: Launch a strategic strike on unique alien formations.
TEST YOUR SKILLS IN MULTIPLAYER ARENAS:
– Deathmatch: Be the last one standing in a 6-player firefight.
– Customize your character with a variety of Marine and alien skins.
– Leaderboards and 3rd-person Death Cam replays.
Conclusion
I hope you liked this post on Top 6 New Games released for Android in 2017. Please subscribe and checkout my YouTube channel. We will be back soon with some other new exciting games and app release. Please subscribe to it for How to video guides and reviews. You may also follow us on Facebook or Twitter for instant updates, find our social links at top, and share this post.