DVD ripper is a software program that facilitates copying the content of a DVD to a hard disk drive. These softwares are mainly used to transfer video on DVDs to different formats (eg. .mp4, .avi, .mkv etc), to edit or back up DVD content, and to convert DVD video for playback on media players and mobile devices. Some DVD rippers include additional features such as Blu-ray support, DVD and Blu-ray Disc decryption, copy protection removal and the ability to make discs unrestricted and region-free.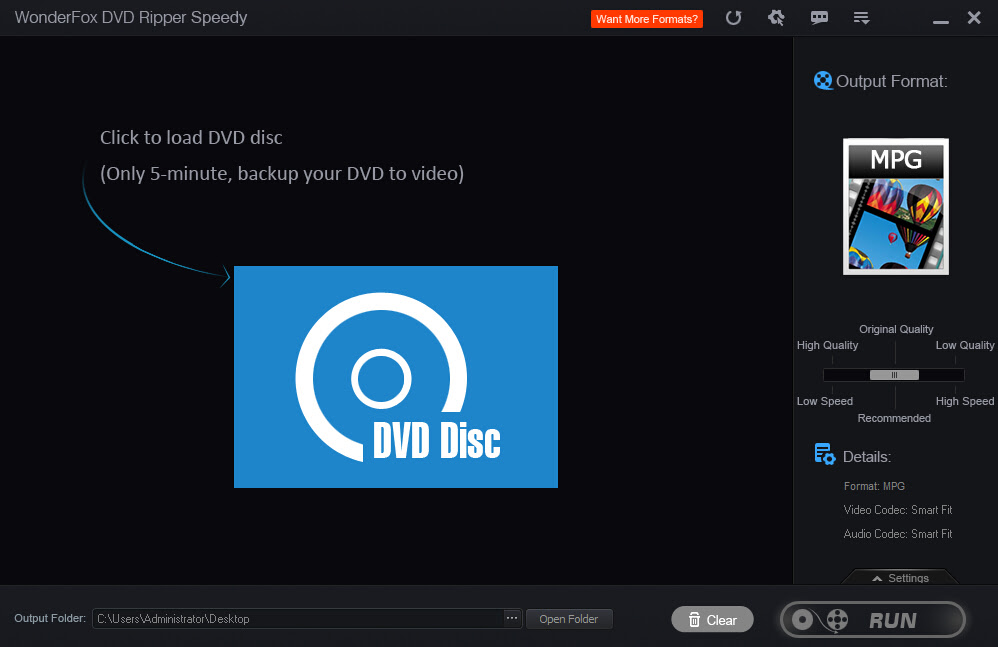 Even though DVDs are portable and work on quite a few media devices, the DVD contents may be thoroughly lost when it suffers a risk, even minor. As a result, the right way to avoid this sort of danger is always to create a backup for your DVD items, to enable them to be played on your PC, for example, whenever and wherever possible.
WonderFox Free DVD Ripper (Speedy) is an excellent freeware which allows you rip any DVDs to digital videos with intact content and zero-quality-loss. It can let you make a copy of your DVD quickly.You can experience the direct DVD movie playback in high-quality on your computer or tablet by copying a DVD.
It accomplishes the conversion process in a short period of time, normally 5-10 minutes, which is the key reason why it's regarded as a remarkable software program. This application is entirely free DVD ripper, and MPG is the available format for DVD backup.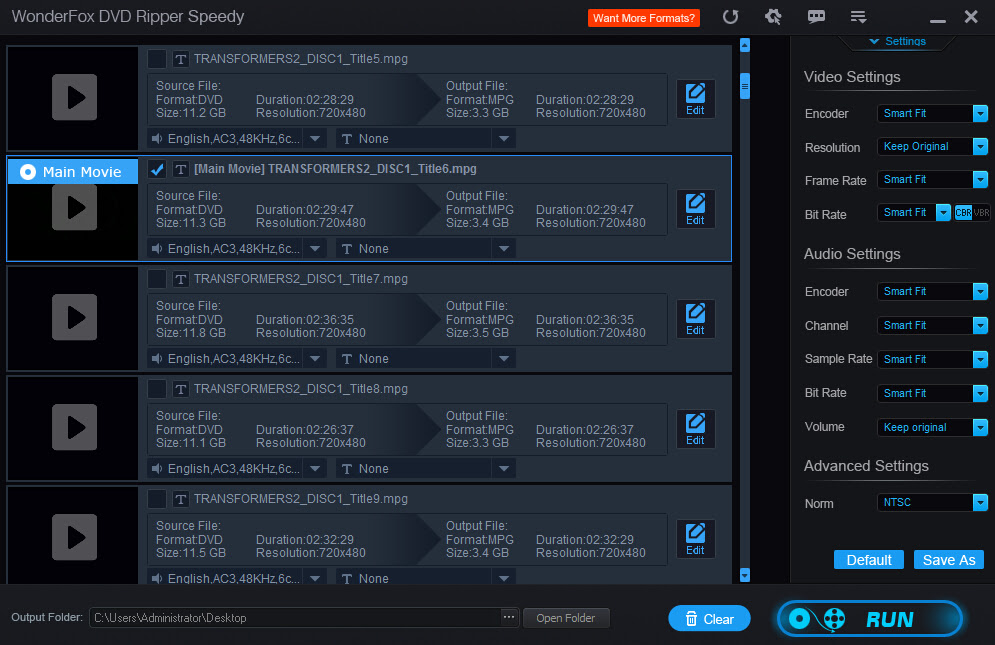 How it Works?
WonderFox Free DVD Ripper (Speedy) is very easy-to-use and has a friendly and intuitive interface. You'll see clearly all of the options for each step on the interface, presented as buttons, which can be helpful and convenient for beginners.
Shortly after loading your DVD, this software will automatically detect the main title of movie for your ripping process. It's vitally important to select the main movie throughout the list to get copied from DVD to MPG. There is certainly a default for the complete disc, which marked with a tick to assist in your selection. You can even define video quality of the output file by switching the scroll bar towards the preferred level.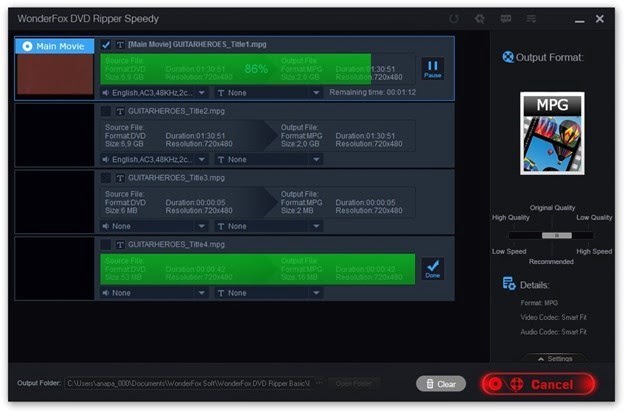 Although the provided output format is not rich, by clicking the "Settings" button you'll be able to make the adjustments on the parameters. At the bottom of the screen you can specify a custom directory to save the new file.
Features :
An interesting feature of the application is that it enables, if you need, to add special effects to video and also modify the screen orientation. Such function is easily used by clicking the "Edit" button and there is also a section for you to have a preview from the result.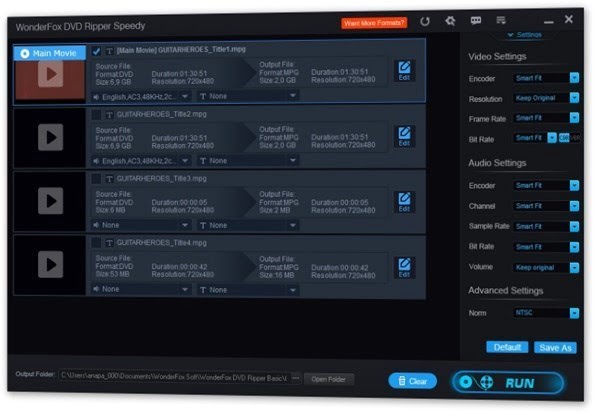 When it's all set, you can just simply click "Run" to start with the conversion process – rip DVD to digital video as easy as 1-2-3! The duration of which can be monitored on the interface. After it's done, a note box appears stating the success of the operation and you can now immediately open the folder where your file is stored.
Final Words…
It's definitely an excellent freeware. What attracts me most is its ripping speed, which deserves its name "WonderFox Free DVD Ripper (Speedy)". Why don't you have a try to be a witness to see how fast it could be. Don't forget to Subscribe us and stay tuned with us for latest technology news, Updates and How to guides from Techposts.