In this post, you will find the best website and client app for Windows, Mac, Linux, iOS, and Android phones to stream torrent movies and shows. You don't need to download torrent movies or wait anymore as you can now stream Torrented movies and TV Shows for free.
Typically, we download movies or TV shows using a torrent or magnet link and then watch them. To download torrents, you need torrent client applications like BitTorrent or Utorrent, etc. Besides, you need to wait for the movie or show to download completely in order to start watching it.
But now you can stream and watch movies and TV shows without downloading from torrent. So no need to wait for the download to complete. There are some nice torrent clients and sites that are capable of streaming torrent movies and TV shows via torrent and magnet links quickly.
These torrent streaming browser clients and sites are available for free. You can download or install it on a PC, Mac, Android, or iOS smartphone and stream your favorite TV show or movies uninterruptedly.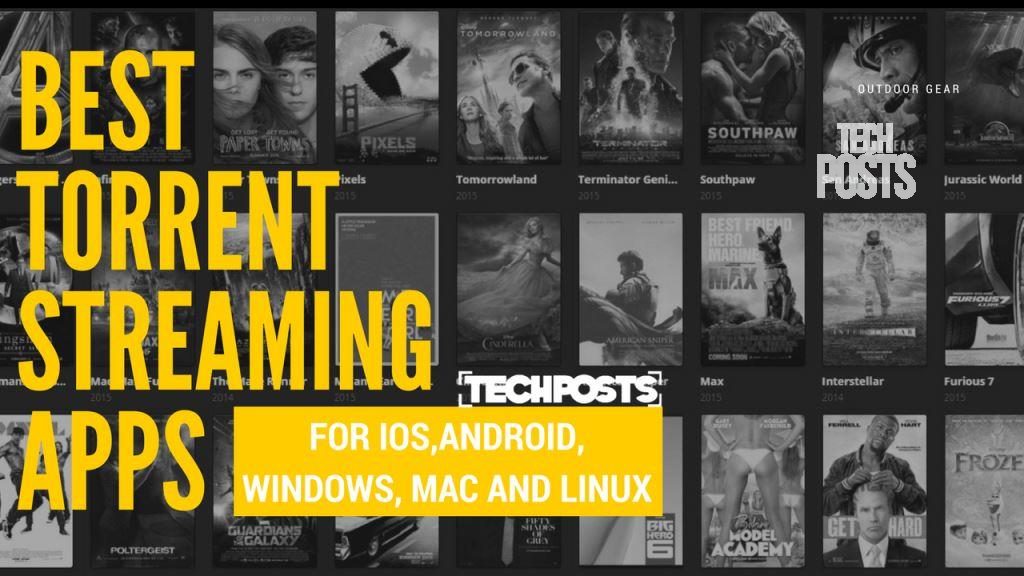 You may also install movies and TV shows streaming apps available for both Android and iOS devices, like PlayBox, Showbox, etc. These movie streaming apps use the same torrents to stream movies but are loaded with advertisements that popups here and there anytime. This becomes really annoying sometimes. However, you can block these in-app ads by following this guide on how to block ads in Android apps without root.
So here are some of the best torrent streaming sites and torrent Clients available for Windows, Mac, Android, and iOS Devices.
DISCLAIMER: This tutorial is for educational purposes only. You should always buy or purchase movie titles or use sources like Google Play movies to rent and watch movies.
WARNING: Downloading copyrighted material may be illegal in your country. Use the following tutorial and app at your own risk.
Torrent Streaming Clients and Sites to Watch Movies and TV Shows
Now before I start, I recommend using a VPN service if you use any app linking to torrents. It's recommended to use a free or paid VPN while streaming movies on torrent clients or browsers. You can even create your own high-speed VPN server for free.
1. WebTorrent
WebTorrent is an open-source app for streaming torrents quickly. Whether it's a video from the Internet Archive, music from Creative Commons, or audiobooks from Librivox, you can stream and play it right away.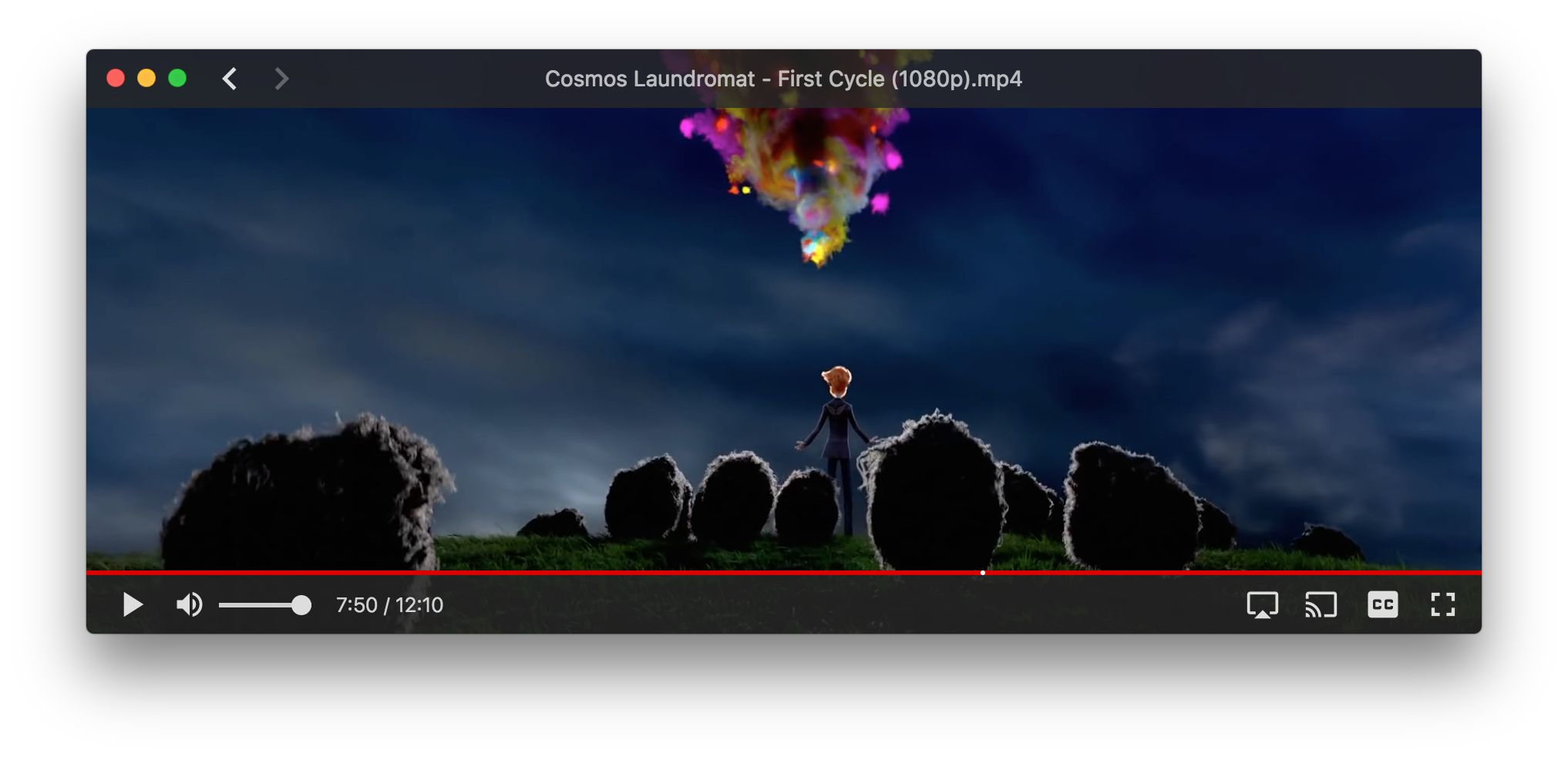 You don't have to wait for it to finish downloading. The experience is similar to streaming and watching videos on YouTube or any other video blogging site. In fact, the WebTorrent video player design is completely similar to that of the YouTube player.
You also have the ability to Chromecast using this WebTorrent app. This feature sometimes doesn't work and you might experience some issues. This is completely normal as it's still under the development phase.
But still, this is the best app for streaming torrents on your Windows PC, Mac, or even on Linux.
2. Instant.io
Instant.io is a part of WebTorrent. In fact, Instant.io is a browser version of the WebTorrent app. Just download or choose the torrent or copy and paste the magnet link of a movie, TV Show or music and stream it in real-time. The interface is very simple. No fancy buttons or graphics to confuse you.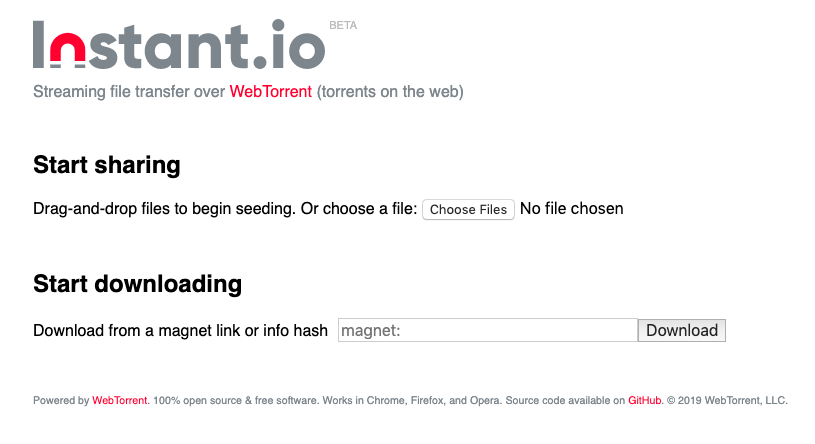 Since it's open-source, it's free from those popup ads. Instant.io is completely free to use. You should definitely give it a try. Also, you can use any platform, whether it's Android, Mac, Linux, Windows or iOS. As long as you have a fair net connection, you can stream almost any show or movie in real-time using Instant.iO.
Also, you don't need to worry about torrent streaming as those are streamed on Instant.io. So no VPN is required. Download and stream statistics are shown above the player.
3. BitX Torrent Video Player
BitX is an instant torrent video or movie player while it's downloading, so you don't have to wait for your download to finish. The UI is definitely nice. Just drag and drop the torrent file or paste the Magnet link to start streaming Torrents. The BitX is available for Android, Mac, and Windows. BitX gives you the ability to Chromecast the movies to a big screen and downloads Subtitles.
The BitX is really easy to use with its minimalistic user interface which I find really simple and easy to use.
4. TorrentStreaming
TorrentStreaming is another application created just for streaming torrents. All you need to do is either drag a .torrent file and drop it on the program's interface, or alternatively, you can paste the direct .torrent link or magnet link to the box located at the top right and click Stream.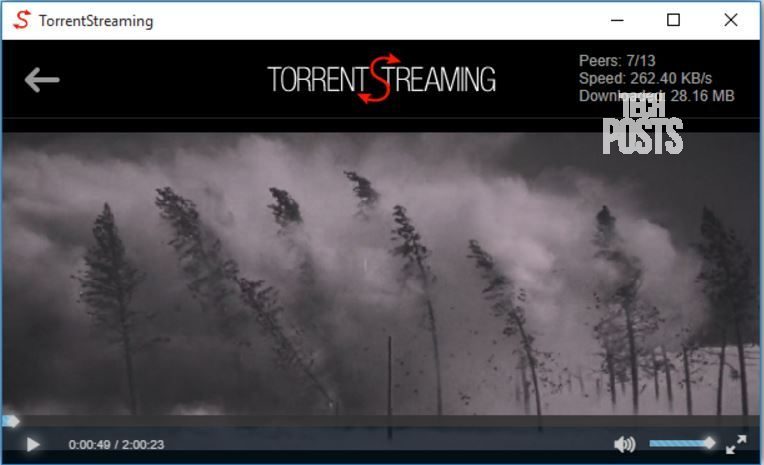 Some statistics on the download progress are shown at the top of the window showing the number of connected peers, the current download speed and also the amount of file size that has been downloaded so far. TorrentStreaming can be installed and run in Windows, Linux, and Mac.
Download Torrent Streaming App
5. Soda Player
Soda Player is a torrent movie and video streaming player app. It can play almost all video formats such as H.265, MKV, and DTS. One good thing about the torrent player is that it comes with an in-built proxy to keep your privacy. This feature was free when I wrote this post but maybe a paid option now.
Just add or open the torrent, torrent link, or magnet link. You can drag and drop as well and as soon as you do that, the Soda Player starts streaming the video or movie in a while, based on connectivity speed.
You can also load subtitles included with the torrent or video file. The player also lets you download the subtitles from Opensubtitles.org. You may also choose the audio stream if the torrent video features multiple audio streams. In case you want to stream torrent movies on a big screen, you can cast the video on Chromecast or Apple TV.
6. Webtor
Webtor is using standard BitTorrent client-server and thus, gives you an advantage in what can be played and what can't. It can stream torrent videos with H.264, H.265, and MP4 codecs and major formats like MKV and AVI.
What's more is that if a stream video format on the torrent is not supported by your web browser or system, Webtor transcodes the video format automatically for playback.
Just click "Open torrent online" to choose a torrent file. You may also click the arrow and paste a magnet link of torrent video or movie into the box.
Once the torrent is added and information is retrieved by Webtor, you can go ahead and press the play button. You may also download the torrent by pressing the download button.
There's a Webtor Chrome extension also that you can install on your Chrome web browser or any Chromium-based web browser. That way, you can open and stream movies and videos from torrent quickly in Webtor.
7. Torch Browser
Torch Browser has a built-in Torrent Manager which is super fast and easy to use. The best part is that it's a web browser come, torrent client. You can download all kinds of torrents using the Torch browser and stream videos, movies, and TV Shows instantly while downloading with the inbuild Torch Player. You can download torrents without the hassle of any additional software, and manage your torrent downloads straight from your browser. Click the Torrent button to get started. You can see all of your active torrents there.
Torch browser is a feature-loaded web browser with interface same as of Chrome browser. Torch Browser is not associated with Google or Google Chrome. This is because both Google Chrome and Torch web Browser uses Chromium source code as a foundation. But there you have it, a Chrome-like browser with the ability to download and stream torrents. Using the Torch browser you can also grab and download videos from any site. With a built-in download accelerator, the Torch browser is currently available for Windows and Mac OS.
8. Seedr
Seedr allows you to download and stream movies and TV shows using torrent. It makes torrent streaming easy and convenient. All you need to do is create a free account where you get 2 GB of free storage to download files using torrent link. You can delete the old files to create more space.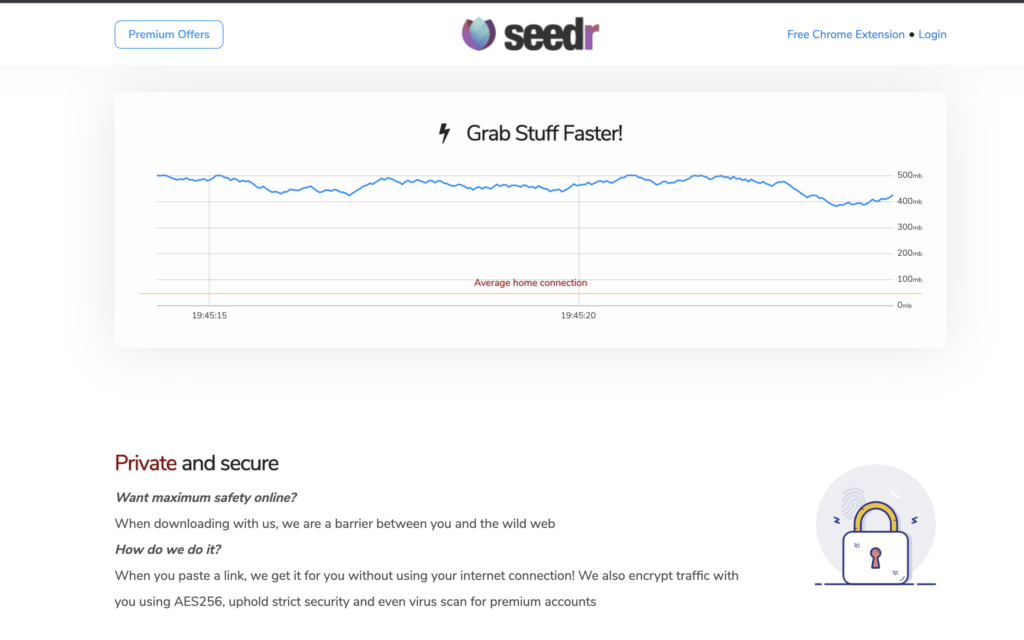 I personally found Seedr one of the fastest torrent streaming websites that can be accessed from all kinds of devices, such as PC, smartphones, laptops, etc.
However, Seedr first downloads the entire show episode or movie on the cloud. You can watch the movie or show after downloading is finished. You don't need to download the files on to your computer to watch the video. Seedr downloads it in cloud storage and thus, you don't need to keep your system on.
You can stream your favorite show or movie on Seedr's website. It also supports Chromecast. You can cast the movie to your smart TV, Android TV, or FireTV stick in a few taps.
9. BitPort.io
Bitport.io is a cloud-based torrent streaming client. It is a bit different from the torrent streamer apps, clients, and websites we discussed in this post. Just like Seedr, it also downloads the movie or show before you can watch it. Again, you don't need to keep your system on or download it on your local machine. After the download completes, you can stream torrent and watch your favorite show or movie on Bitport.io.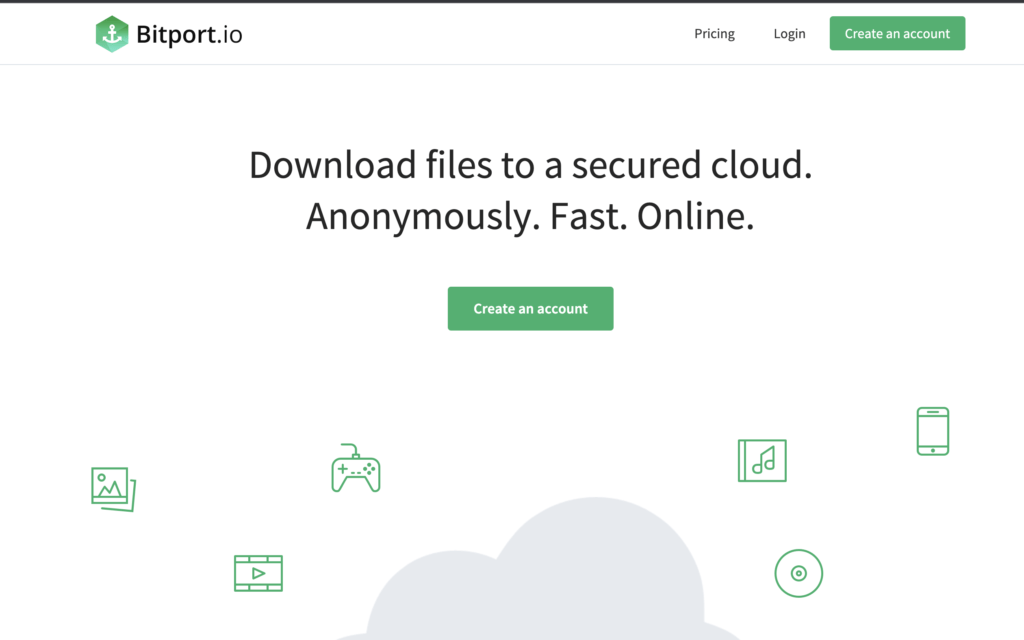 Note: Free users get 1 GB free storage to download and stream torrents. The free account also limits users to one torrent per day. However, you can lift these restrictions by choosing a payment option.
10. Rox Player
ROX Player is a desktop-based torrent client and streaming app. You can load and stream torrents by adding torrent URL or magnet links by going to the File menu. The movie, video or TV show will start buffering the video and then start streaming the torrent file immediately.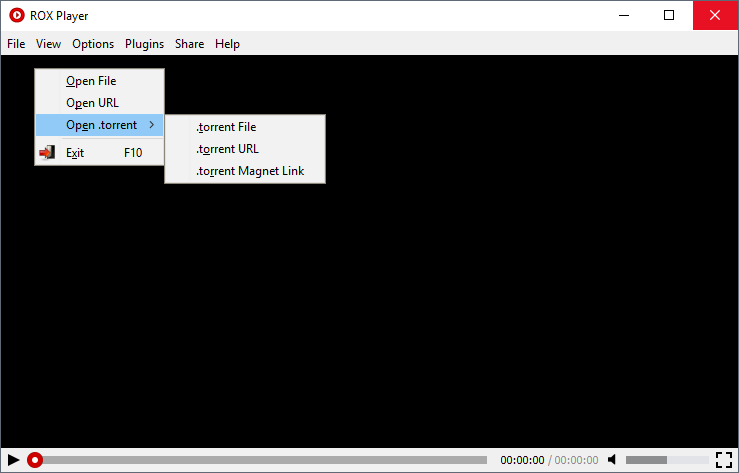 Rox Player is. a full-fledged torrent movie streamer program that provides advanced features not available in some of the above-mentioned torrent streaming apps and clients.
You can adjust the video saturation, contrast, and other levels or change the aspect ratio, add or import subtitles, adjust the brightness, define the speaker setup, configure the stream speed limit, add or associate the torrent with other torrent files, etc..
You can download, install and use the ROX Player on any Windows 11, Windows 10, Windows 8.1, Windows 8, Windows 7, Windows Vista, or Windows XP computer.
Conclusion
Before you go ahead and start using these torrent clients to stream movies and other videos, make sure to use a VPN. VPN will help you hide your identity while you stream or download any torrent file. This is recommended to all and especially to those who live in a Country where download anything from a torrent is illegal and is a punishable offense.
So use these apps and torrents carefully and at your own risk. Please subscribe to Techposts for more posts like these and How-to guides. Also, check out our YouTube channel, and please subscribe to it for How to video guides and reviews. You may also follow us on Facebook or Twitter for instant updates or You can find our social links at the top sidebar.