Typically we download movies or shows via torrent and then watch it. To download torrents, you need a torrent client applications like Bittorrent or utorrent etc. So if you want to watch a movie, you need to wait for the download to complete. But now, we have some nicely build torrent clients that are capable of streaming movies or shows via torrent quickly. These streaming browser torrent clients are available for free. You can download or install it on a PC or a Android smartphone and watch movies or shows on the go.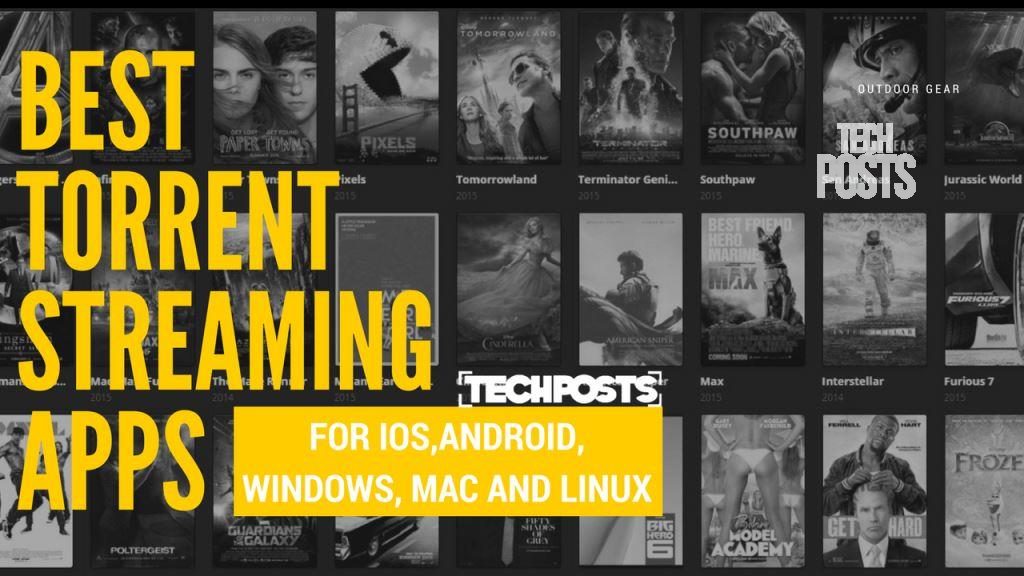 Alternatively, there are some nice movie and TV shows streaming apps available for both Android and iOS devices, like PlayBox, Showbox etc. These movie streaming apps uses same torrents to stream movies but are loaded with advertisements that popups here and there anytime. This becomes really annoying sometimes. Also, most of these apps doesn't supports Chromecast and often crashes. So as an alternave to those movie streaming apps, today i will discuss some of the best Streaming Browser Torrent Clients available for Windows, Mac, Android and iOS Devices.
DISCLAIMER: This tutorial is for educational purpose only. You should always buy or purchase movie titles or use sources like Google Play movies to rent and watch movies.
WARNING: Downloading copyrighted material may be illegal in your country. Use following tutorial and app at your own risk.
Streaming Movies and TV Shows via Torrent Links
Now before i start, I recommend using a VPN service if you use any app linking to torrents. You can even create your own high speed VPN server for free.
1. WebTorrent
WebTorrent is an open-source app for streaming torrents quickly. Whether it's video from the Internet Archive, music from Creative Commons, or audiobooks from Librivox, you can play it right away. You don't have to wait for it to finish downloading. The experience is similar to watching a video on YouTube or any other video blogging site. Infact, the WebTorrent video player design is completely similar to that of the YouTube player. You also have the ability to Chromecast using WebTorrent app. This feature sometimes doesn't works and you might experience some issues. This is completely normal as it's still under development phase.
But still this is the best app for streaming torrents on your Windows PC, Mac or even on Linux.
2. Instant.io
Instant.io is a part of WebTorrent. Infact, instant.io is a browser version of WebTorrent app. Just download or choose the torrent or copy and paste the magnet link of a movie, TV Show or music and stream it in real time. The interface is very simple. No fancy buttons or graphics to confuse you. Since it's open source, it's free from those popup ads. Instant.io is completely free to use. You should definitely give it a try. Also, you can use any plateform, whether it's Android, Mac, Linux, Windows or iOS. As long as you have a fair net connection, you can stream almost any show or movie in real time using Instant.iO.
Also, you don't need to worry about torrent streaming as those are streamed on Instant.io. So no VPN is required. Download and stream statistics are shown above the player.
3. BitX Torrent Video Player
BitX is an instant torrent video or movie player while it's downloading, so you don't have to wait for your download to finish. The UI is definitely nice. Just drag and drop the torrent file or paste the Magnet link to start streaming Torrents. The BitX is available for Android, Mac and Windows. BitX give you ability to Chromecast the movies to a big screen and download Subtitles.
The BitX is really easy to use with it's minimalistic user interface which i find really simple and easy to use.
Download BitX Torrent Player
4. TorrentStreaming
TorrentStreaming is another application created just for streaming torrents. All you need to do is either drag a .torrent file and drop it on the program's interface, or alternatively you can paste the direct .torrent link or magnet link to the box located at the top right and click Stream.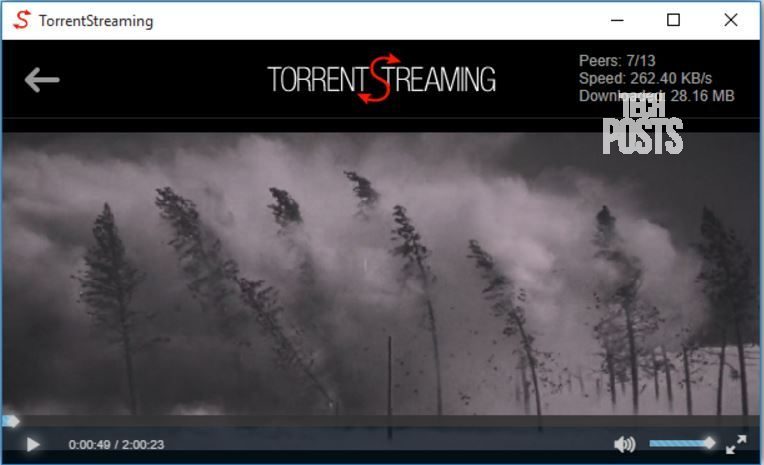 Some statistics on the download progress are shown at the top of the window showing the number of connected peers, the current download speed and also the amount of file size that has been downloaded so far. TorrentStreaming can be installed and run in Windows, Linux and Mac.
Download TorrentStreaming App
5. Torch Browser
Torch Browser has a built-in Torrent Manager which is superfast and easy to use. Best part is that it's a web browser come torrent client. You can download all kind of torrents using Torch browser and stream videos, movies and TV Shows instantly while downloading with inbuild Torch Player.  You can download torrents without the hassle of any additional software, and manage your torrent downloads straight from your browser. Click the Torrent button to get started. You can see all of your active torrents there.
Torch browser is a feature loaded web browser with interface same as of Chrome browser. Torch is not associated with Google or with Google Chrome. This is because both Google Chrome and Torch web Browser uses Chromium source code as a foundation. But there you have it, a Chrome like browser with ability to download and stream torrents. Using Torch browser you can also grab and download videos from any site. With built in download accelerator, Torch browser is currently available for Windows and Mac OS.
Conclusion
Before you go ahead and start using these torrent clients to stream movies and other videos, make sure to use a VPN. VPN will help you hide you identity while you stream or download any torrent file. This is recommended to all and specially to those who live in a Country where download anything from torrent is illegal and is a punishable offence. So use these apps and torrents carefully and at your own risk. Please subscribe to Techposts for more posts like these and How to guides. Also checkout our YouTube channel and Please subscribe to it for How to video guides and reviews. You may also follow us on Facebook or Twitter for instant updates or You can find our social links at top sidebar.