So here's the tool build by developer  Octanium91 at XDA which allows you to flash custom recovery like TWRP or CWM on any Android device quickly. This is a GUI based tool allows you to choose manufacturer, Model number and lists available custom recovery for that device (if available). Even a noob can use this tool to flash custom recovery on popular Android devices and root their phones.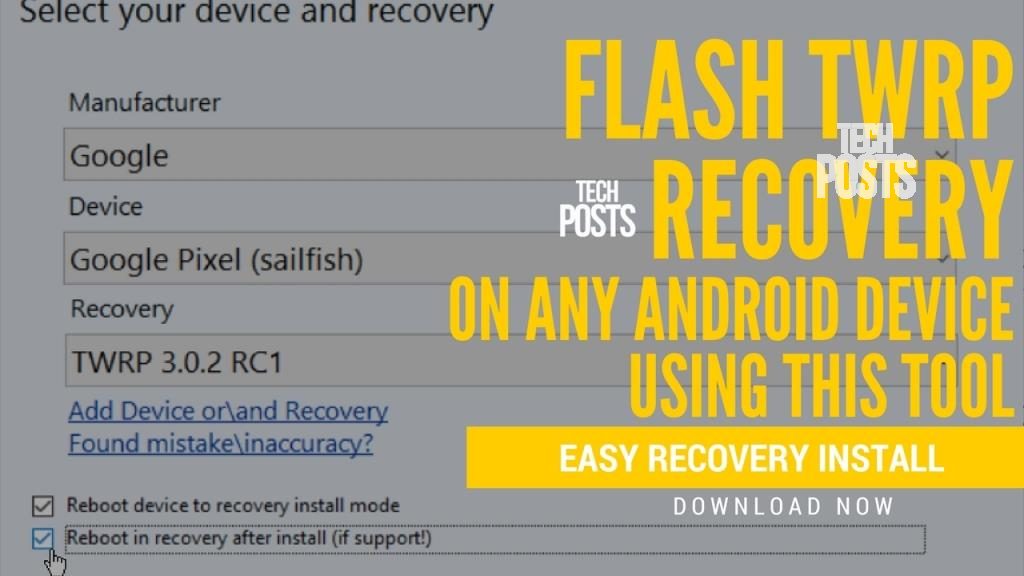 Easy Recovery Installer – Tool To Flash Custom Recovery on Android Phones
Things You Need
Good Internet connection
An Android device
A nice USB cable
Unlocked bootloader (important)
Enable USB debugging mode on your device
Installed drivers on your computer to your device
System Requirements
Operating systems: Windows Vista/7/8/8.1/10 x86\x64
Hard disk space: 200 mb
How to Flash Custom recovery on Any Android devices using This Tool
First, download the Easy Recovery Installer tool and run it.
Now, click next and accept the terms and Conditions.
On next page, just select manufacturer from drop down. Then choose Model no.
Finall Select if you want to Reboot device to install or recovery mode.
Hit Flash button and this will automatically download and install
Supported Android devices List
Google Pixel (sailfish)
Google Pixel XL (marlin)
Huawei Honor 8 (frd)
Huawei P9 (eva)
Huawei P9 Plus (vienna)
Lenovo Vibe X3
Moto 360 (minnow)
Moto E (surnia, 2 gen)
Moto E (taido, 3rd gen)
Moto G (athene, 4rd gen)
Moto G (falcon)
Moto G (osprey, 3rd gen)
Moto G (titan, 2rd gen)
Moto G Play (harpia, 4rd gen)
Moto G Turbo (merlin, 3rd gen)
Moto MAXX (quark)
Moto X (clark, 2015)
Moto Z (griffin)
Motorola Defy+ (jordanplus)
Motorola Nexus 6 (shamu)
Motorola Razr (spyder)
Nextbit Robin (ether)
Oppo F1 (f1f)
Oppo R7 Plus f (r7plusf)
Oppo R7sf (r7sf)
*TEST Samsung Galaxy S3 (i9300, International Exynos)
*TEST Samsung Galaxy S5 (klte, Qualcomm)
Samsung Gear Live (sprat)
Samsung Nexus 10 (manta)
Samsung Nexus S (crespo)
Samsung Nexus S 4G (crespo4g)
Sony Xperia XA Dual Sim (F3112)
Sony Xperia XA Dual Sim (F3116)
Xiaomi Mi 5 (gemini)
Xiaomi Redmi 3 (ido)
Xiaomi Redmi 3S\3X (prime\land)
Xiaomi Redmi 4 Prime (markw)
Xiaomi Redmi Note 3 (kenzo)
Xiaomi Redmi Note 3 MTK (hennessy)
ZTE Nubia Z7 (NX506J)
ZTE Nubia Z7 Max (NX505J)
ZTE Nubia Z7 Mini (NX507J)
ZTE Nubia Z9 mini (nx511j)
Conclusion
If your device isn't listed on this list, it doesn't mean your device is not supported. Most probably, it's not yet tested. So go ahead try on your Android device and if it works for your device, just add your device to this list.This will help others to use this tool easily. So this was all in this post on How you can Install Custom recovery (TWRP or CWM) on any Android device using Easy Recovery Installer tool. Please Subscribe if you loved this video and post, comment like and share this this post if you liked it. it's been Good will be back with Another tutorial soon.
Source: XDA