Farm Heroes Saga Cheats : Get Unlimited Boosters, Lives and Gold in Farm Heroes Saga Facebook Game using Cheat Engine 6.0.3. You can get all that you want with this simple Cheat in Farm Heroes Saga. Unlimited Gold Bars, Unlimited Magic Beans and Unlimited Lives for your game.
Need to know how to beat a Farm Heroes level? These Farm Heroes Saga cheats, tips, and hints will help you pass every level in the game! We have been playing Farm Heroes so we can learn all the best tips, tricks, and strategies to pass on to our cropsies lovers!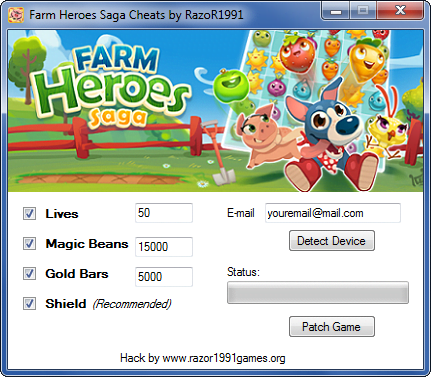 Download Cheat Engine v6.0.3 Here http://www.cheatengine.org/
For More Video Tutorials and How to Guides about Tech and Android,
 Before you go….
Just wanted to let you know that We've launched YouTube Channel where we upload awesome video content. Make sure you hit the subscribe button to stay up to date with the new videos we upload every week. Also Subscribe us for more How To Guides and Reviews…!!! @ http://youtube.com/checknma for more How to Guides. Enjoy..!!!