As we all know, the App Store comprises the best applications, including games, available for iOS devices. Apart from these, there are also numerous games for iOS that aren't available in the store. Apple doesn't allow them to feature on the store due to various reasons such as security issues or privacy policy violations by the apps. Third-party developers create these applications/games and their tweaked files are available to download. The ways to install these modded games on iOS devices could sometimes be tricky.
Needless to say, it's a little difficult to search for these files and get a genuine version that works! If you wish to look for them on different websites, well, good luck with that. You'll end up wishing that there was a single platform that acts as a common source of these modded games and applications. Fret not, we are here to disclose just that.
TweakBox
One such platform that acts as a host to download modded applications and games is TweakBox. It is one of the most successful platforms to download such files. Another great thing about TweakBox is that it is available for iOS as well as Android. To keep the article crisp and relevant to the title, we'll discuss its functionality on iOS only, for the time being. It does not even require the jailbreaking of your iOS device or rooting your Android device to install modded games. This means that you don't have to invalidate the warranty of your device just for the sake of playing games on it. Isn't this the cherry on the cake?
Going ahead, we would like to discuss some of the features of TweakBox with you.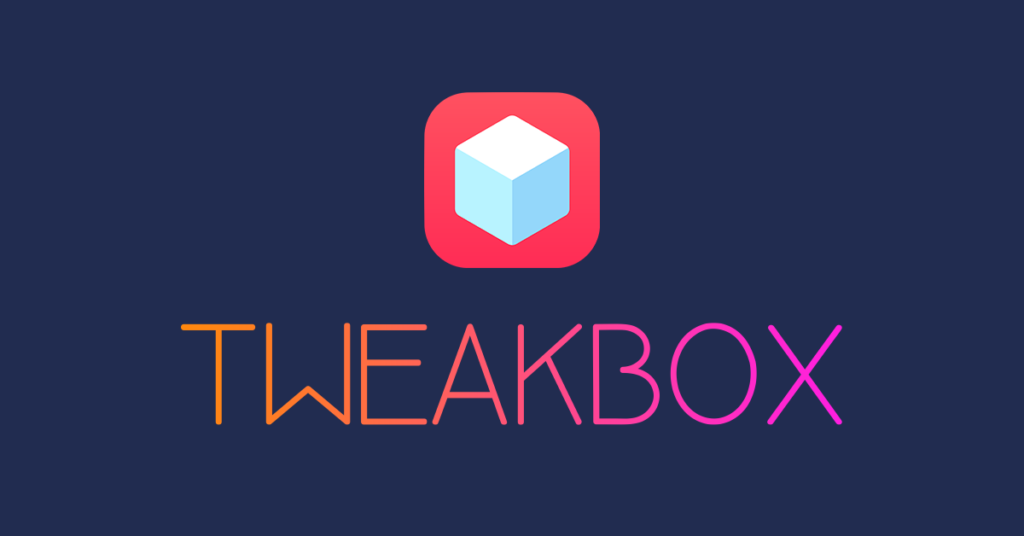 TweakBox Features
In addition to the fact that TweakBox is completely free of cost, which is absolutely unbelievable for most of us, there are some hallmarks of the application as well. We have listed some of them below for your understanding.
On a regular basis, the library of TweakBox gets updated with the most recent games and applications.
The user interface of the platform is very easy to understand. The navigation inside the application is very smooth and convenient.
It categorizes the applications and games based on their types. This makes it easier for the users to search for them.
The developers release the updates for the applications for free.
TweakBox comprises a large number of applications and games that it is impossible to download and install each one of them.
Each and every app (or game) on the TweakBox app store goes through a series of tests. These tests are first performed by the developers themselves and later on, by the users (beta testing). The tests check for the bugs, performance issues, stability, and crashing of the application.
TweakBox also provides its users the best customer service for a better experience. Due to the fact that TweakBox's popularity increases on a daily basis, outstanding support is a must. This ensures that the issues related to the app get resolved as quickly as possible. In order to get in touch with their customer support team, you can contact them on Twitter, Facebook, and their website.
To download TweakBox on your iPhone or iPad, kindly continue reading.
How To Install TweakBox on iOS
Below are the steps to install TweakBox on your iOS device. For your convenience, we have attached screenshots related to most of these steps.
Open Safari browser.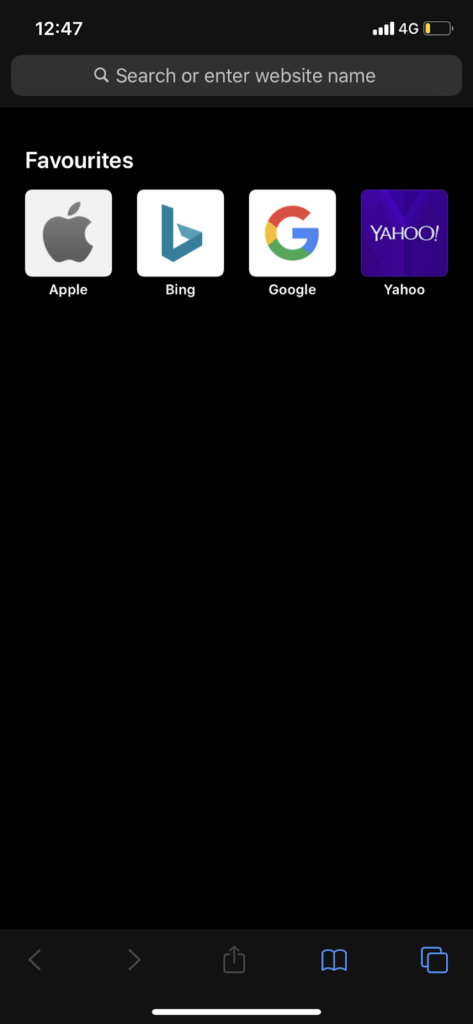 Go to the download page of TweakBox on its official website.
Tap on the 'Download for iPhone' button.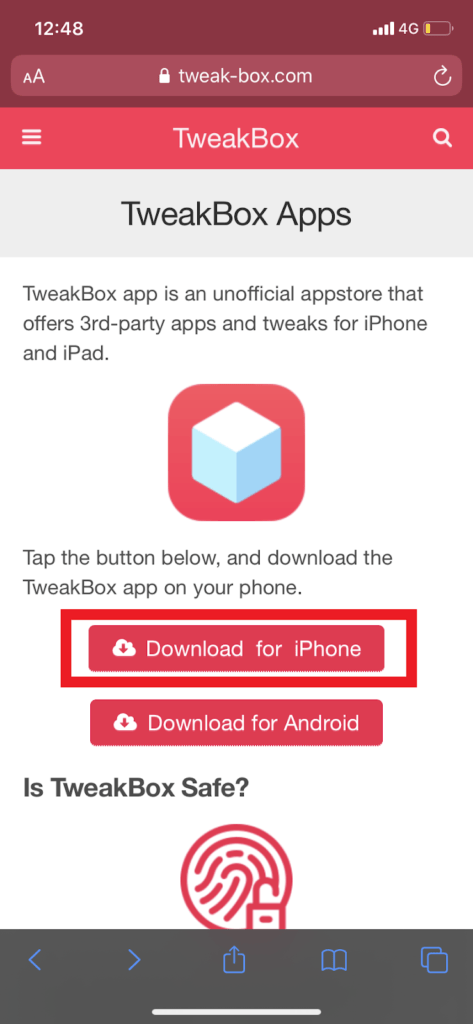 You will be redirected to a new page. This will consist of all the mirror links to download TweakBox. Choose any one of them and click on it to download.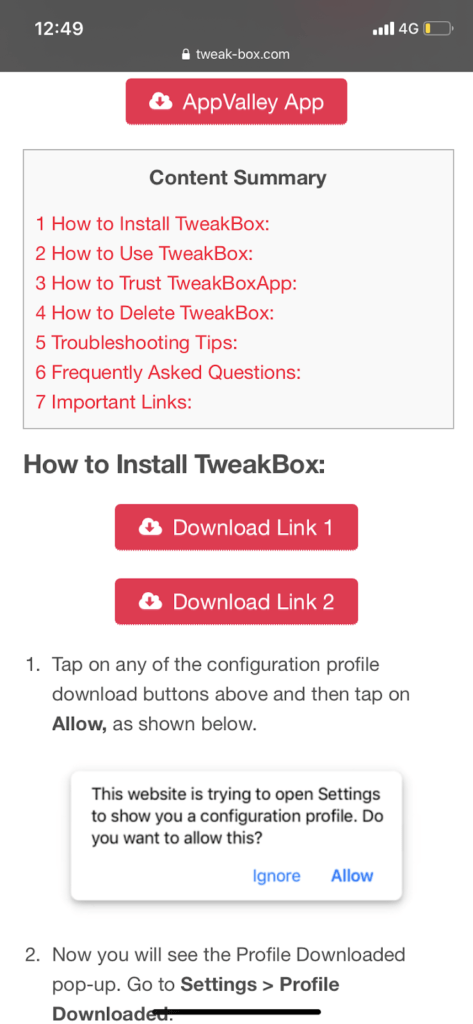 A pop-up will appear informing you that the webpage wishes to download a profile and will ask you to allow it. Tap on 'Allow' to continue.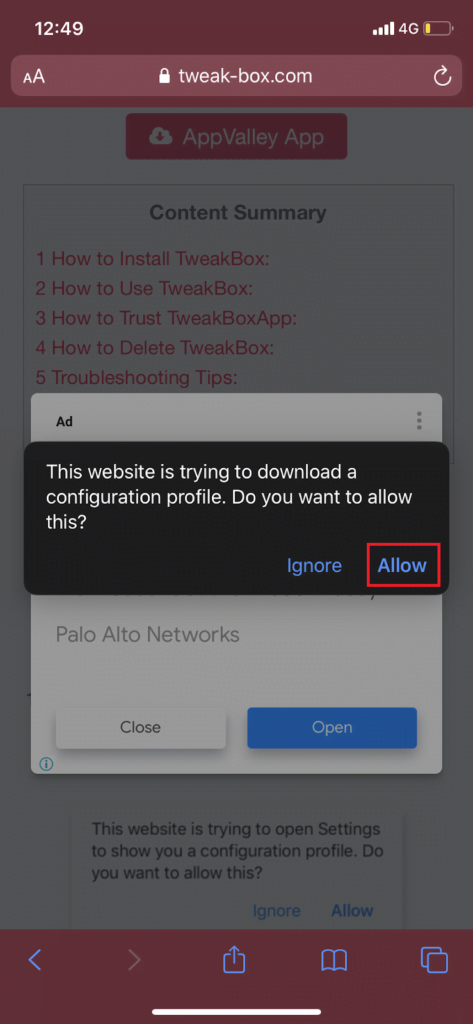 Navigate to the Settings of your device. You will now see a section called Profile Downloaded. Tap on that.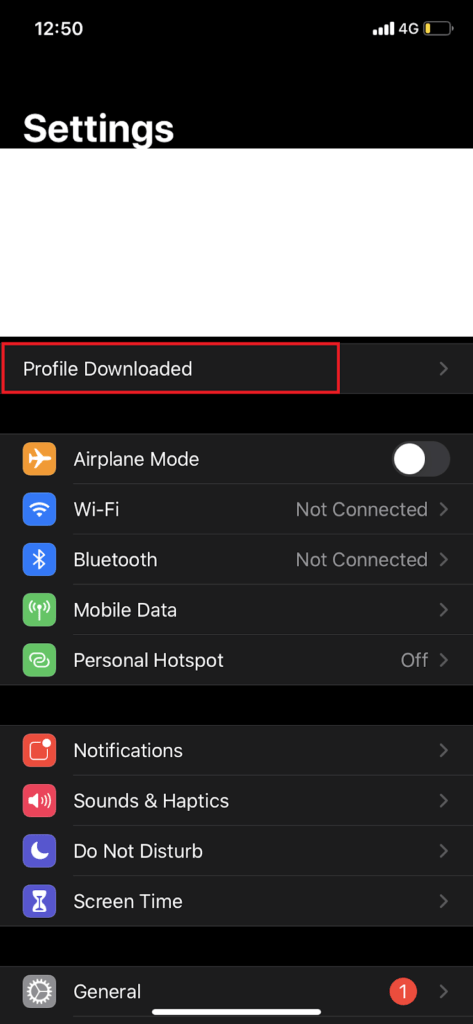 A list of all the profiles that have been installed on your device appears here. Tap on the TweakBox section and click on the Install button.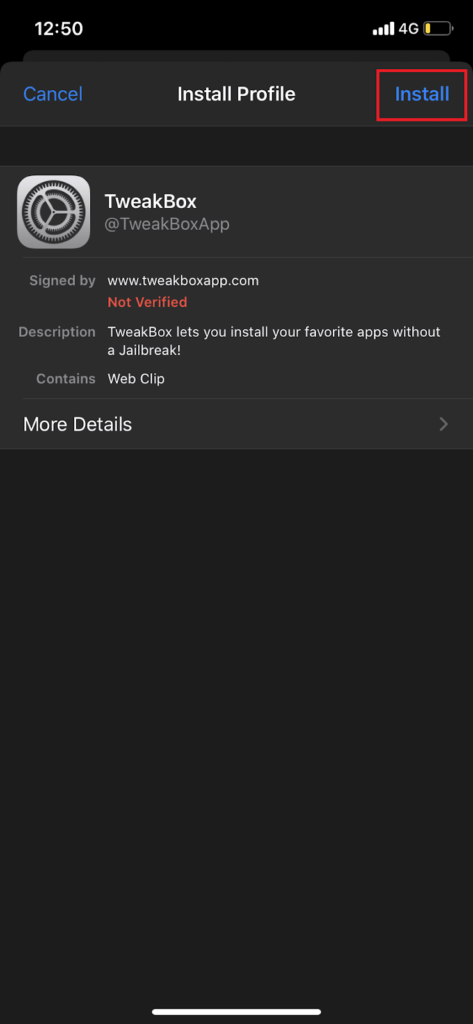 By following the above steps correctly, you would be able to see the TweakBox icon on your home screen. This indicates that the application has been installed successfully. Launch the application to download and install the modded games on your iOS device.
Conclusion
That is pretty much all, fellow readers. No matter how much ever Apple tries to keep third-party applications away, there will always be a way to access them. There are many platforms like TweakBox that serve the same purpose, but let's keep that for some other day. For now, let's focus on installing those gems of games that you were craving to download for so long. Go ahead and install modded games on your iOS device without the need to jailbreak it.