Remix OS is still under major development process. Jide is working with Android-x86 founder Chih-Wei Huang to make Remix OS as the first fully functional desktop OS. Remix OS is the best Android OS for PC till date and so it gained popularity in a very less time. One of the Senior member of XDA Developers, Satyam@TG, released a Hacked Edition of Remix OS which comes pre-rooted, and installed with Busybox, Gapps, init.d and much more. So it's a kind request to all, if you can spare a little time appreciating him on XDA. He added some extra functionality to the existing Remix OS and released it. You can install it on 32-bit and 64-bit Systems and separate ISO are available for installation. Features which are added are listed below,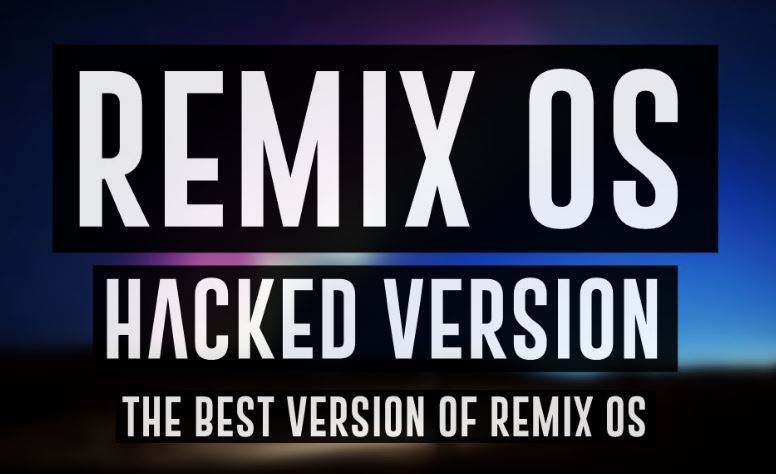 Remix OS Hacked Version Features
Prerooted with SuperSU (with pre-updated SU Binary)
Busybox Installed
init.d Enabled
Added latest OTA v2.0.205 dated 26 April 201
Added CyanogenMod "Eleven" Music Player
Added CyanogenOS AudioFX
Added CyanogenMod Advanced Calculator with ability to draw Graphs.
Added CyanogenMod Browser
Gapps (Play Store and Play Services) are preinstalled (see note below)
Removed Bloatware (Videos/Photos of Remix Mini/Unresponsive apps like Music)
Two modes: Google mode for those who want play services and NoGoogle mode for those who do not want play services.
Added latest Adway Release.
Also Read: How to Dual boot Phoenix OS with Windows
Installing Remix OS Hacked Version:
Step 1. First Download the Remix OS installation Files according to your System
32-bit (legacy BIOS only)
64-bit (legacy BIOS and UEFI BIOS)
Must Read: How to Install Android 6.0 Marshmallow on A External Hard Disk Drive
Step 2. Open the Remix OS Installation Tool and you'll see it has two fields, in one field you are supposed to add the path of the ISO File of Remix OS on your computer system and second, select the Hard disk partition on which this tool will install the OS.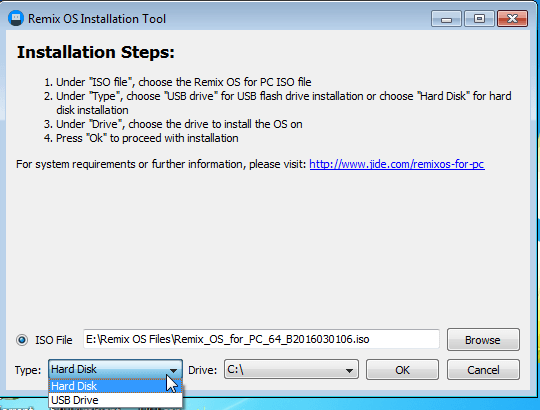 Step 3. Once done, The Remix OS installation tool will begin copying files & writing the Bootloader to the Hard Drive.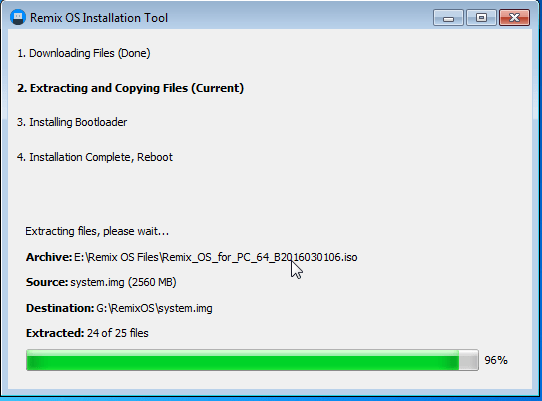 Step 4. Reboot PC and Select Remix OS in Windows Boot Menu.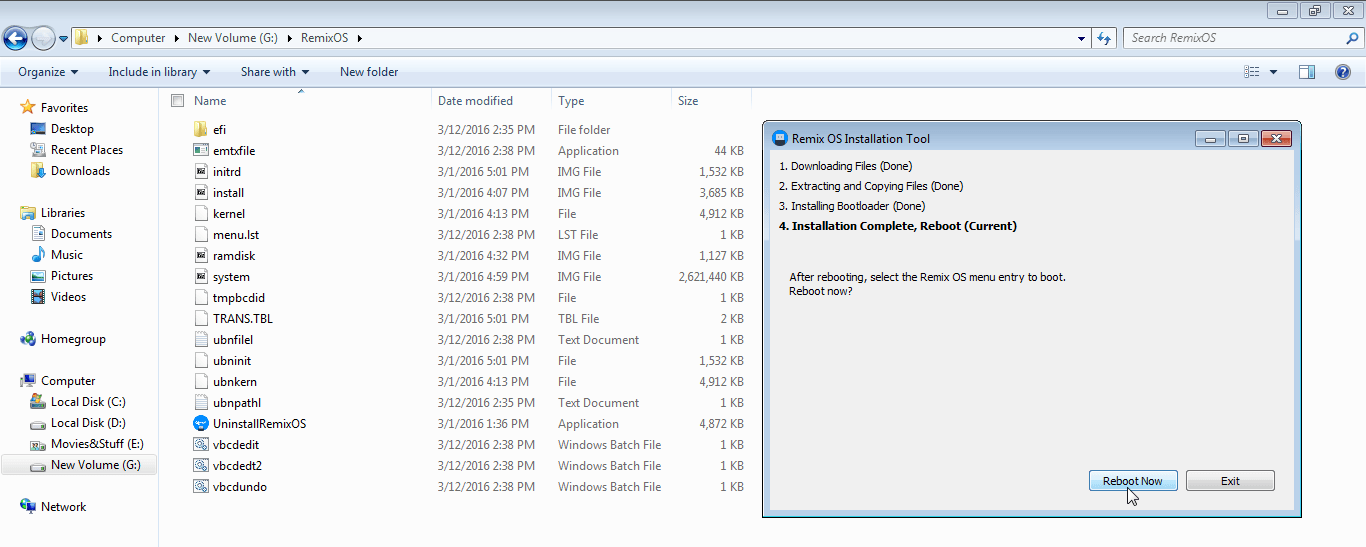 Please Note for UEFI boot: press special key (F12 for Dell, F9 for HP, F12 for Lenovo, Option Key for MAC) while booting to enter boot menu and ensure that Secure Boot is disabled.
Recommended for You: How to Increase RAM on Your Android Phone (Upto 4GB)
Remix OS doesn't come with Google Play Store pre-installed, so if you want to use Google Play store on Remix OS, please see this guide.
We hope that the next version brings support for Xposed Framework. Please Subscribe to us to us for updates on Remix OS and Android-x86 development. For more instant updates on How to Tech Guides on Android, iOS, Windows, Mac, and Linux  Connect with us via Facebook,  Google+ and Twitter.
ChangeLogs (Remix OS –  Hacked Version)
Changelog for Hacked Edition
2.0.205
1.Added AdAway ad blocker
2.Updated ES File Explorer
3.Optimised Performance

2.0.202
1.Added OTA v2.0.202 dated 31 Mar 2016
2.Fixed app not installing from SDcard bug.
3.Added NoGoogle Command to disable Gapps...(so u can now switch to Google and NoGoogle mode)
4.Optimised Google command

Changelog in OTA v2.0.205 by Jide :

Feature
Read and write on other hardware patriation
Download selected Apps from the pre-installed Remix Central
Using the pre-installation tool to choose the size of system
Add Amazon Underground icon to the desktop
Source: XDA